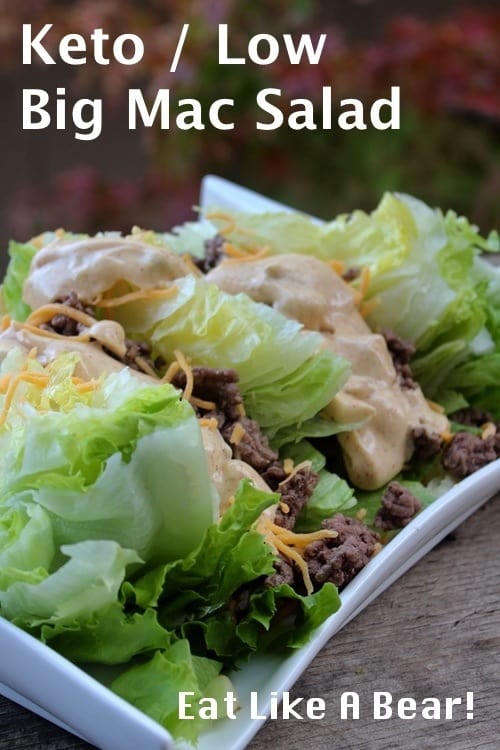 It would sure be difficult to overstate how delicious this "Big Mac" style salad is. If there is one thing McDonald's knows well, it is how to tempt our taste buds. These flavor combinations can hit in a pretty deep place. That's good news for something as simple and healthy as a giant salad. Leverage the McDonald's flavor expertise and use it to meet your own health goals.
Of course, you can use any lettuce of your choice but there is something about iceberg that just works in this case, probably because it is the lettuce of choice at fast food restaurants. As for the rest of the ingredients, keep them on hand. Batch cook the ground beef and freeze it in useable portions, ready for your uses. Double or triple your special sauce and use it several times in the next week or two in various creations. I do go through seasons of eating these flavors several times, enjoying it all for the very first time, and then waiting six weeks or so before hitting it again. I always look forward to the next little season.
I like this one as a wedge salad because that, somehow, appeals to all my memories of long ago and memories of diners in the middle of nowhere. It just works. I used to forego the iceberg because it is the low man on the greens totem pole in terms of nutrition, but I eat so much salad these days that I am not sure that matters as much in my case. It's nice to have a whole collection of choices in leafy greens. Of course, the "crunch" of the iceberg is beyond compare, a crunch often missing in low carb foods.
Big Mac Salad Ingredients
1/2 a head of iceberg lettuce
1 cup seasoned ground beef
10 dill pickle chips (check carbs)
1/2 cup grated cheddar
1/8 red onion (optional)
1/2 cup special sauce
Big Mac Salad Steps
Cut iceberg lettuce in wedges (or chop).
Sprinkle on ground beef, pickles, cheddar, and onion.
Top with special sauce. (Recipe here.)
As for why I am low-carbing it: I am one of those "half of themselves" weight loss stories, down to 140 pounds from 280. You may want to poke around more and check out what I did. I combined the keto diet with intermittent fasting for some massive success. Do not miss the before and after photos!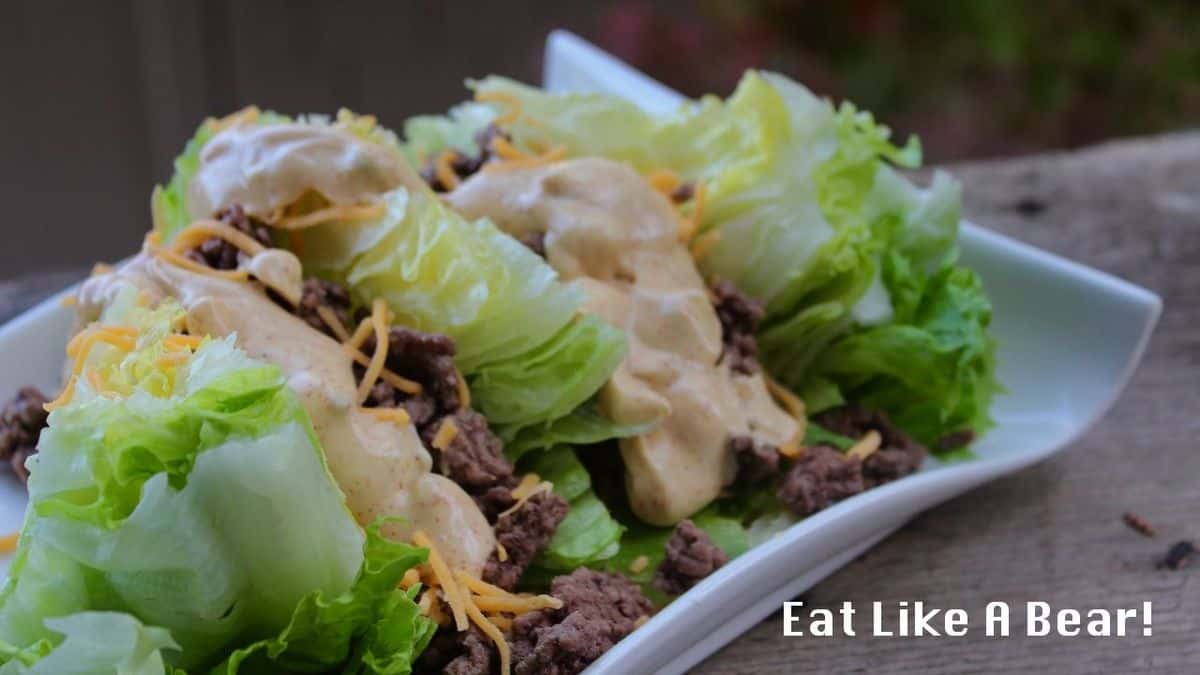 Big Mac Salad
This is a delicious low carb (keto) Big Mac-inspired salad!

Ingredients
1/2

head of iceberg lettuce

1

cup

seasoned ground beef

10

dill pickle chips

1/2

cup

grated cheddar

1/8

red onion

optional

1/3

cup

special sauce
Instructions
Cut iceberg lettuce in wedges (or chop).

Sprinkle on ground beef, pickles, cheddar, and onion.

Top with special sauce.