The Now-World Famous Ridiculously Big, Big Mac Salad
Hold the phone!!! We have an extreme Big Mac update!
Who's Big Mac copycat salad burns fat faster than all others out there????
Why yes, that would be this one, according to the October 3, 2022 issue of Woman's World magazine.
***bow***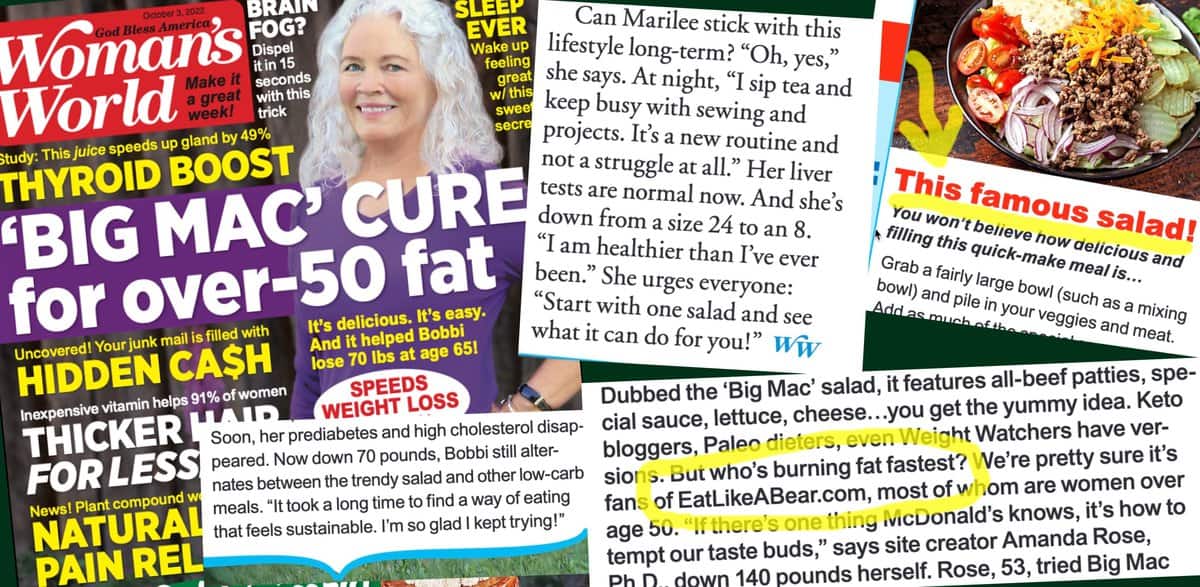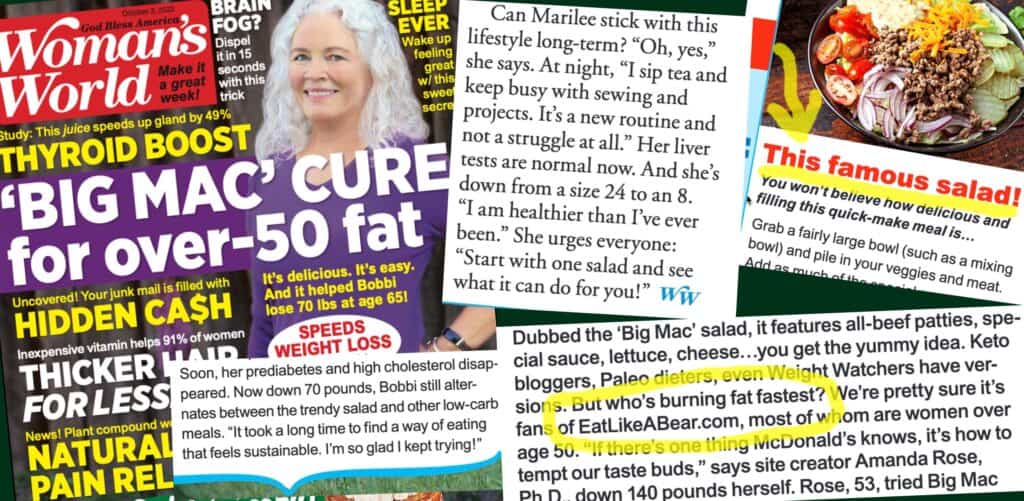 Learn all about it right here in this post. Consider this the Encyclopedia version of the fastest fat-burning Big Mac salad in the universe.
In 15 seconds!!!
Deliciousness
It would sure be difficult to overstate how delicious this "Big Mac" style salad is. If there is one thing McDonald's knows well, it is how to tempt our taste buds. These flavor combinations can hit in a pretty deep place. That's good news for something as simple and healthy as a giant salad. Leverage the McDonald's flavor expertise and use it to meet your own health goals.
In fact, a friend of mine ate this exact salad every single day. Yes, every.single.day. I mention her story on TikTok:
Of course, you can use any lettuce of your choice but there is something about iceberg that just works in this case, probably because it is the lettuce of choice at fast food restaurants. Sure, it's the lowest on the totem pole in terms of nutrients, but flavor-wise, it really may be the superior choice for the "cheeseburger salad" experience.
I provide my basic view on the "nutrients in lettuce" concern in this video:
As for the rest of the ingredients, keep them on hand. Batch cook the ground beef and freeze it in usable portions, ready for your uses. The batch-cooking approach really is a cornerstone to the book Half My Size with The Ridiculously Big Salad and my whole philosophy of making all of this so simple and quick that we can compete with the drive-through. If you need more help on that point, you probably do want to get the book (here — CLICK). (Or if you're working more on cooked meals, the Soups, Skillets, and Sautes book here — CLICK.)
The recipe for the special sauce below is approximately what I use on one salad. However, I almost always make it in larger batches. Whip up your special sauce and use it several times in the next week or two in various creations. I do go through seasons of eating these flavors several times, enjoying it all for the very first time, and then waiting six weeks or so before hitting it again. I always look forward to the next little season.
I like this one as a wedge salad because that, somehow, appeals to all my memories of long ago and memories of diners in the middle of nowhere. It just works. I used to forego the iceberg because it is the low man on the greens totem pole in terms of nutrition, but I eat so much salad these days that I am not sure that matters as much in my case. It's nice to have a whole collection of choices in leafy greens. Of course, the "crunch" of the iceberg is beyond compare, a crunch often missing in low carb foods.
Big Mac Salad Ingredients (Yes, one giant salad)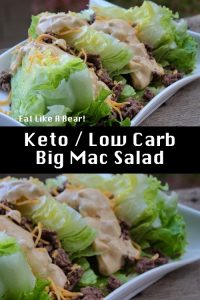 One head of iceberg lettuce
6-8 oz seasoned ground beef
10 dill pickle chips (check carbs)
1/4 cup grated cheddar
1/4 white onion (optional)
1/2 cup special sauce
Big Mac Salad Steps
Cut iceberg lettuce in wedges (or chop).
Sprinkle on ground beef, pickles, cheddar, and onion.
Top with special sauce. (Recipe here.)
Special Sauce Dressing Copy Cat (Yes, you might want less)
1/4 cup mayonnaise. Check label for carbs.
1/4 cup Greek yogurt
2 tablespoons chopped dill pickle or dill pickle relish. Check label for carbs.
1 tablespoon prepared yellow mustard
1 tablespoon dill pickle juice (or more to dilute dressing)
1/4 teaspoon paprika
1/8 teaspoon garlic powder
1/8 teaspoon onion powder
Keto sweetener to taste.
—> Join the Three-Day Challenge if you've missed it!!! (CLICK right here for more!)
Yes, You Have to Bang It on the Countertop
This is the only way it's completely legit…
Community Member Sue D Made a Movie About It 🙂
Can You Whip It Up In Five Minutes??
You should!!! Check it out on YouTube:
Whipping It Up In Minutes = A Key Focus of the Big Bear Blueprint
Besides the point that we don't want to be slaves to our kitchen, long-term weight loss requires consistency. It requires that on bad days our kitchen routine CAN compete with the drive-through. Get yourself ready to get through those bad days that inevitably come. That is what the Big Bear Blueprint is all about. Read more here.

But You May Just Find Your Shopping Cart Looking Like This…
Step It Up Further!
Take it outside!
Reflect on this!
Engage in this important reflection as you enjoy that meal.
The Ridiculously Big Salad in the News!
The Ridiculously Big Salad Nearly Broke the Post Office!
If you've missed our story about this giant salad nearly breaking the US postal service and ending up in the USPS postal employee magazine, then you really should see it. 🙂