MEDIA
Eat Like a Bear founder, Amanda Rose, Ph.D.
Eat Like a Bear is a community founded on the viral weight loss story of Amanda Rose, Ph.D., beginning in the spring of 2018 in a series of "look what I'm eating" live videos on Facebook — the weight loss equivalent of "mukbang."
Read more about Amanda's background, including her Ph.D. training, TEDx talk, and research experience (about Amanda Rose).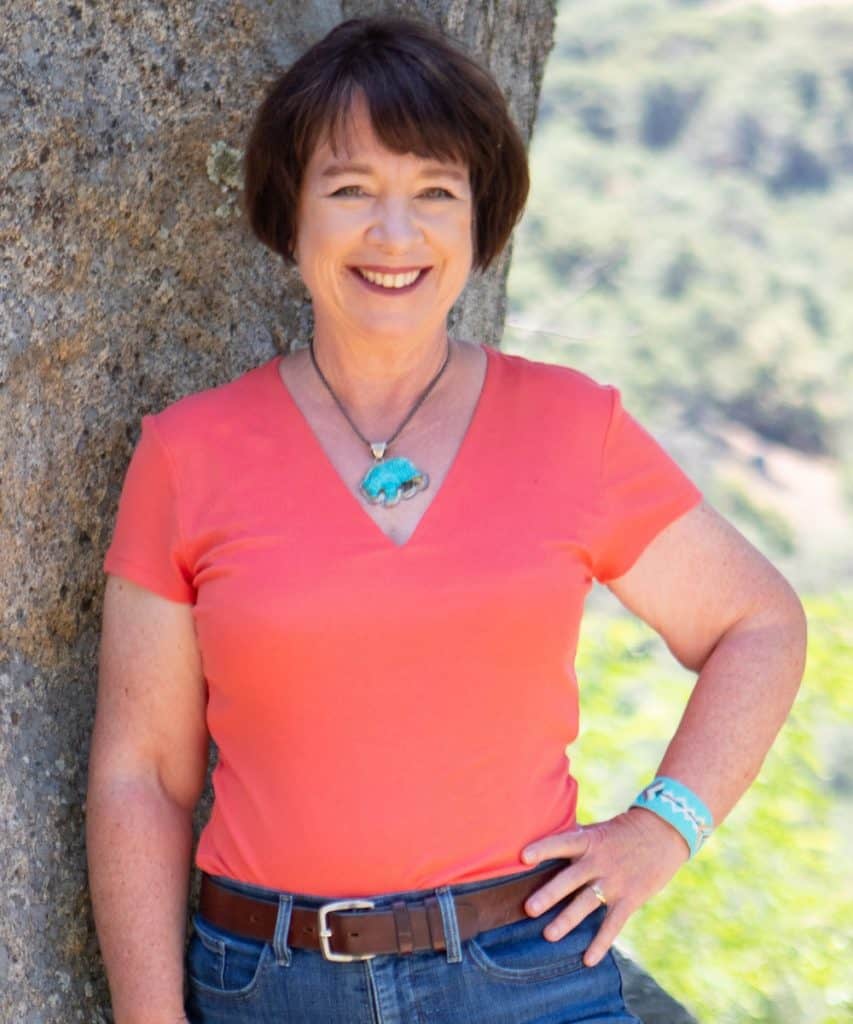 One case spurs a viral chain of success
Unique to the Eat Like a Bear story is the viral chain of success cases that have followed Amanda Rose's initial story. The community tracks and documents 100+ pound weight loss cases (which it calls "Century Bears"). The community hit 200+ Century Bears in the spring of 2023 which later made Yahoo News (here).
Learn the unexpected origin story of Eat Like a Bear (Eat Like a Bear origin story).
Follow the feel-good story of surprising the community's "100th Century Bear" here.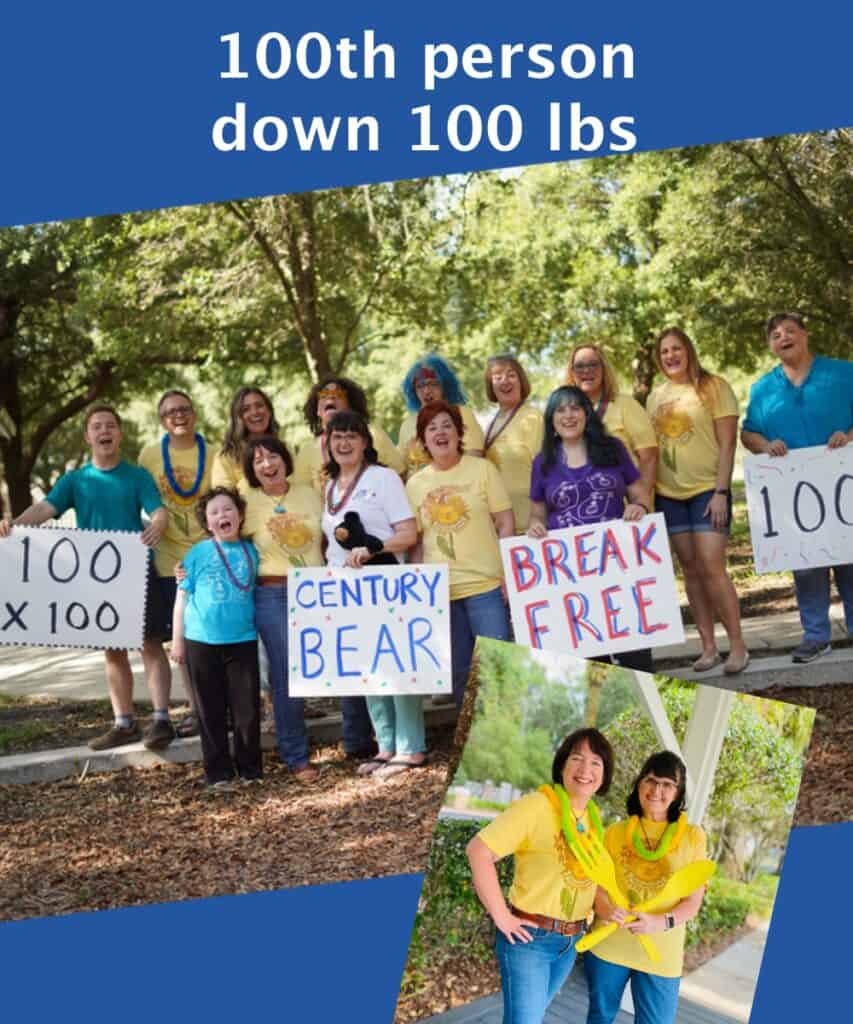 The Most Impactful Weight Loss Video in Social Media
With over 5 million video views, Amanda's September 2018 video, A Postcard from Yellowstone, sets no records for viral views but it likely does for actual weight loss. Thousands of success cases followed the video a Postcard from Yellowstone, including many of the 100+ pound loss cases you find in the Eat Like a Bear community. Learn more here.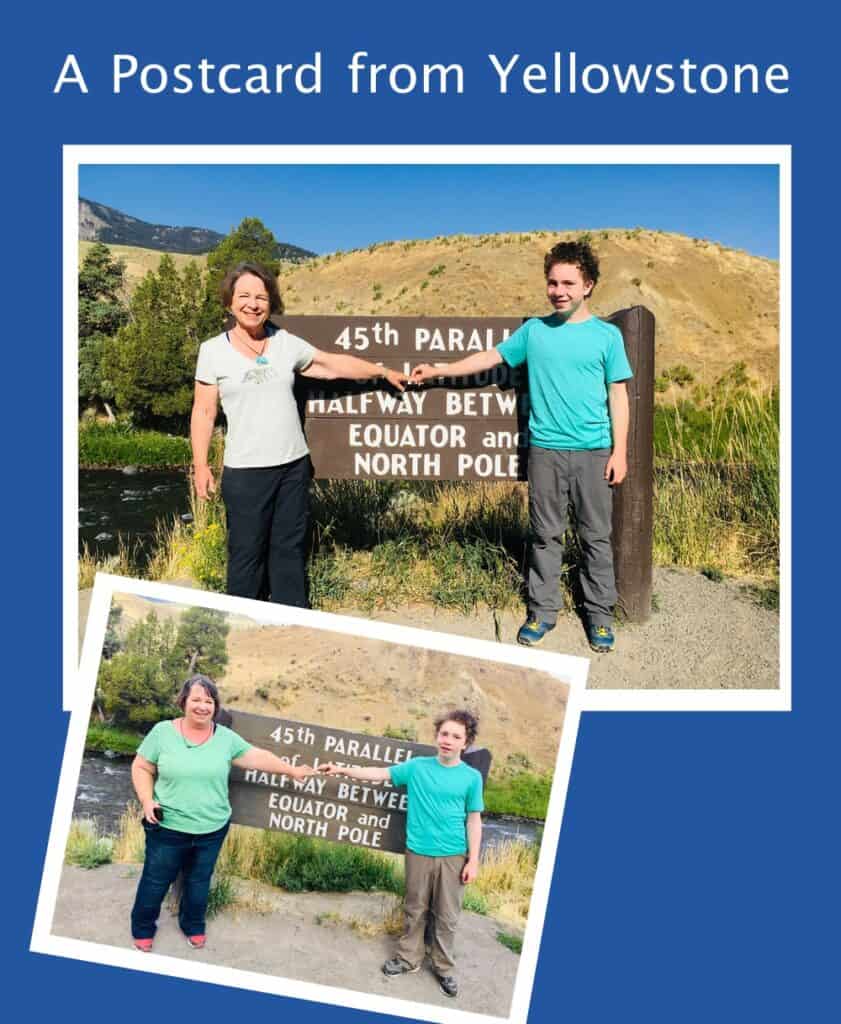 Television
Amanda Rose has been featured in regional television and print for her viral weight loss story. Including:
KGET Bakersfield's coverage of the Woman's World coverage below.
KBAK Bakersfield's coverage of the Big Mac salad (here).
Spectrum News SoCal's new year goals segment (here).
KGET's studio kitchen coverage of the Big Mac salad (This may be a favorite. There was a skeleton crew and the footage never made social media despite the fun in that kitchen. A community member caught it with an iPhone and save it — here).
KYMA Yuma's coverage of our "viral lettuce" is below.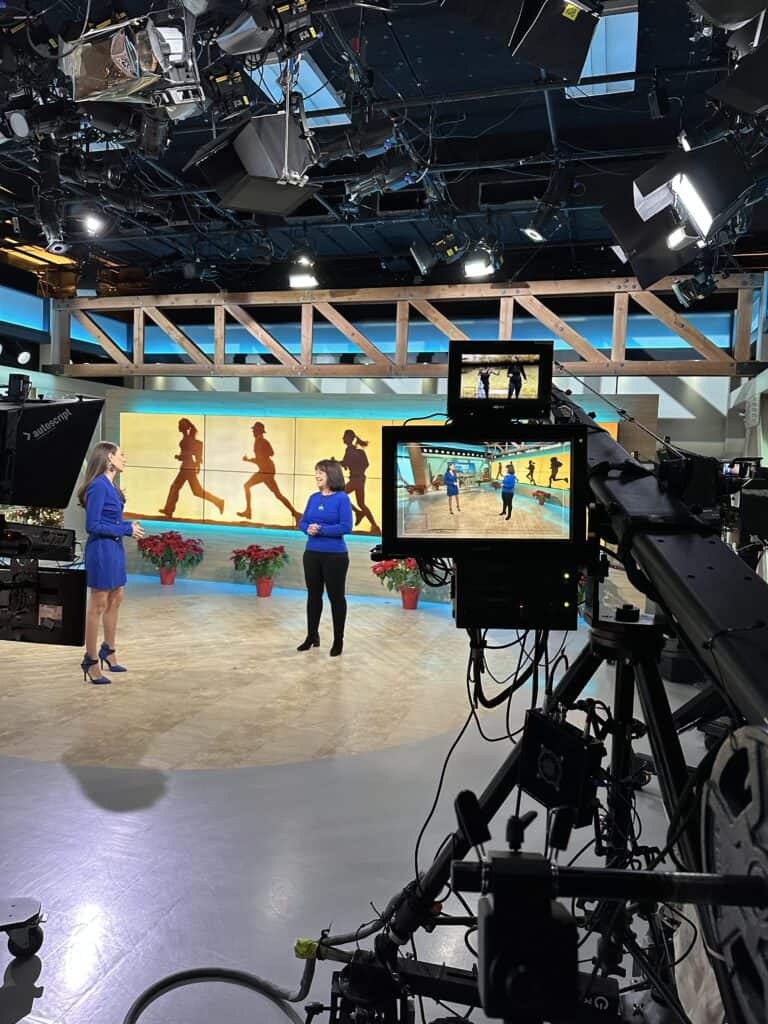 Meta highlights viral video and community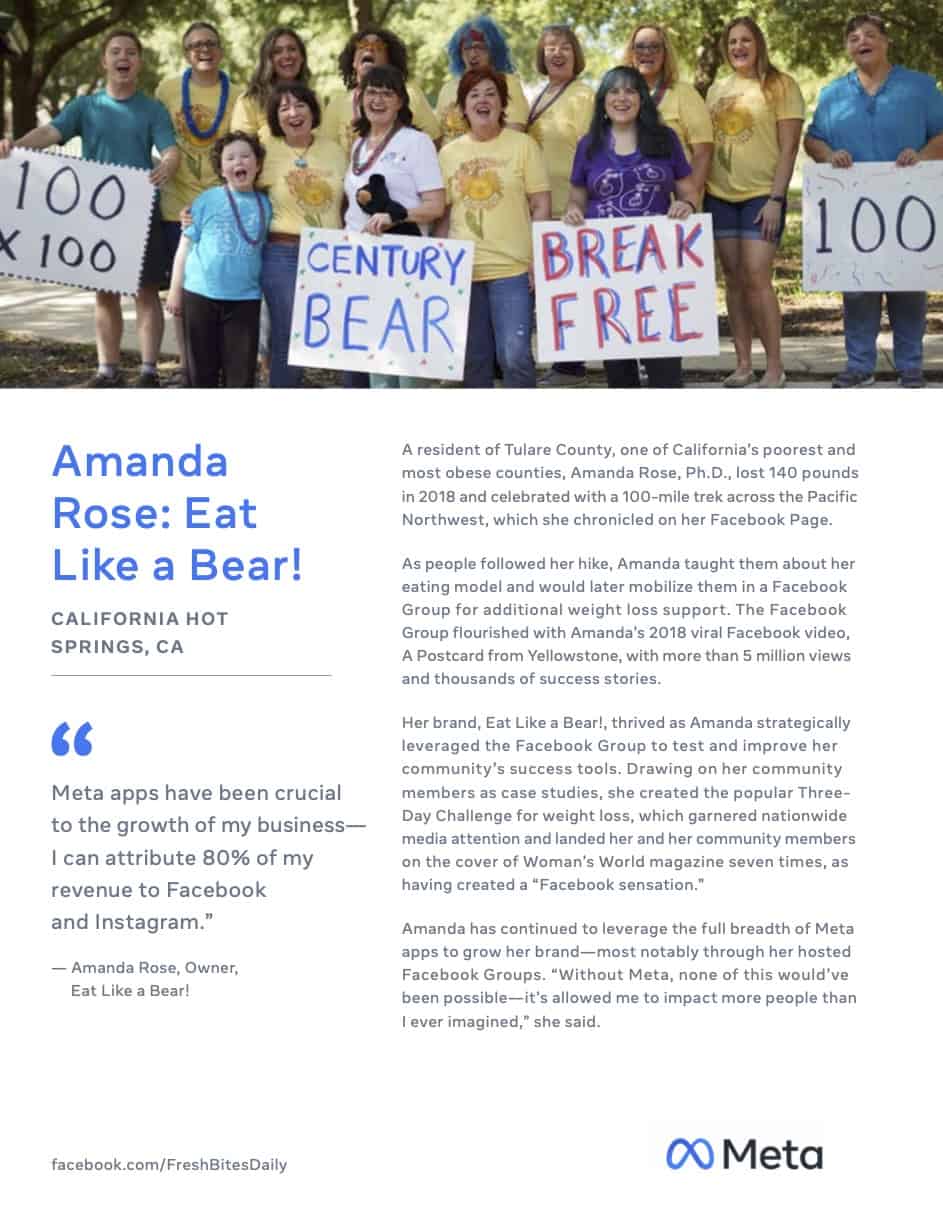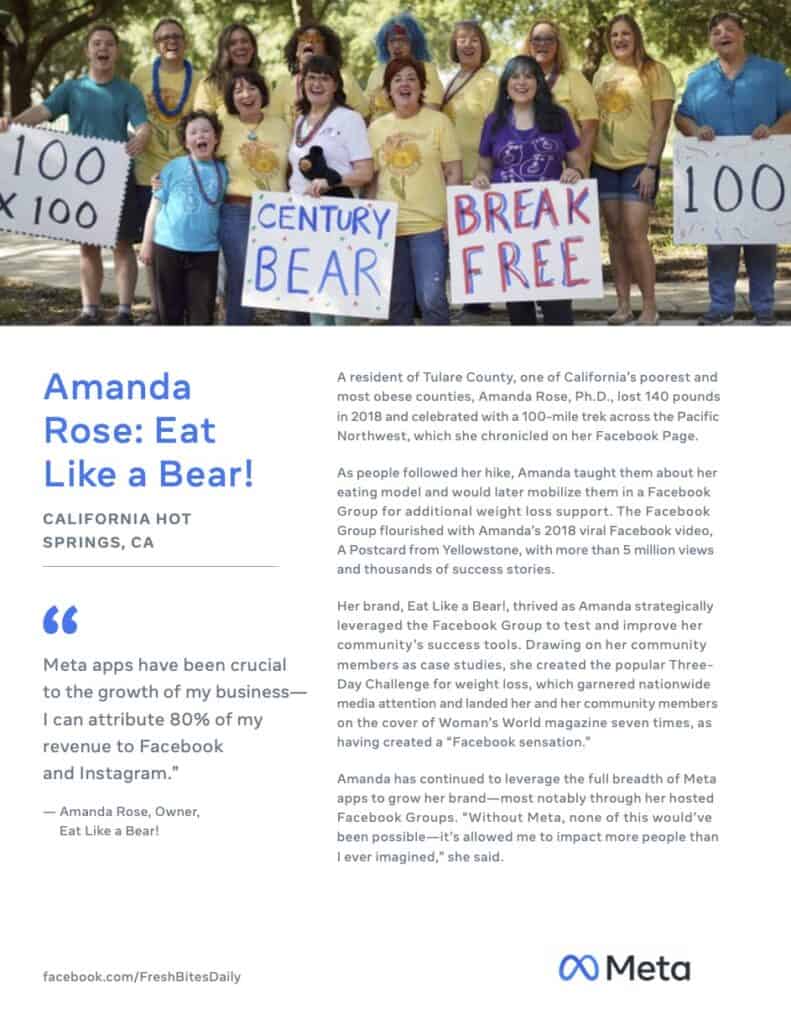 Eight Features in Bauer Media Publications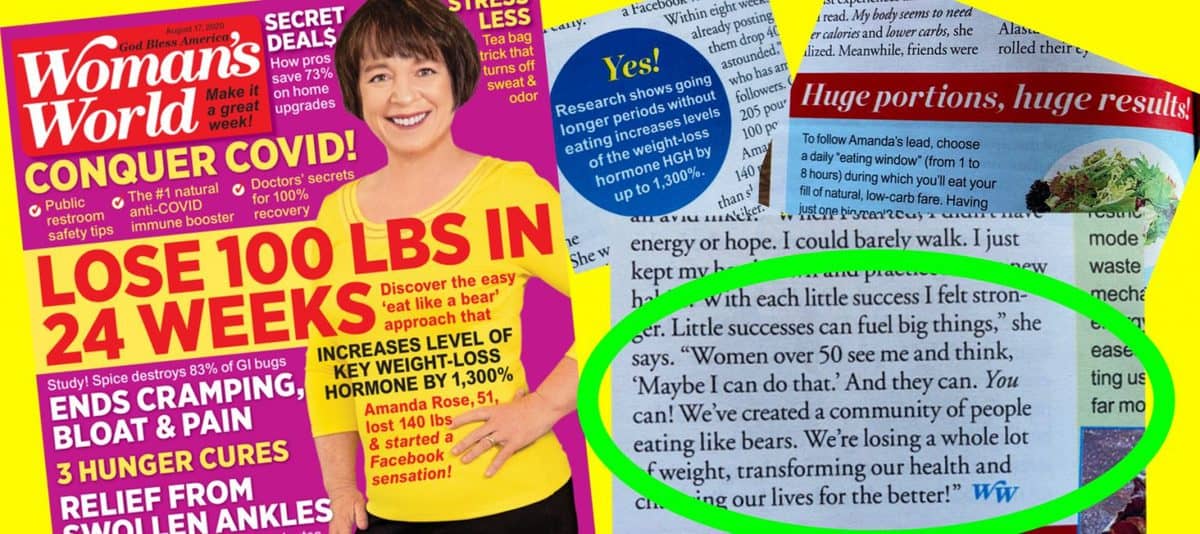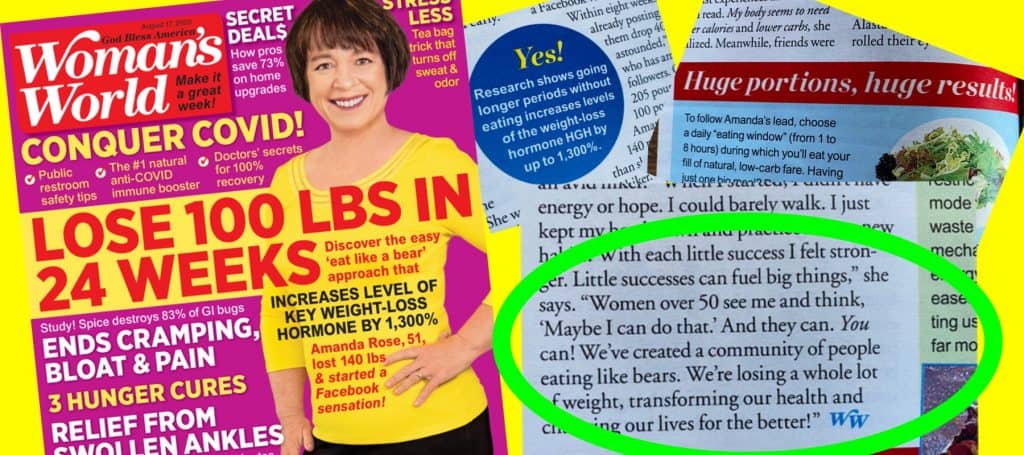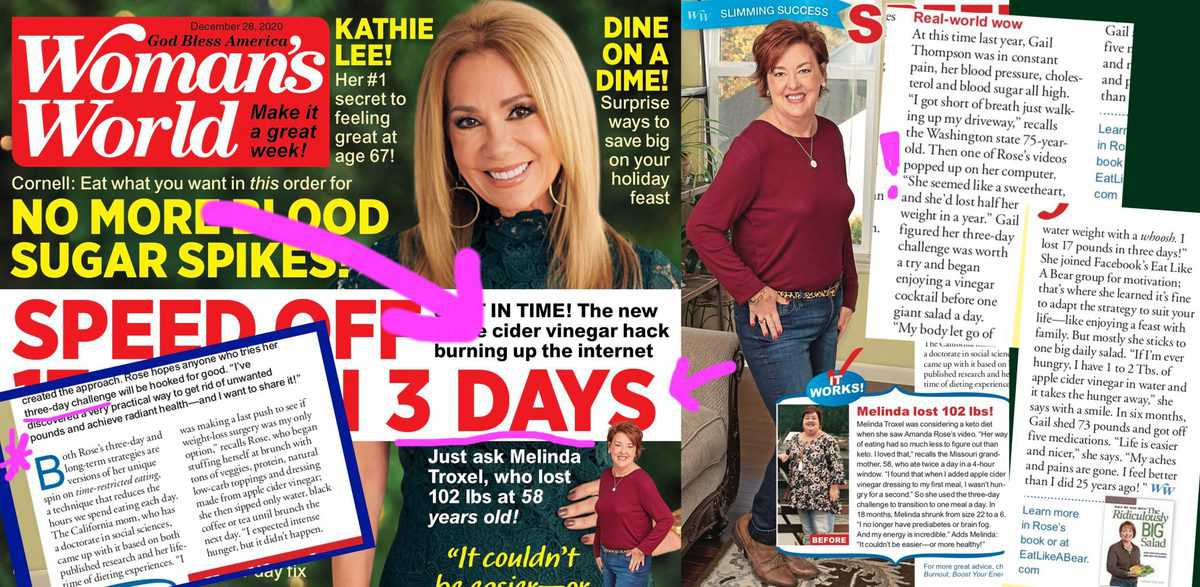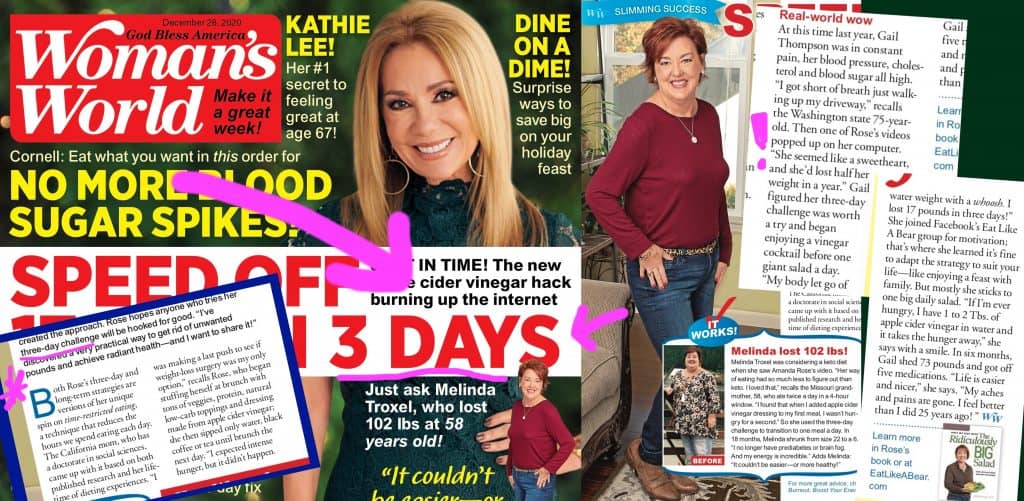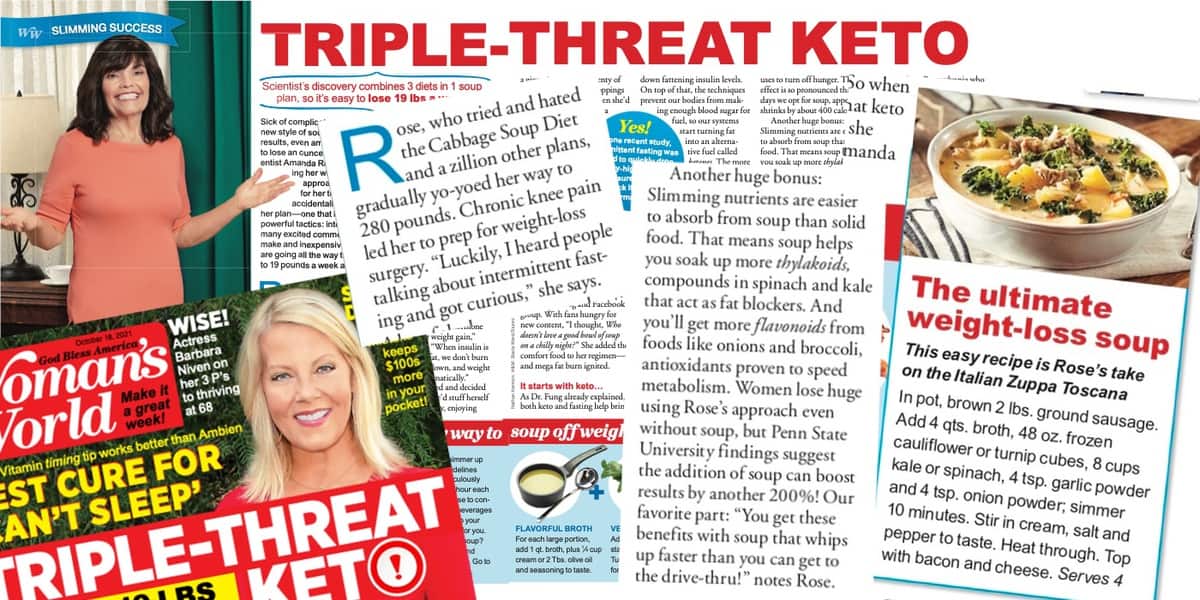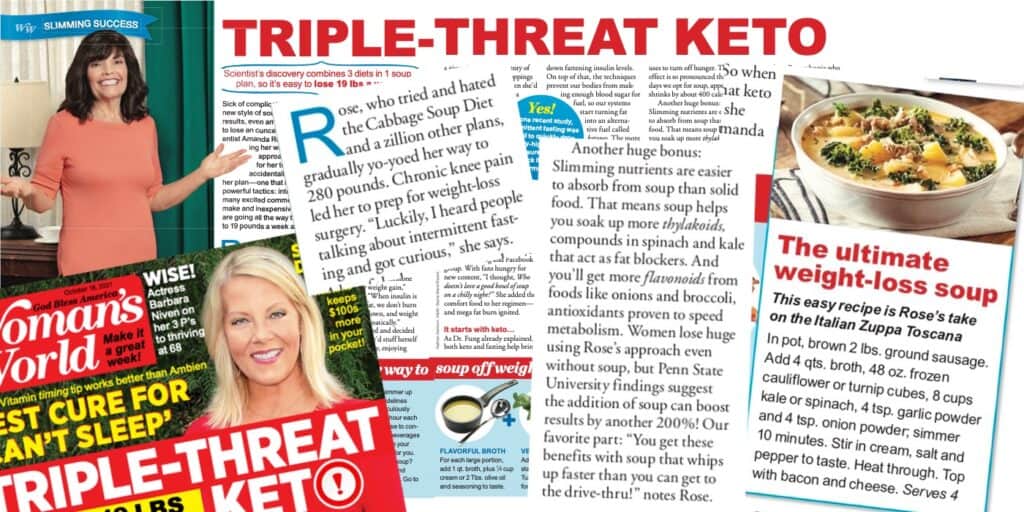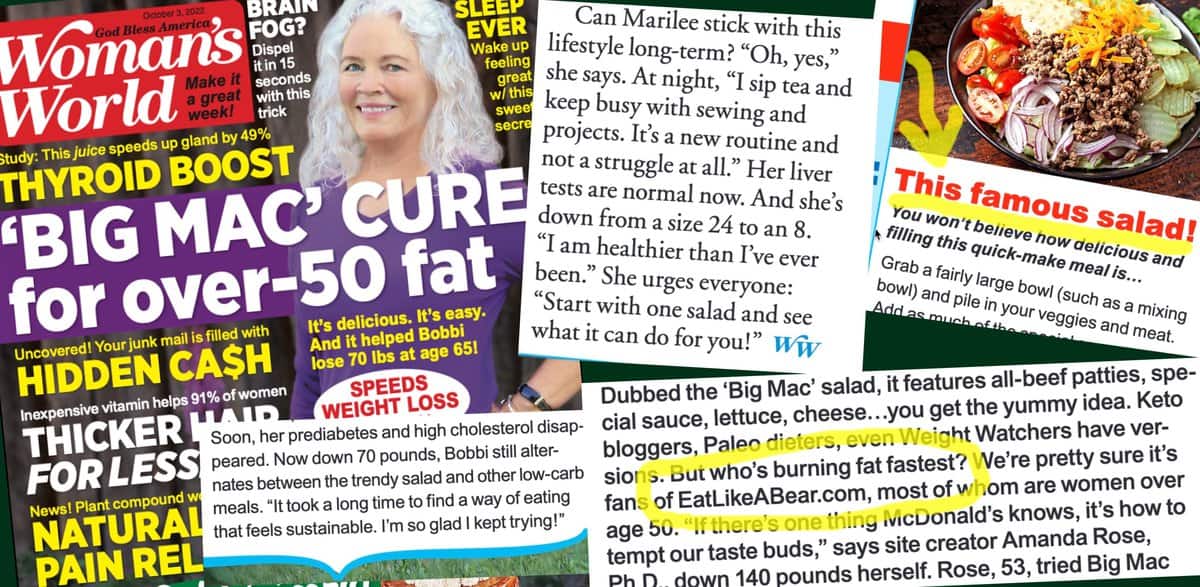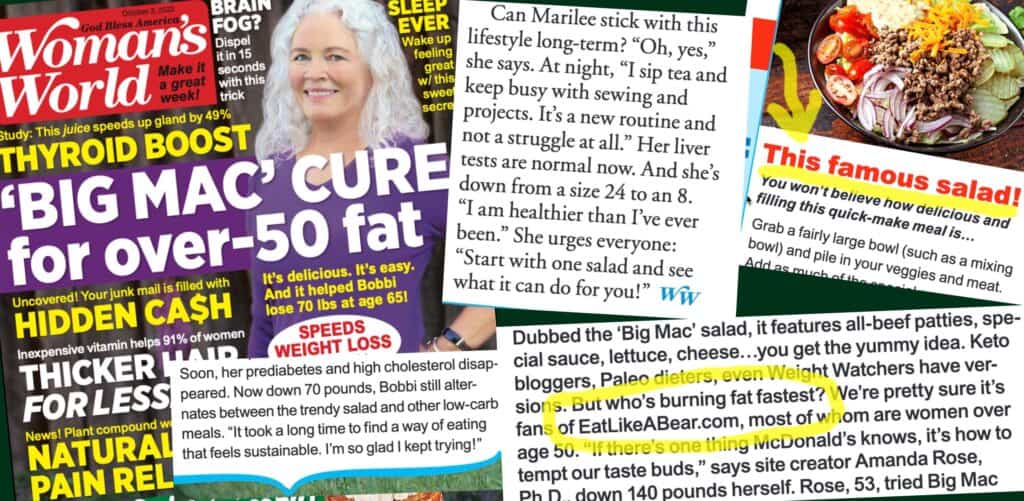 Regional Print
Rural Postmasters Rally to Ship Bear Books
In a charming, can't miss story about the network of rural postmasters who helped ship Eat Like a Bear books across the country featured in Link, the magazine of the U.S. Postal employees. (Find the story here.)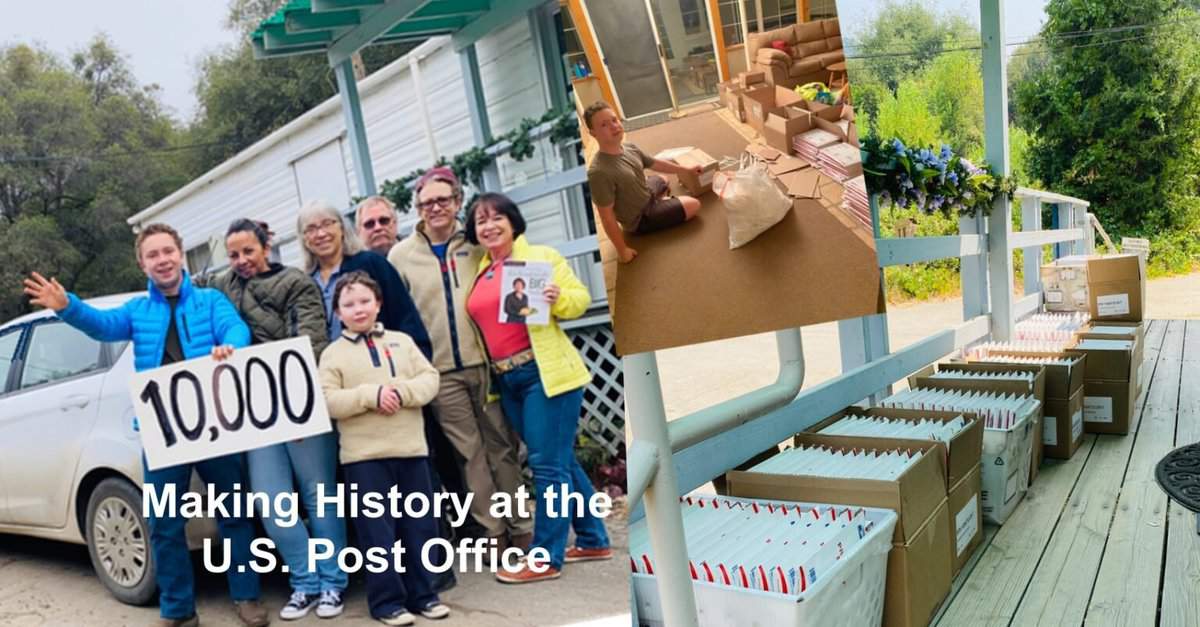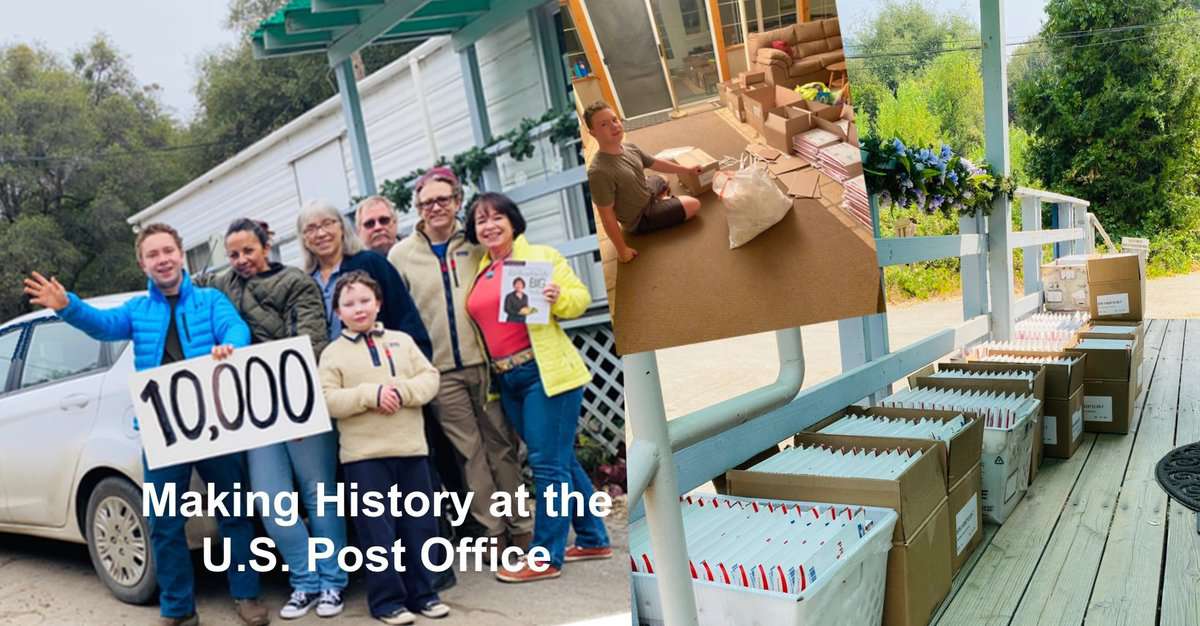 Over 50 Million Video Views in Social Media
Whip It Up! In Minutes!
Yes, it's simple and these meals can be made in five minutes. Amanda's most popular content on TikTok and in Facebook Reels is the "whip it up" content.
Who's that whipping up a homemade ranch dressing in minutes?
You already know the answer!!!
Who's that flagrantly ripping open a bag of frozen cauliflower and making a soup in two minutes?
You already know the answer!
Story-telling
Story-telling is the foundation of success of the Eat Like a Bear movement. The seminal viral video at Eat Like a Bear is "A Postcard from Yellowstone" with over 5 million views across social media. Find the original video and story here.
Unapologetically outrageous
A TikTok'er commented: "You eat like an f'in great dane!"
A half a million people enjoyed Amanda Rose's response….
Is that DIRT???
Ground beef looks a lot like dirt in a video. It has spurred some interesting discussions in social media.
Luckily we have some options that are better than dirt, but with a half a million views, we've determined that a whole lot of people are willing to eat dirt to get thin.
Dieting Commiseration
Eat Like a Bear attracts legions of women over 50 with decades of diet experience.
Past diets are a common point of commiseration.
Who else tried the Cabbage Soup Diet? (Women across the universe raise their hands…)
What IS "Eat Like a Bear"?
We're glad you asked!
Eat, and go be awesome!!!
Learn more about the Eat Like a Bear origin story here.
Availability
Eat Like a Bear is headquartered in California's Giant Sequoia National Monument, northeast of Bakersfield in the Sierra Nevada mountains. Amanda Rose is available last minute in the southern California media market (and really any place else that's awesome).