Viral weight loss drives 100+ people to 100+ pound loss
It's really a pretty crazy world because, at 50+ years old, you never expect to end up at your lowest adult weight. In fact, most women at 50, 60, or 70 have pretty much given up on losing weight. I certainly had, which is why this is all so crazy.
Just three years ago, after losing half my body weight, I made a video on Facebook called "Eat Like a Bear!," encouraging people to use time-restricted eating for weight loss.
My own "Facebook memories" reminded me of how nervous I was posting my "before pictures" in social media. I spent weeks getting my head ready, even to look at the photos myself, much less post them in social media.
I found this little gem with my dad's little barb.
(It's my dad's branch of the family that is our "fat branch" and so I didn't take his comment as harsh judgement, just a matter-of-fat reflection on our familial situation.)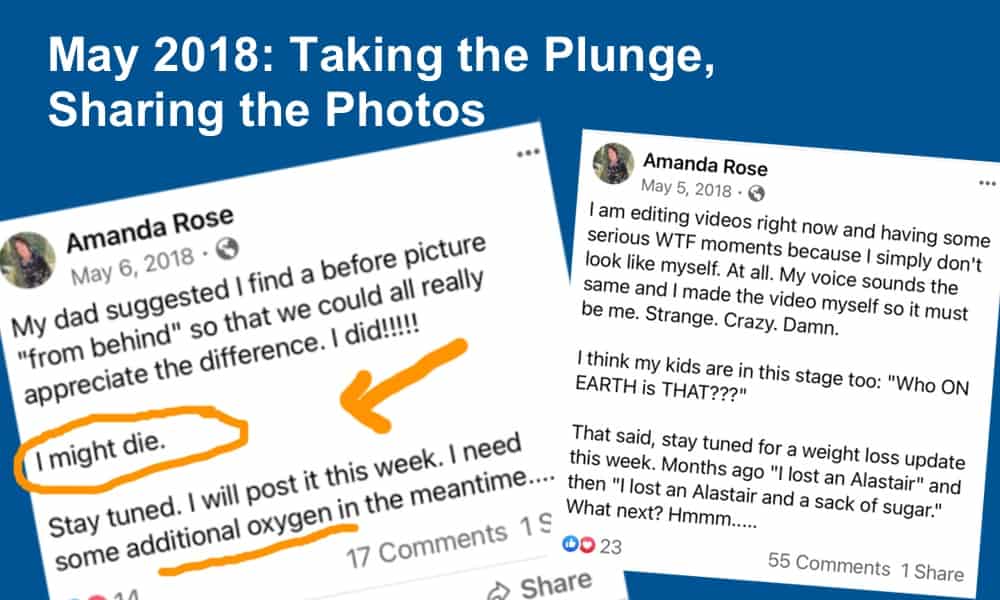 I've always been the sort of person to "go big" and so I went big in May of 2018 by posting my "before" pictures in a video no less, and I called that video "Eat Like a Bear."
The video was a response to all of the critics and nay-sayers about how my time-restricted eating (intermittent fasting) was "starving" myself and unhealthy. I pointed out that eating all of your calories in one tight frame of time a day was not even a record in the world of mammals. In fact, bears do not eat for months at a time.
What if we "went into hibernation" for 23 hours a day? How would our life change?
That original Eat Like A Bear! video is right here.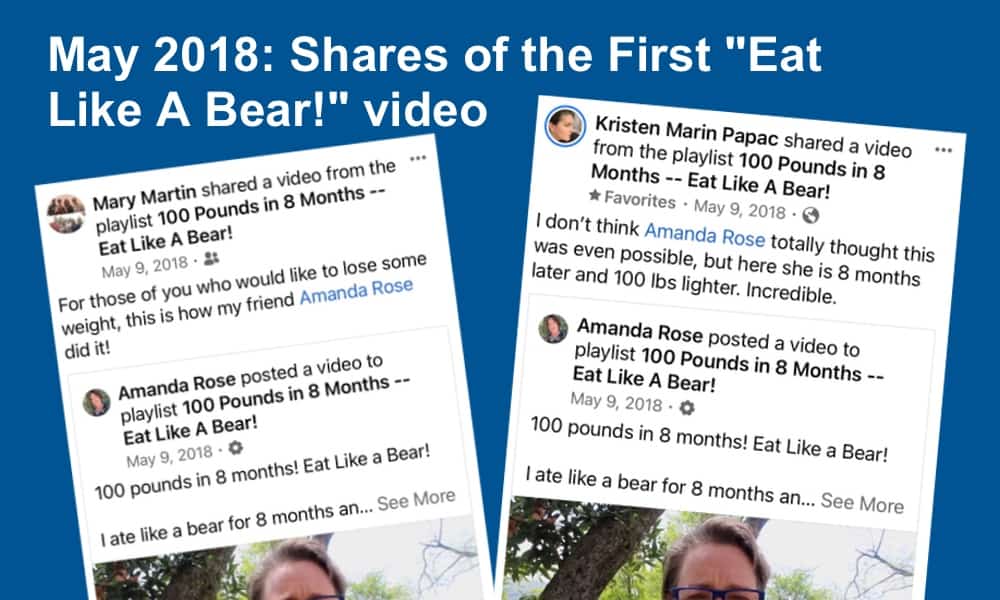 I posted the video, some friends shared it, and I took off on a big road trip across the Pacific Northwest to return to the whole world of Facebook videos in early July of 2018 when, to my great surprise, two ladies I had never met had each lost about 40 pounds and reported that they had hope for the first time in years.
"Let's stay in touch in a little Facebook group," I said. I called the Facebook group "Eat Like a Bear!" as a nod to the video.
That little group turned three years old this summer and is now home to nearly 90,000 members.
The real whopper would come a few months after starting the Facebook group when I had become a bit more comfortable posting that "before" picture, and had a distinct and unique message for anyone who might look a lot like I did a year before, in August of 2017, when I stood with my son at the 45th parallel sign in Yellowstone National Park.
We so often look on ourselves with such shame and disdain when we are at those high weights (as does all of society).
The Yellowstone message is distinctly different and resonated with many, driving thousands of cases of weight loss success, including a whole lot of "century" cases (100+ pounds lost).
The video has over 5 million views across social media.
Three Years, 100+ 100+ Weight Loss Cases ("Century Bears")
In just three short years, in late spring of 2021, I found myself in Orlando surprising our 100th "Century Bear" – the 100th person in the Eat Like a Bear! community to lose 100 pounds since finding us. It was a community milestone that we started counting systematically nearly a year ago, after realizing we already had about 30 such cases. We hit the 50 mark around Thanksgiving of 2020, and by April 2021, we were only 10 away from that century mark – 100 Century Bears.
Our century rate had increased from about one per month 18 months ago to 6 or so a month in the spring of 2021, due to the viral increase in the size of our community.
I appeared on the cover of Woman's World magazine, in the Bakersfield Californian, and on KGET news in August 2020, leading to a whole new influx of Bear members and driving up our Century Bear rate.
In fact, a woman in upstate New York is about to hit the century mark after finding me on that August 2020 cover of Woman's World. As a coincidence, just blocks away from her in her upstate New York neighborhood, her friend separately found our community and is halfway to our coveted Century Bear status.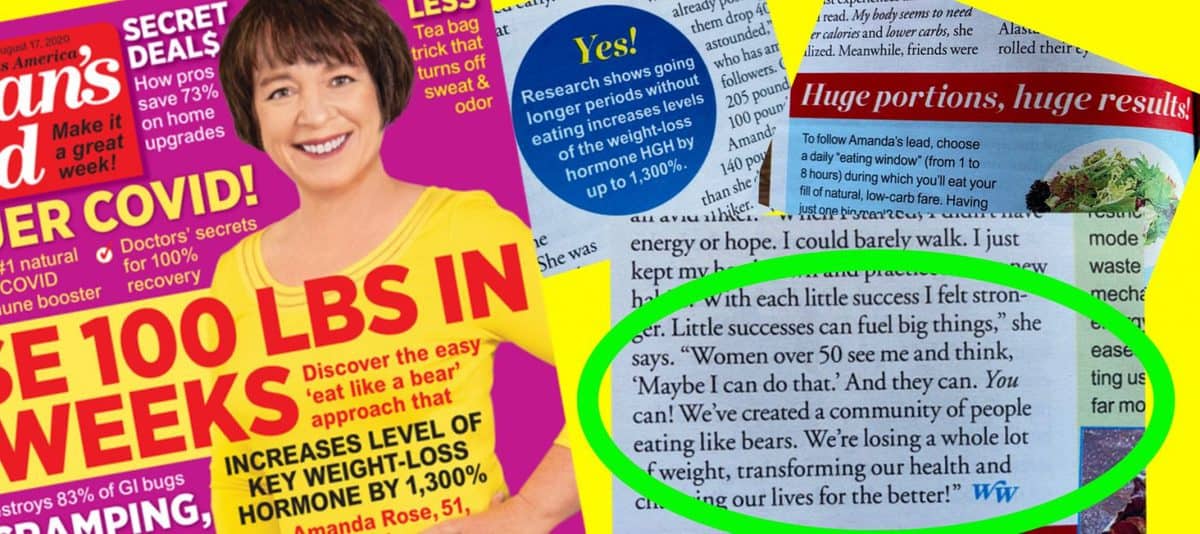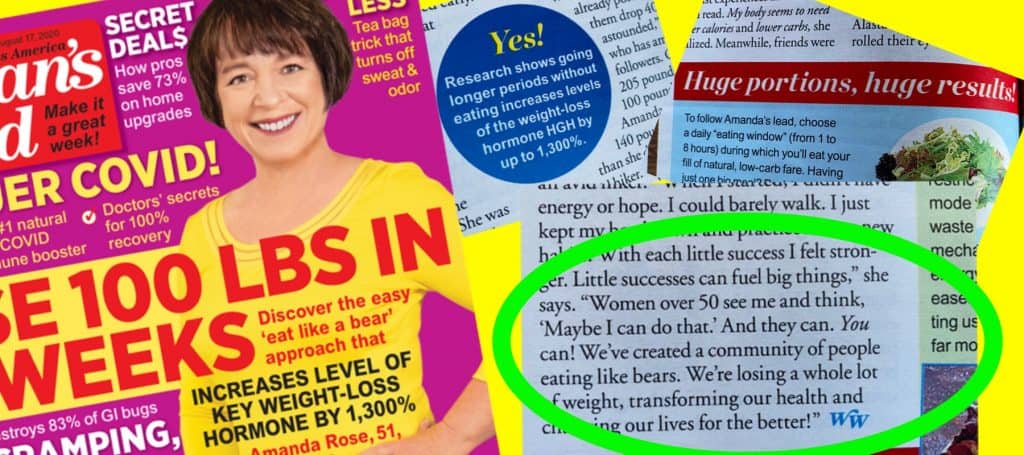 A 78-year-old lady in Tennessee, my own distant cousin Jeanetta, found me on that same Woman's World cover. The feature story provided a recipe for my go-to meal, the Ridiculously Big Salad, and Jeanetta followed that recipe daily for two weeks. She lost 18 pounds and then called my dad, reporting her weight loss and boredom with eating the same meal for 14 days straight.
I shipped Jeanetta a five-pack of my book Half My Size with The Ridiculously Big Salad, and I received a handwritten note a couple of months later with a report of all the weight loss in her friends and family circle.
Society underestimates older women, but I certainly noticed the impact of one 78-year-old woman with a five-pack of books.
Woman's World then featured the stories of 58-year-old Melinda Troxel and 75-year-old Gail Thompson in a December 2020 issue, bringing more of the grey-haired set into our community.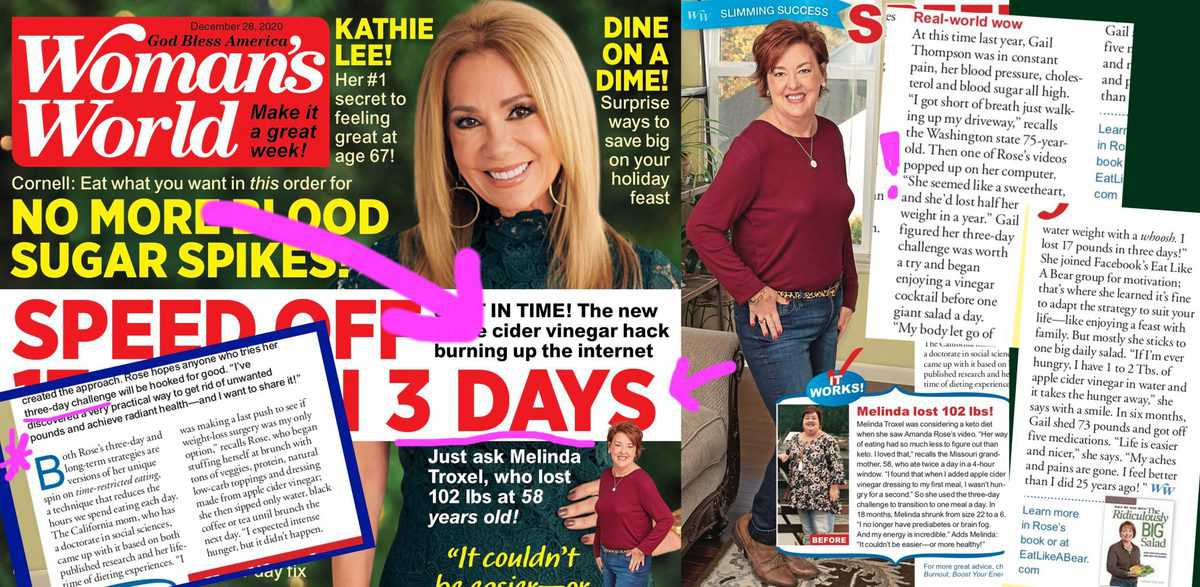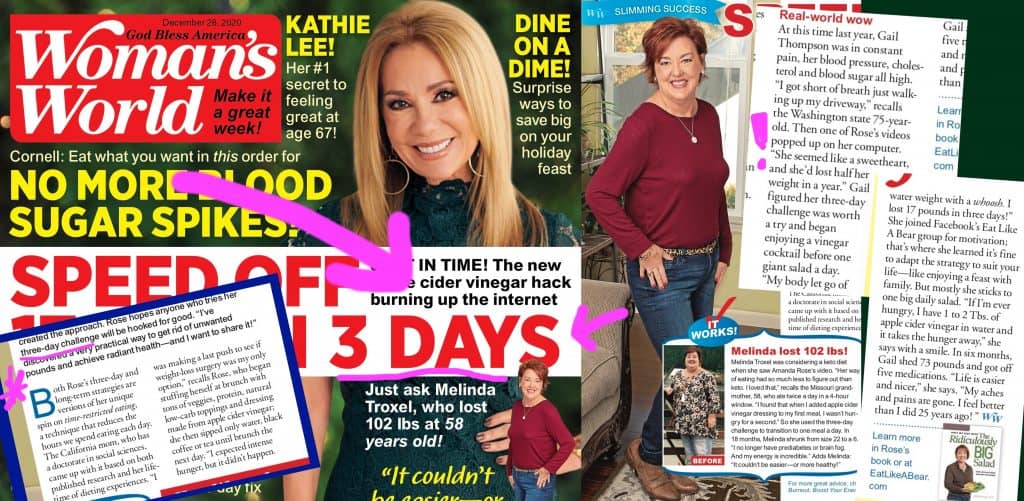 It isn't really a surprise, then, that our 100th Century Bear was 52-year-old music teacher Sondra Jones from the Orlando area. Sondra knew to expect a surprise at her doorstep that day, but she never imagined that 10 leaders of the Eat Like a Bear! community would leap out of a passenger van onto her Florida lawn, all having flown through storms, floods, and outages to get there.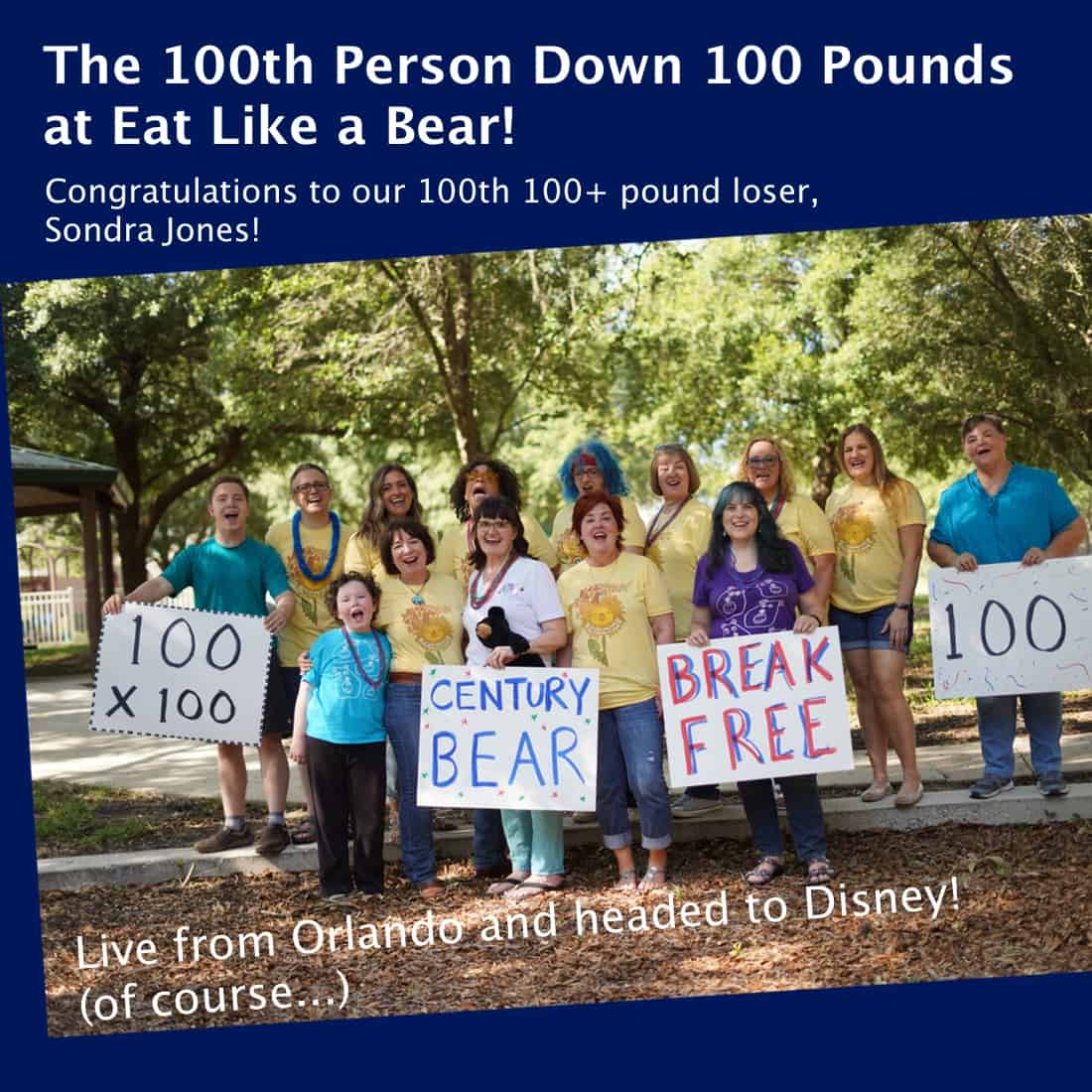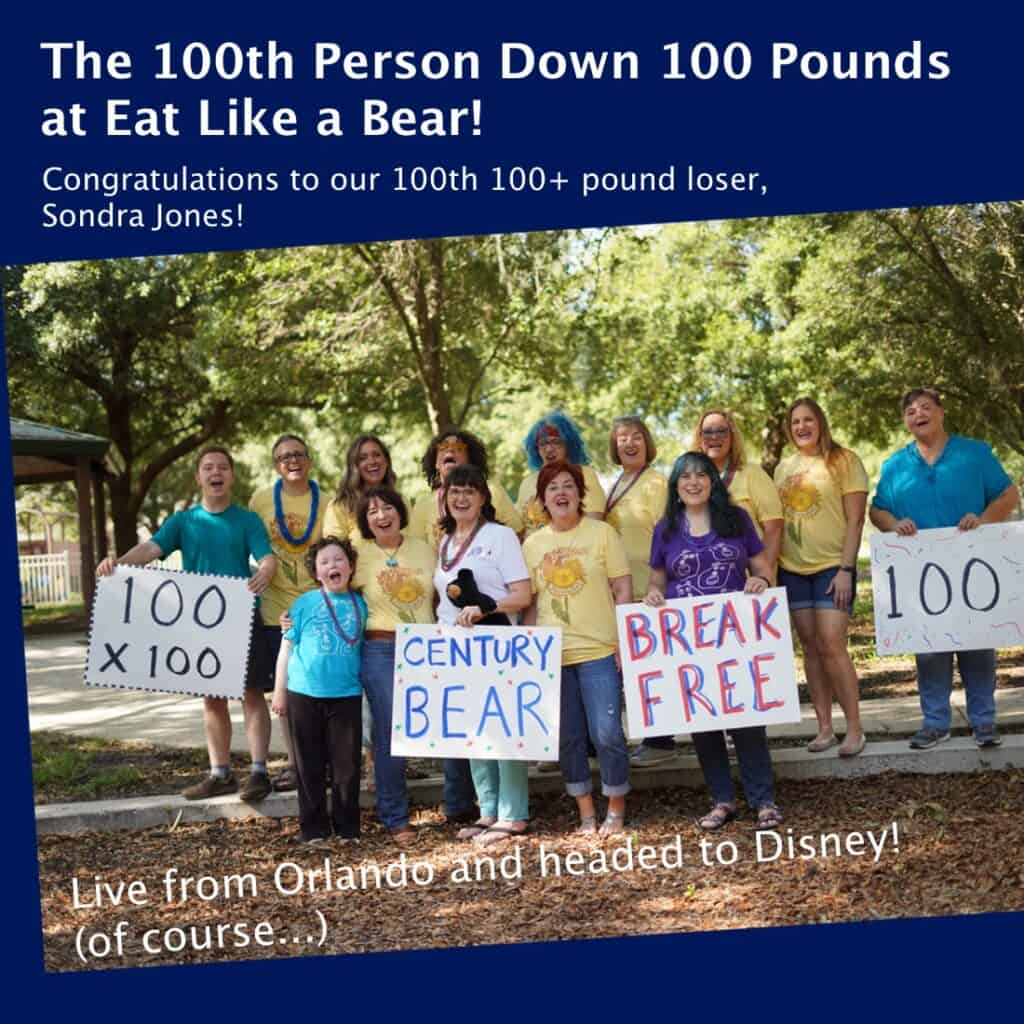 Our Orlando meet-up was life-changing, as we reflected on the impact our community is having on older women.
I teach a way of eating that is simple and inexpensive, one that can even be done on food stamps.
I teach people to forego the weight loss accelerator supplements and the special branded foods that are rampant in the weight loss industry, an industry that has caused many of us to get fatter.
In fact, our real success in weight loss is due to the point that, in the Eat Like a Bear! community, weight loss is a byproduct of what we actually do.
Four years ago, when I was 280 pounds, I wanted desperately to hike with my sons. I engaged in my goal every single day. In the beginning, I limped around trailheads with an injured knee. My limping turned to walking. I can now endure steep climbs easier than I could when I was 20.
My 2018 hiking adventures made their way into social media where two ladies found me and caused me to start a little Facebook group on July 9, 2018.
On that same day, 53-year-old Shelley Foudray would join the group and become our first Century Bear some nine months later. Shelley struggled to walk to her mailbox three years ago but now walks in 5K events.
Just weeks ago, Shelley jumped out of a van near Orlando and ran to greet our 100th Century Bear.
What If?
I reflect now on May 2018 and those "Facebook memories" with my hesitation to post my "before" photos, and I do wonder where we would be today had I tucked them away, in shame as we so often do.
As we move forward, it is my top goal to help tell more of our stories, as I work to direct our resources into that very big project, designed for YouTube. If one story can have this sort of impact, I wonder what will be the impact of thousands of stories.
I intend to find out!