Pop in your email and check your spam folder! Add support@EatLikeaBear.com to your contacts.
Search your email for "Eat Like a Bear" to find messages trapped in spam or promotions.
Email us at support@EatLikeaBear.com if all else fails
This is legit, guys!!!
I know it seems unreal that a bunch of us are running around skinny.
Or at least "skinny" to our own standards. My own phone is never gonna ring from the editors of the Sports Illustrated Swimsuit Edition and that's fine by me because all of those standards never mattered in the first place.
Here at Eat Like a Bear, we focus on our own core value: Getting out and living our most vibrant lives.
This is me waving to you from the universe of that future!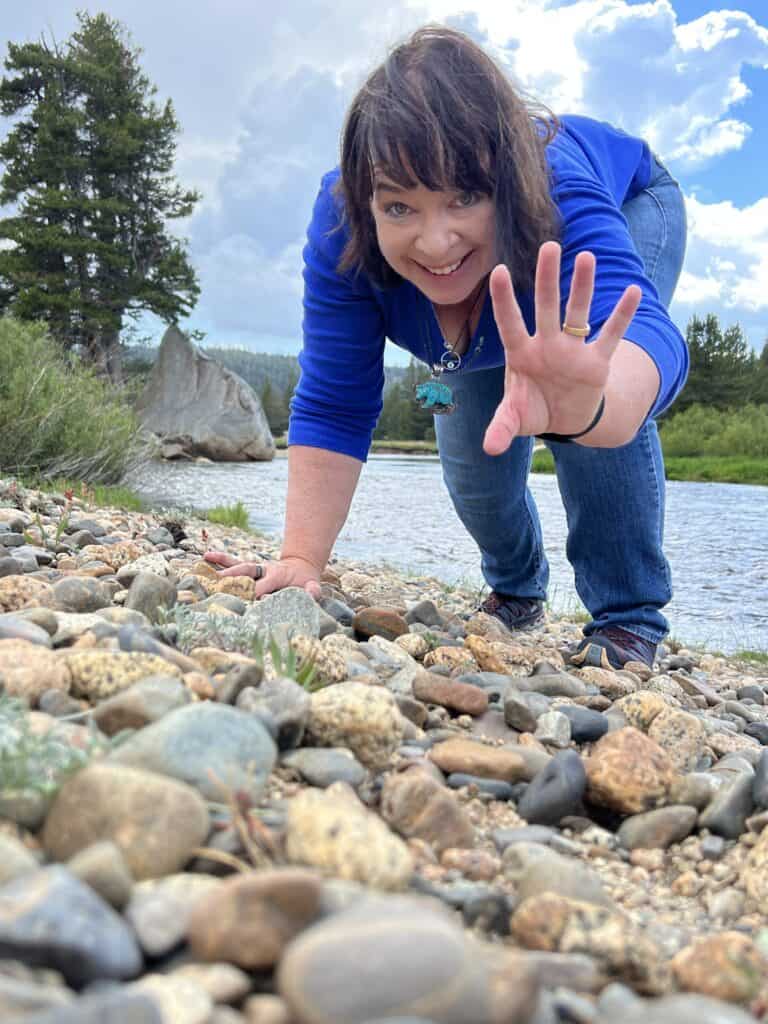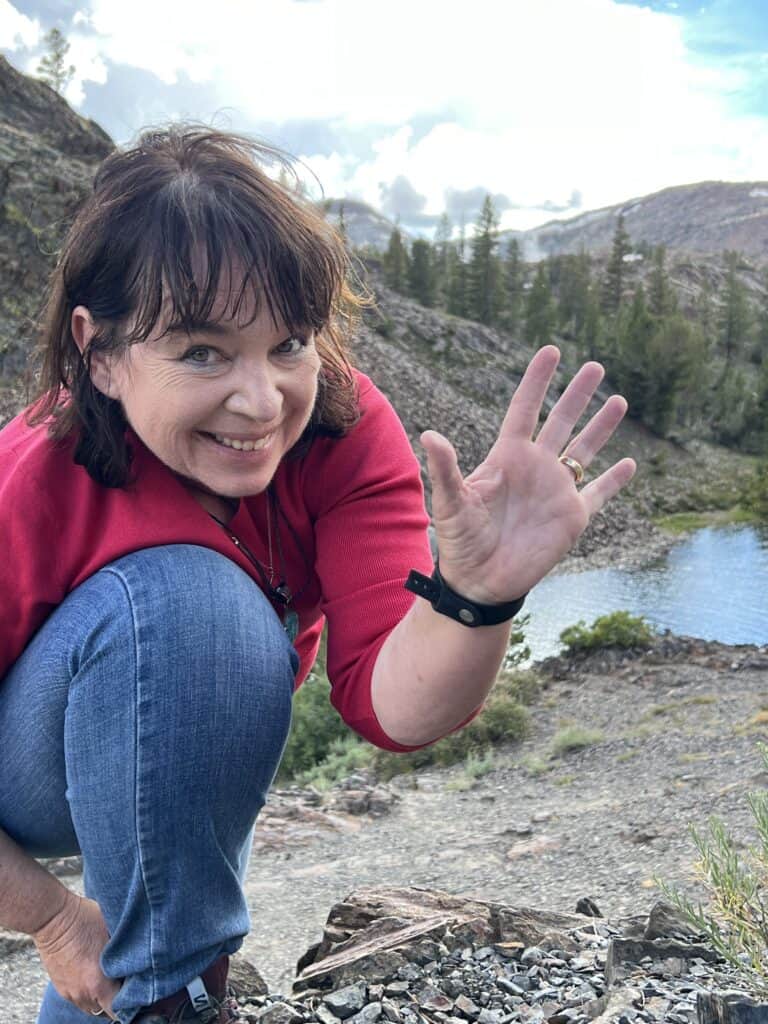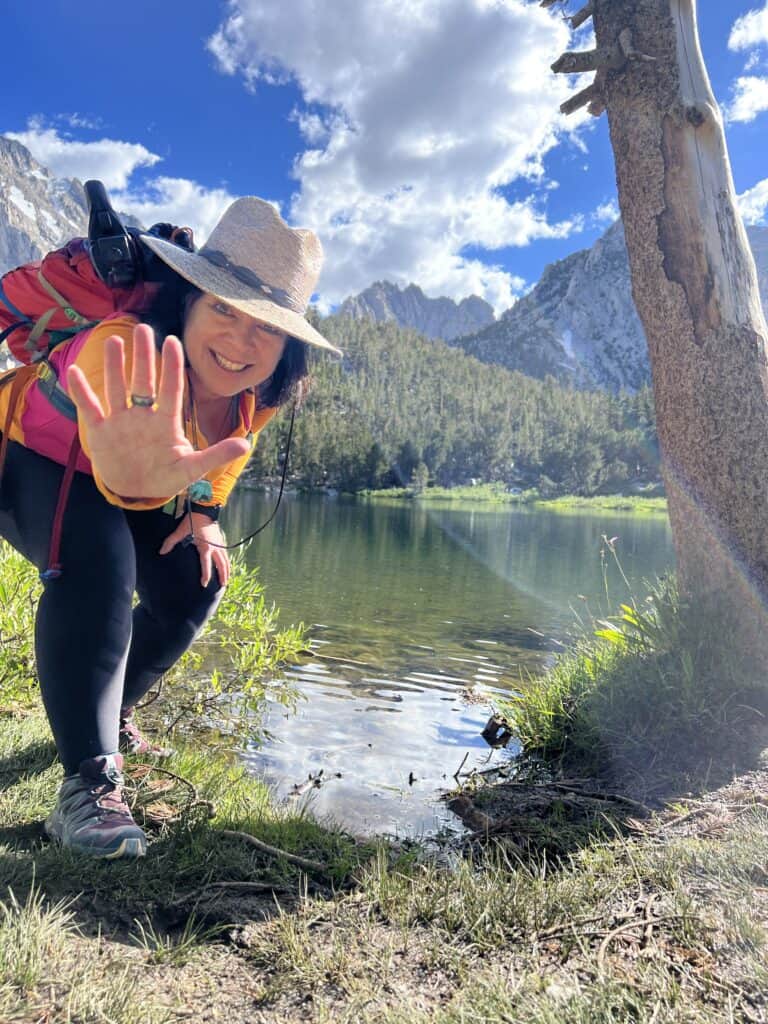 We've had a whole lot of success in weight loss around here
We're a little small-fry community and we've already got a bunch of people down 100+ pounds.
Meta (Facebook's parent company) recognized the badassery that our community is.
Here's Meta's profile of us from fall 2022: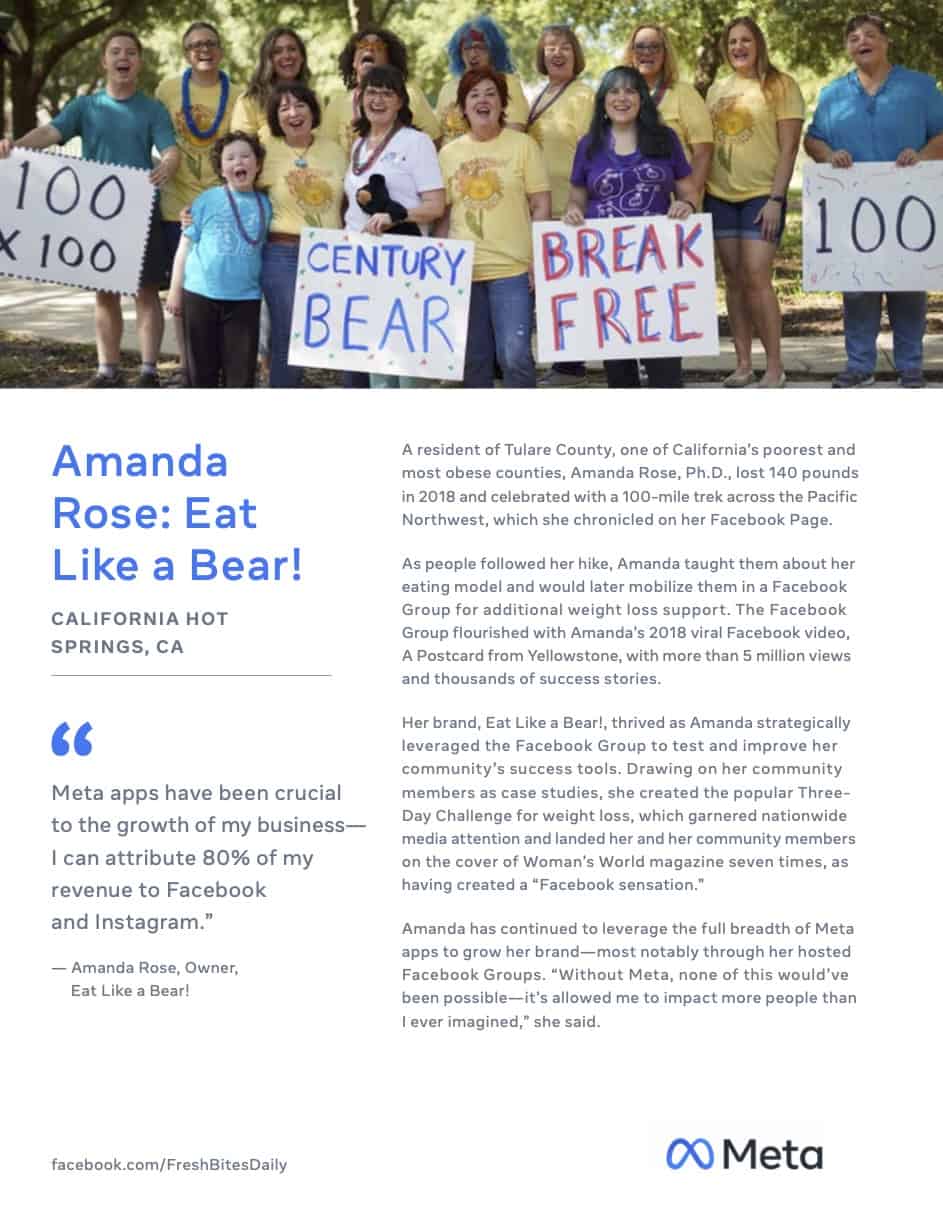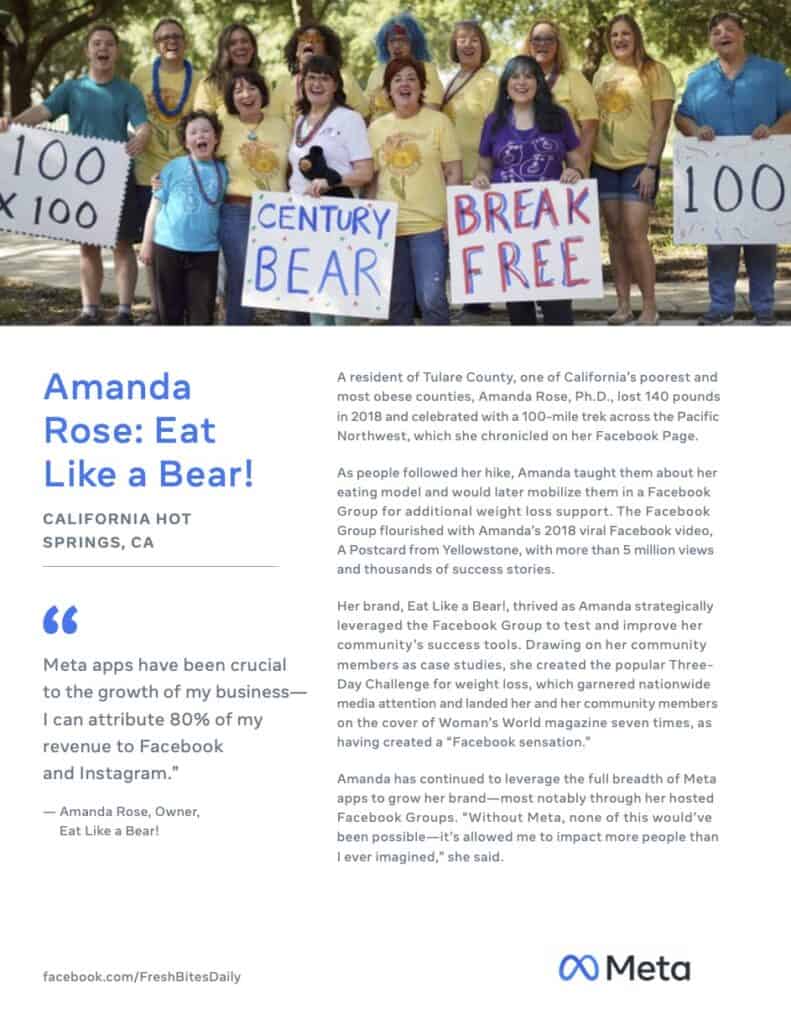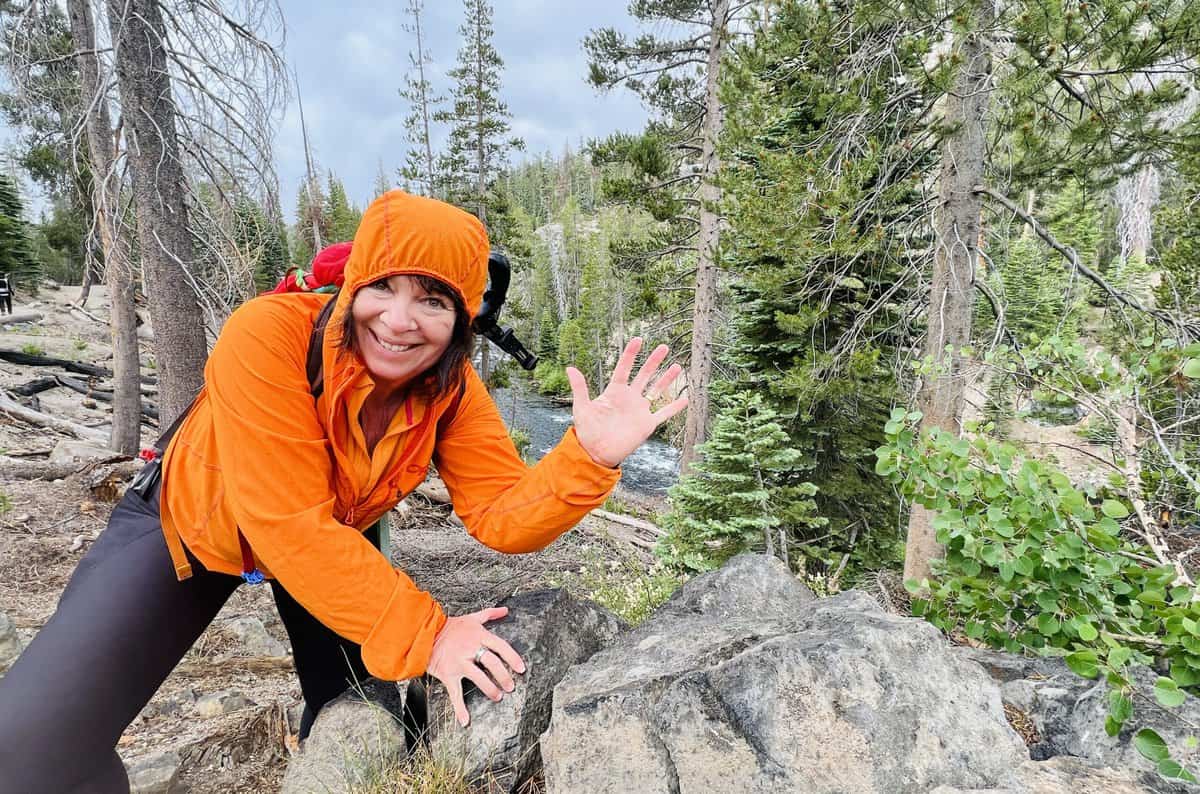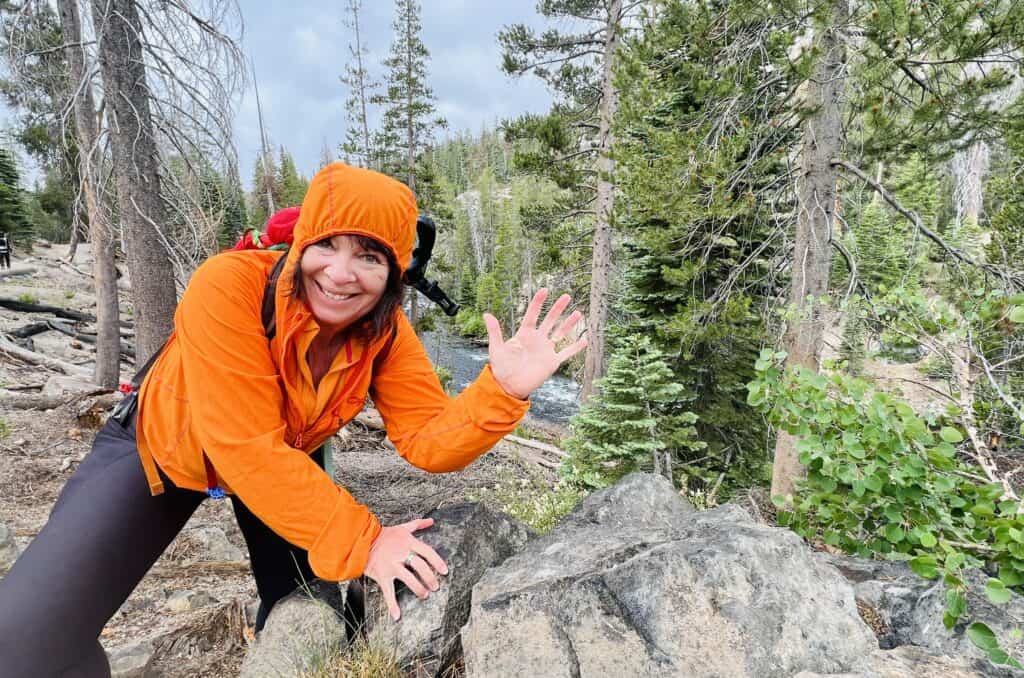 As for the Three-Day Challenge: I Strip it to the Absolute Bare Bones in Three Days!
I am Amanda Rose, Ph.D., founder of the weight loss community Eat Like a Bear! I am 53 years old and lost 140 pounds at the age of 49. I am a "half my size" case, down from 280 pounds. More exciting:
Thousands of people are adapting my approach and finding their own success.
Yes, it's low carb/ketogenic, but a very distinct and highly effective version of a low carb diet.
Our secret? The "RBS" – The "Ridiculously Big Salad" and the "Ridiculously Big Skillet" which are more than just a salad or skillet dish – they are a framework of eating. (It's really no secret at all, and it certainly isn't a secret if you get into this Three-Day Challenge.)
It's free. I know, "nothing good in life is free," until apparently now… (It's email, and you can unsubscribe, all for free.)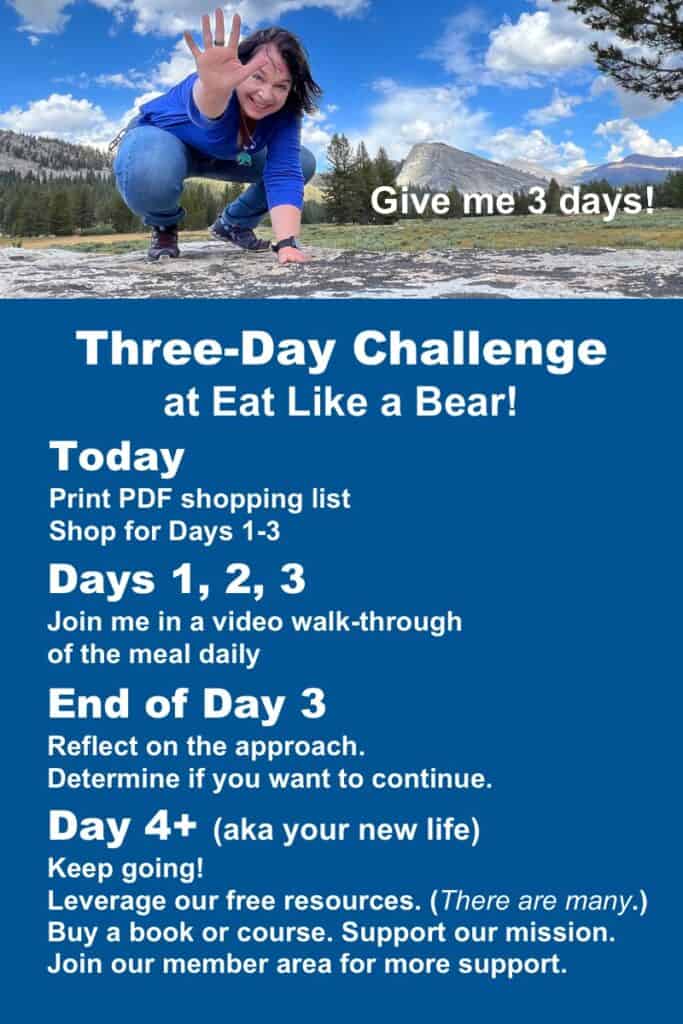 The Eat Like a Bear! motto:
"No drugs, no surgery, no branded products.
Required: Your own bootstraps!"
You will not find diet accelerator products or special foods on this website. All of that stuff that everyone is trying to sell you is junk that you don't need. What you really need is yourself and your bootstraps. Eat Like a Bear! helps you find them.
Put your head down and grind like you never have before. The transformations that are happening in our community as a result are powerful. A key part of our success is leaving behind all of the pills and potions and promises of magic fixes.
The Three-Day Challenge Featured in Woman's World, December 28, 2020!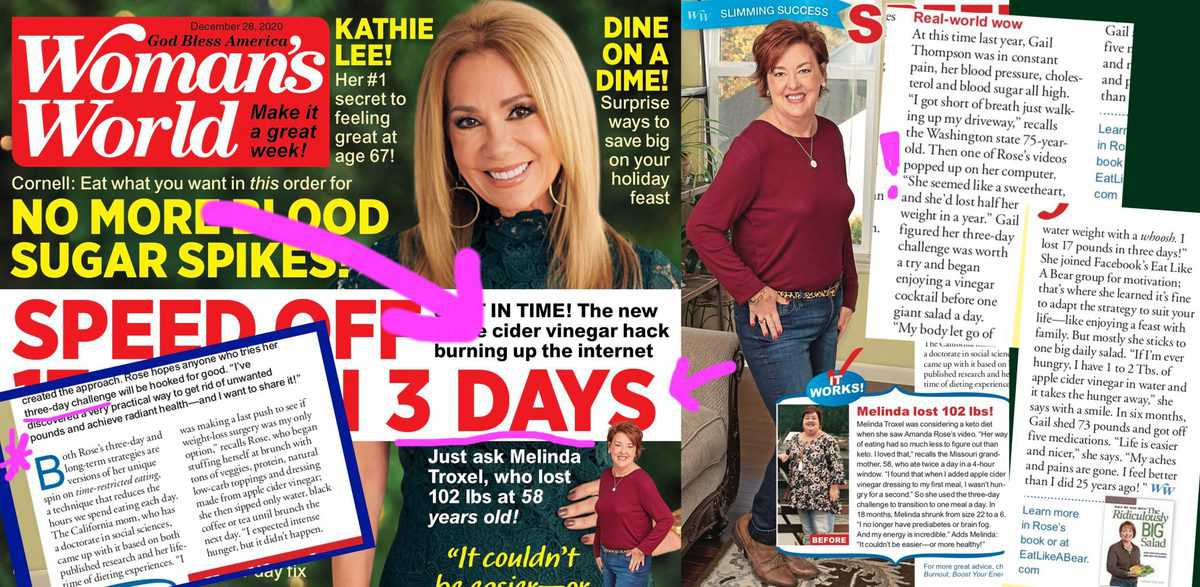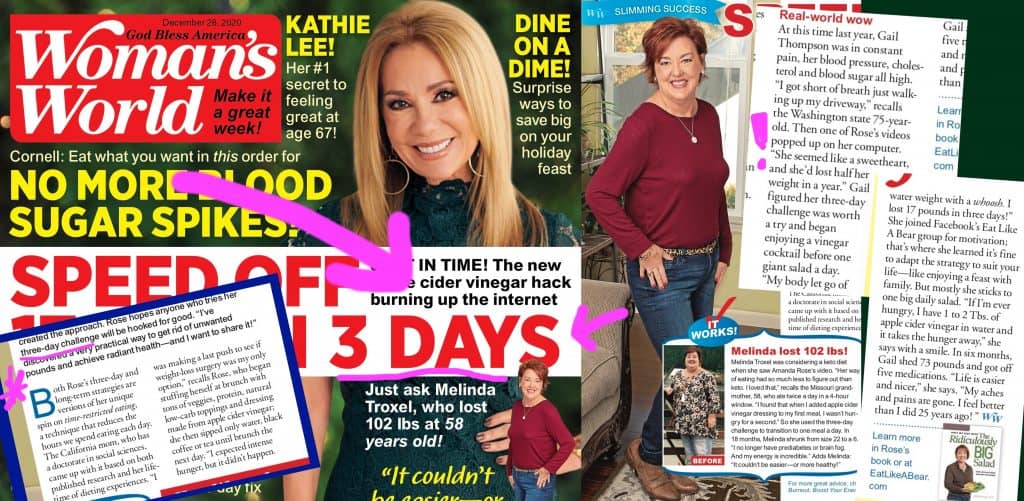 This very Eat Like a Bear! Three-Day Challenge was be featured on the news stands in the December 28, 2020 issue of Woman's World magazine.
WHAT???
My personal story was featured in the August 17, 2020 issue of Woman's World and, apparently, when the editors were working on the story, at least one of them took the Three-Day Challenge herself. In October 2020 I received an email from a Woman's World editor, asking if they could feature the Three-Day Challenge and some of our community's success cases. (I may have answered something like, "Heck, yeah.")
I have been asking around, and I have not found another example of a free email series being featured in a major national magazine (or even a minor one).
And then…with increased success… 8 times to date
Getting the Three-Day Challenge on a magazine cover was extra-exciting but we're now two years out from that fabulousness and community members have now been featured eight times, including on seven covers. Check it out: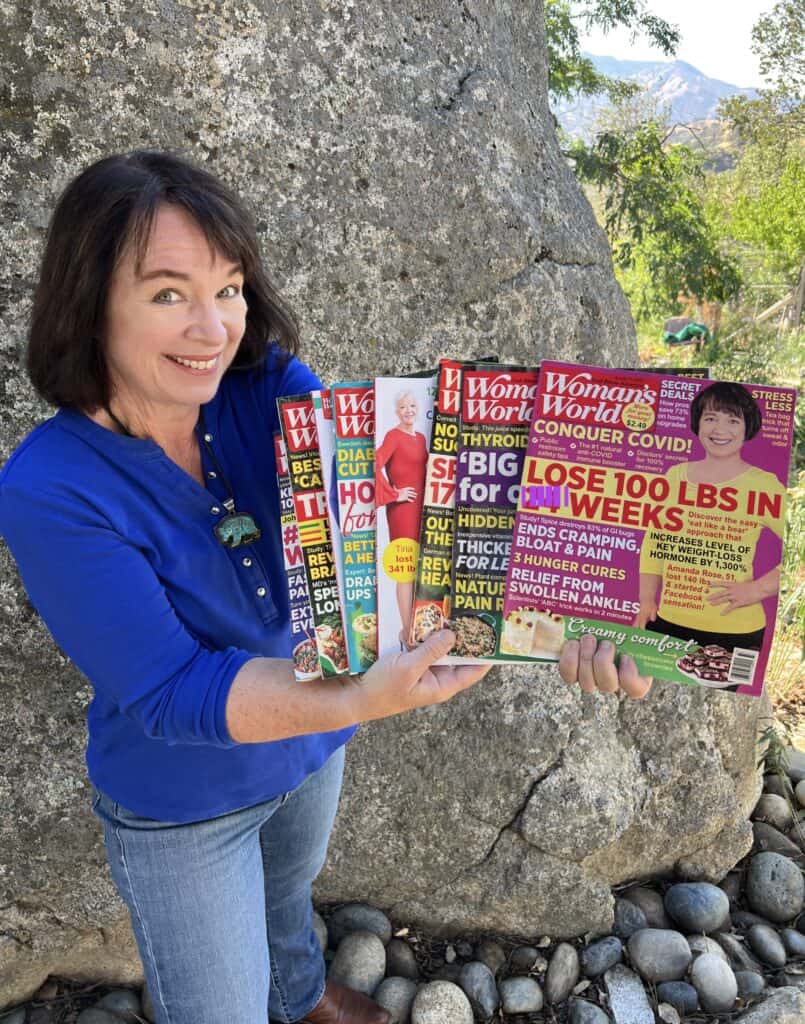 Three-Day Testimonials
Below are some screenshot testimonials from Eat Like a Bear! Three-Day Challenge participants. I have no idea how representative these testimonials are. I designed this challenge to expose you to the meal type that we use. Take that knowledge and implement the concept according to your needs and goals.
It is free so you have little to lose here but a bit of time. Regardless of how well it works for you, you can use your experience to improve any approach to weight loss you are currently focused on.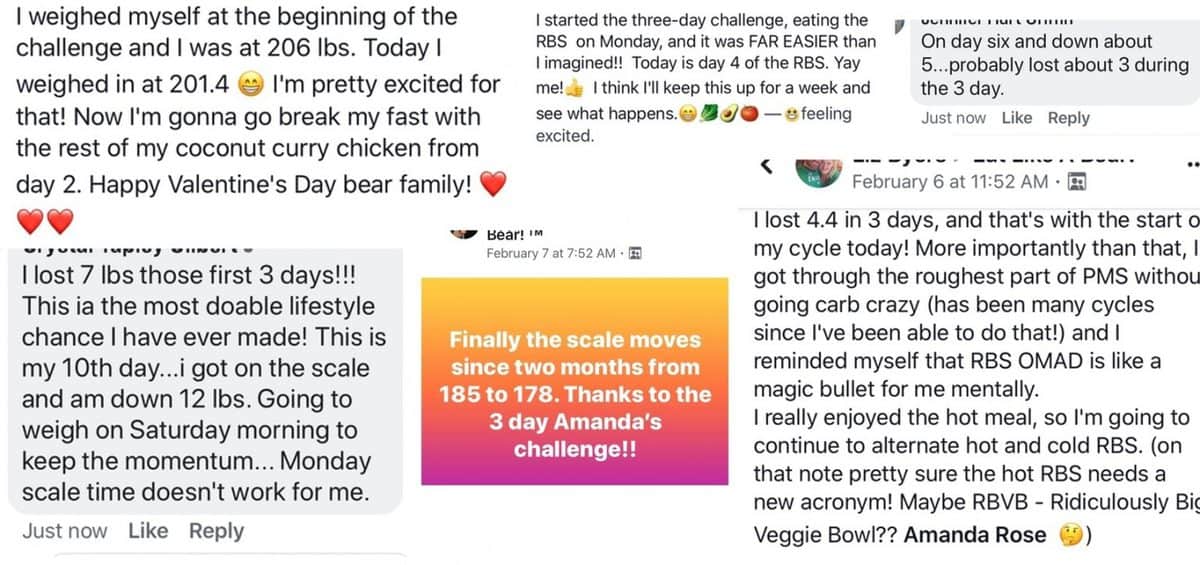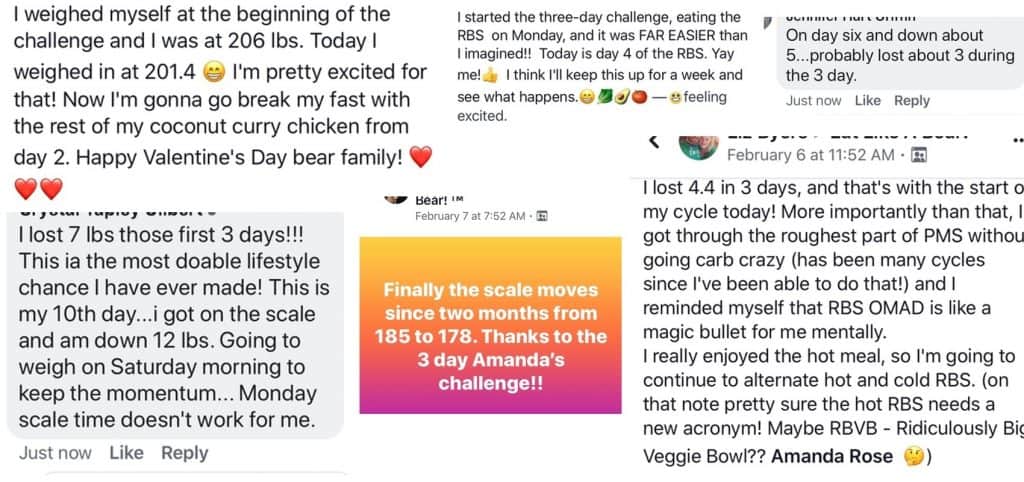 Jump in right here:
That's really the best way to know if it's for you.
Unexpected Followers of the Three-Day Challenge
I am always amazed at who has opted into the Three-Day Challenge email series. It may be hard to beat the editors of a major magazine who then chose to feature it, but another is Jack Canfield, author of "Chicken Soup for the Soul." You could not have lived through the 1990s without knowing the Chicken Soup series (or through the new millennium without knowing his "Success Principles").
When I sent Jack Canfield my first book, "Half My Size with The Ridiculously Big Salad," I had just finished the manuscript for my second book "Eat Like a Bear! Jump Start: The Three-Day Challenge Unpacked." It was one of those extremely humble-looking double-spaced manuscripts that you send to a book editor for editing and proofing. I flagged a few spots that I thought might catch his interest. That turned out to be a pretty good decision, too. It sounds like it's his favorite of the two. I expect that is due to the core psychology message of the book. Check out the podcast with him.
Three-Day Challenge Success Cases
Feel free to explore this website, and read the main success stories that are coming out of the Eat Like a Bear! community.
The Three-Day Challenge has dramatically improved the overall success rate of the community because it walks people through a way of eating that works for a whole lot of people.
In fact, it was the success of the challenge that has driven a lot of our "century" cases — people who have lost at least 100 pounds since finding Eat Like a Bear. They are called "Century Bears" around here. We surprised our 100th in May 2021.
Yes, It's Free
When I first put this challenge together, some of the community leaders were just a wee bit concerned that we'd go under, giving it all away for free. There is a whole free community on Facebook that costs more money to operate than it would cost to send the whole Brady Bunch to college, but as it turns out, a weight loss approach that actually works can also generate enough revenue to pay bills. The expenses behind this project are far bigger than you probably want to know (and I would have never started this had my future self whispered the cost in my ear), but the fact is that we're keeping the ship afloat with sales from the books and digital courses.
Thank you for your support, but you should also know that when I find success cases who did it all without buying anything, that makes me very proud, too.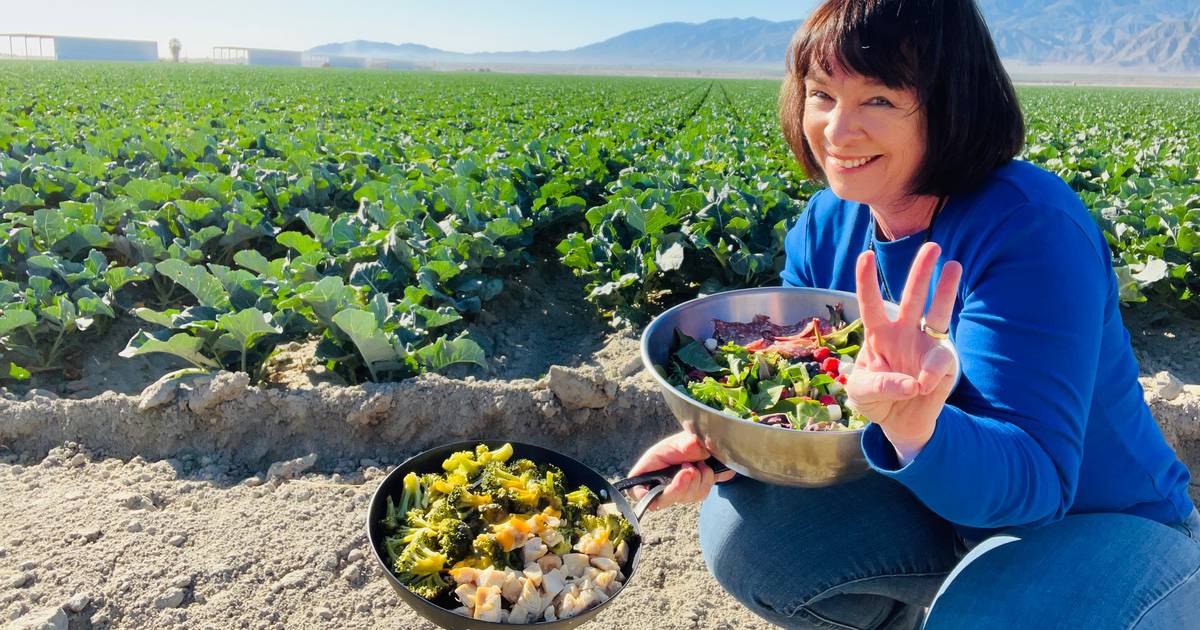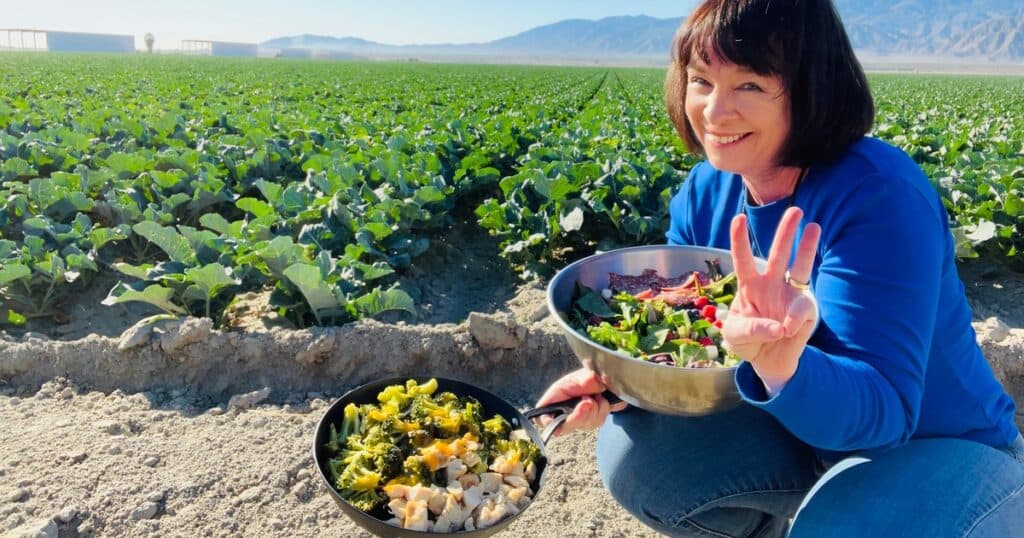 What Am I Really Selling?
If you read to the very bottom to try to figure out what I am actually going to sell you, you have come to the end.
Yes, you can buy an information product from me at some point if you choose.
No, you sure don't have to.
You can just leave now, but I do think you should pop in your email address and go through the whole Three-Day Challenge sequence, watching a video each day, learning what it is that I actually did, and then you can unsubscribe and never hear from me again, if that's your choice.
However, if you do unsubscribe and then end up trim, I sure would love for you to report back to me. My currency is success cases, and I count them carefully. If you are our next success case, I really do want to know about it.
I look forward to hearing your story!
The Eat Like a Bear! motto:
"No drugs, no surgery, no branded products.
Required: Your own bootstraps!"