A Postcard From Yellowstone, A Message of Hope
This is a story about a video with a simple message gone viral and touching the lives of scores of people in the process.
Viewed by over five million people in social media, the heart-felt message in A Postcard from Yellowstone has shaped the culture and success rate of the Eat Like a Bear community.
It's a timeless story about the power of hope and community.
This post is part of the back story of the video, particularly the recreation of the family vacation photo.
---
The Early Seeds of the Movement: "I Just Wanted to Hike with My Sons"
It was the spring of 2018. I was down over 100 pounds and I was ready for spring.
One year before I had weighed in at 280 pounds. I was limping with an injured knee and I wanted nothing more than to get out and hike with my sons. That desire of my heart to hike, a series of unexpected events, and a number of good decisions landed me one year later hiking freely and joyfully across California, the Pacific Northwest, and the mountain states, living deeply in my goal and, in the process, recording my adventures on Facebook.
Some dozens of eyes were on my story in those spring months through the Pacific Northwest and soon some thousands would be watching my trip through the mountain states that summer.
I called it "The Century Hike," way back in 2018, long before I had any idea of what was to come here at Eat Like a Bear.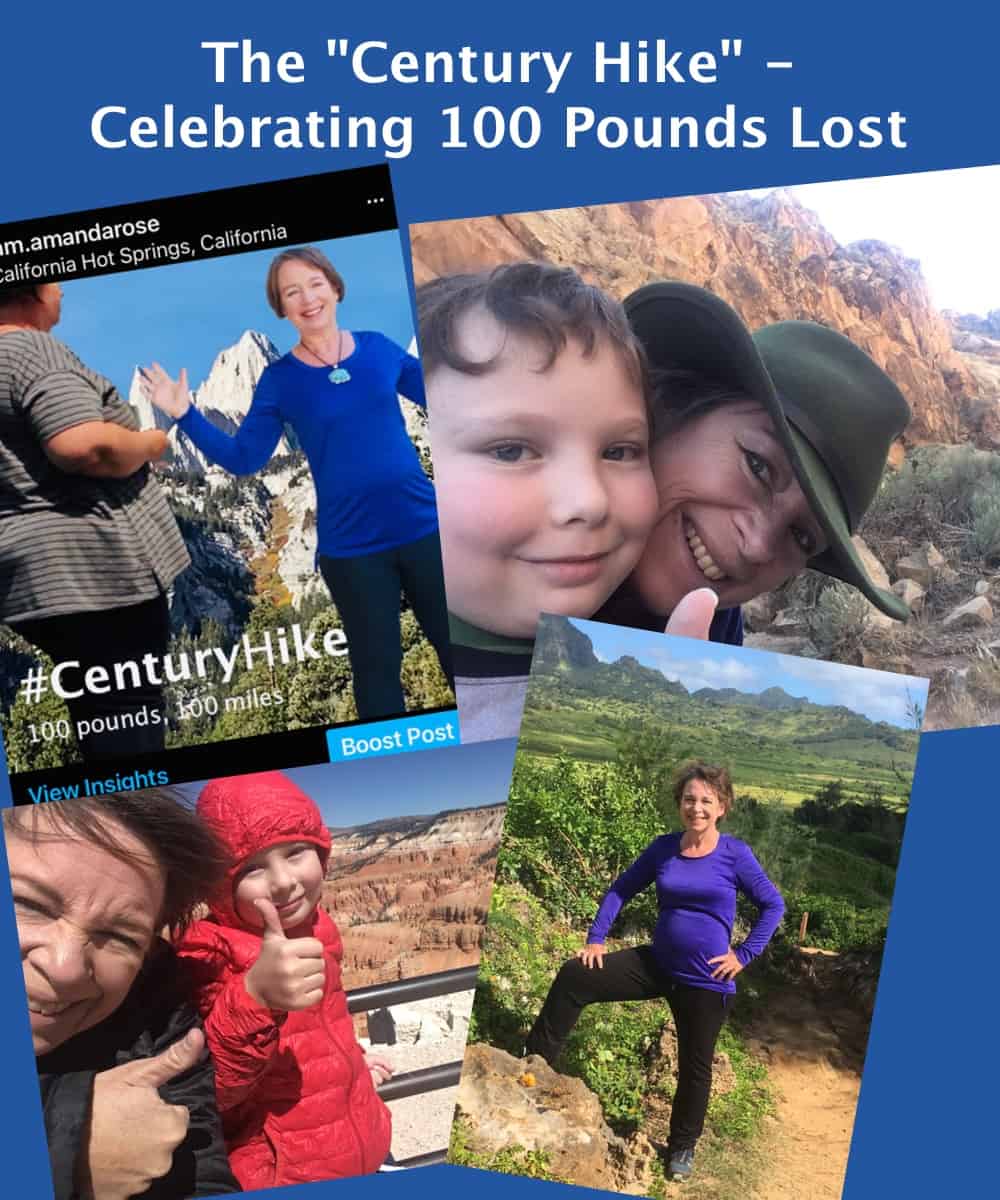 In those early months, I was definitely aware that my story was having an impact. My cousin had adopted my diet simply by asking a few questions and watching me eat at a cheap Chinese buffet in Delano, CA. He ended up below his high school graduation weight. My aunt (his mom) is more trim than I have seen her.
Fellow school moms are more trim and off diabetes medications. People in my actual, real life were jumping in and having success!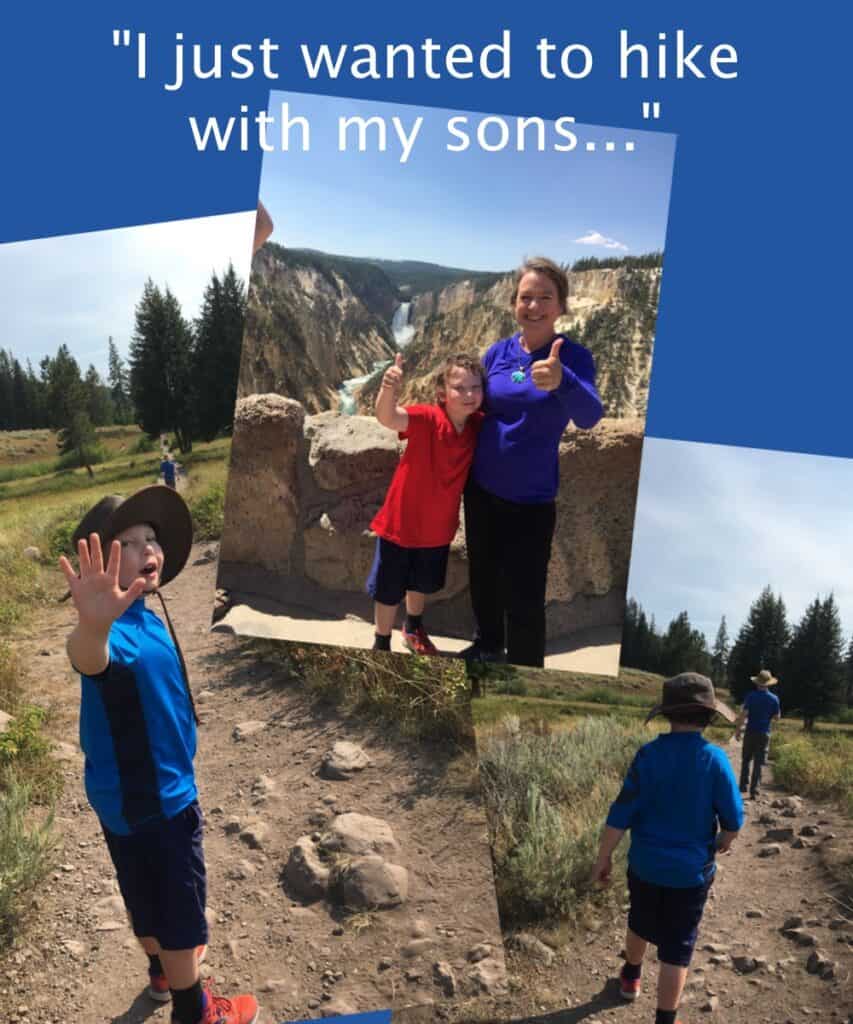 As I prepared for the Century Hike, I was energetically working on my old website, updating its long-neglected foraging and herb content. I live in the Giant Sequoia National Monument and am a prolific grower of herbs and an avid forager. Foraging is simply hunting for edible plants in wild places, such as wild miner's lettuce to use in salads. At 140 pounds down, I could get out and forage much more easily and I was ready to forage.
I did some LIVE videos on my Facebook page in May and told people about my weight loss.
I was actually trying to improve my weight loss message — trying to get my doctor to adopt it, in fact. The Facebook videos were a great way to learn to convince my doctor a bit better.
That spring, we hit the Pacific Northwest and logged in some of those Century Hike miles.
I didn't hit the LIVE videos again until early July. It was then that I discovered that people who watched the videos in May had implemented the diet.
Two ladies were down 40+ pounds and, more importantly, they reported that they had hope for the first time in years.
"Whoa! I'll start a Facebook group so we can keep in touch."
And then: "Whoa! The group has 500 people!" (That was the first day.)
The timeline of much of this is in the Eat Like a Bear origin story. (Find the story here, CLICK!)
The Cross-Country Road Trip
In late July, we flew to Philadelphia to buy my brother-in-laws Ford Explorer. My sons and I were itching for an excuse for a cross-country trip anyway, and grabbing a car was surely a great way to do so.
By the time we left for Philadelphia, our Eat Like a Bear! community was approaching 3,000 members.
In the summer of 2018, I didn't have much of a plan for the Eat Like a Bear community and my friends remind me that I thought of it as a side-hobby commitment of some sort. I was focused on my foraging and had plans to create a foraging video empire. I had even met a producer earlier in the summer interested in discussing a foraging show.
Despite no plans or ambitions for Eat Like a Bear, I most definitely felt a responsibility for my message to the community's 3,000 members and I wasn't entirely sure what that message should be.
The highway miles on our cross-country road trip left me with dozens of hours of reflection pondering this question.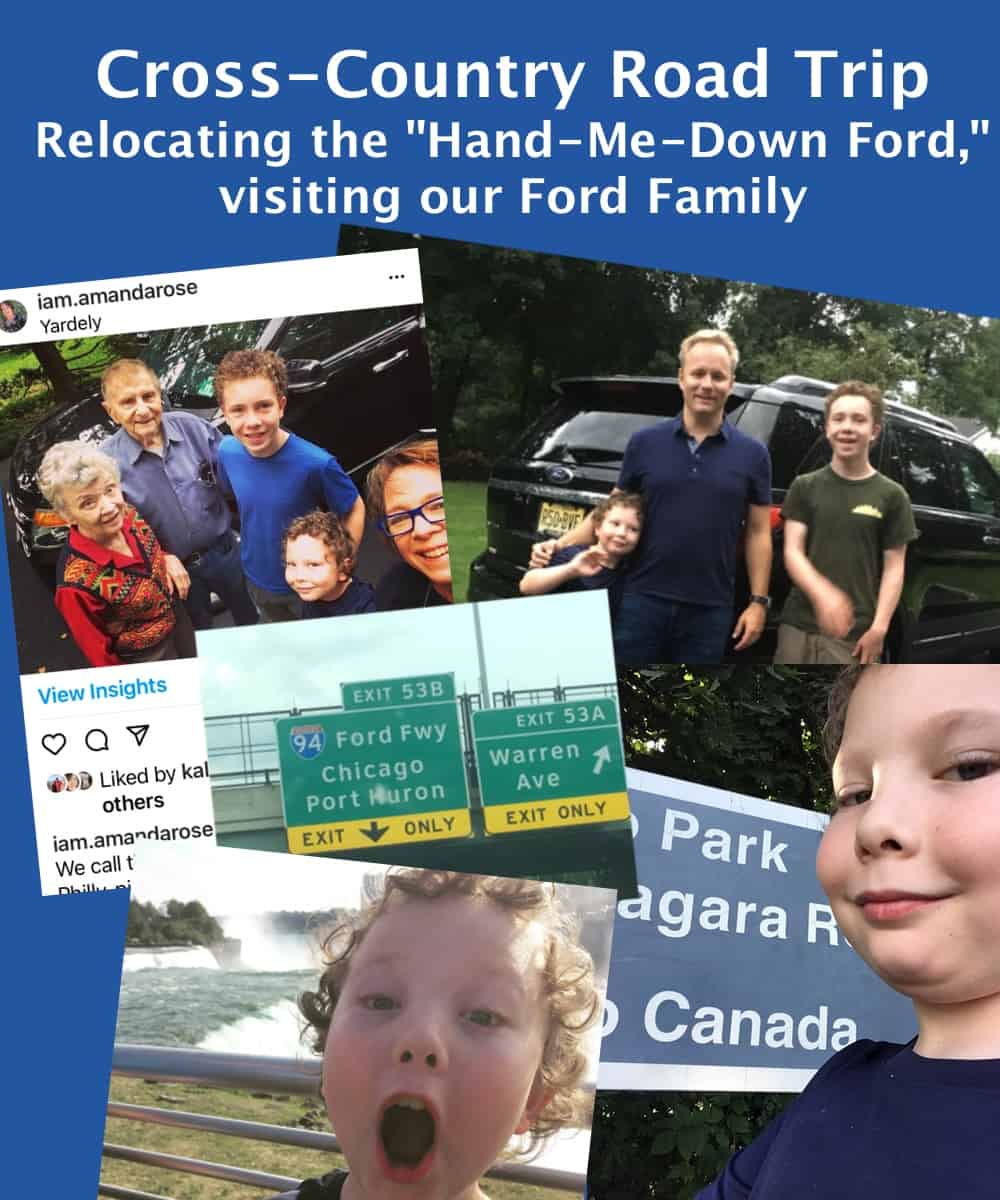 With our hand-me down Ford in Philadelphia, the boys and I took the long way back to California via Michigan, driving north through upstate New York and proudly using our passports to drive a few Canadian miles.
We excitedly visited Aunt Diane on Lake Michigan in honor of the new-to-us Ford Explorer.
Aunt Diane was our Ford Family, after all, and had hooked up my brother-in-law with a "friends and family" deal on the Food Explorer in the first place.
Diane's husband, Uncle Bill, had spent his career with Ford, including as an executive in the small trucks division. Over the years I knew Bill, he spent a good bit of his energy trying to convince my husband's wayward branch of the family not to buy foreign cars. It's an interesting detail in this whole story because I'm not sure I would even be telling this story if it were not for the unexpected little character called "the hand-me-down Ford Explorer."
(Uncle Bill nods and smiles from heaven…. "Finally, they get some common sense…")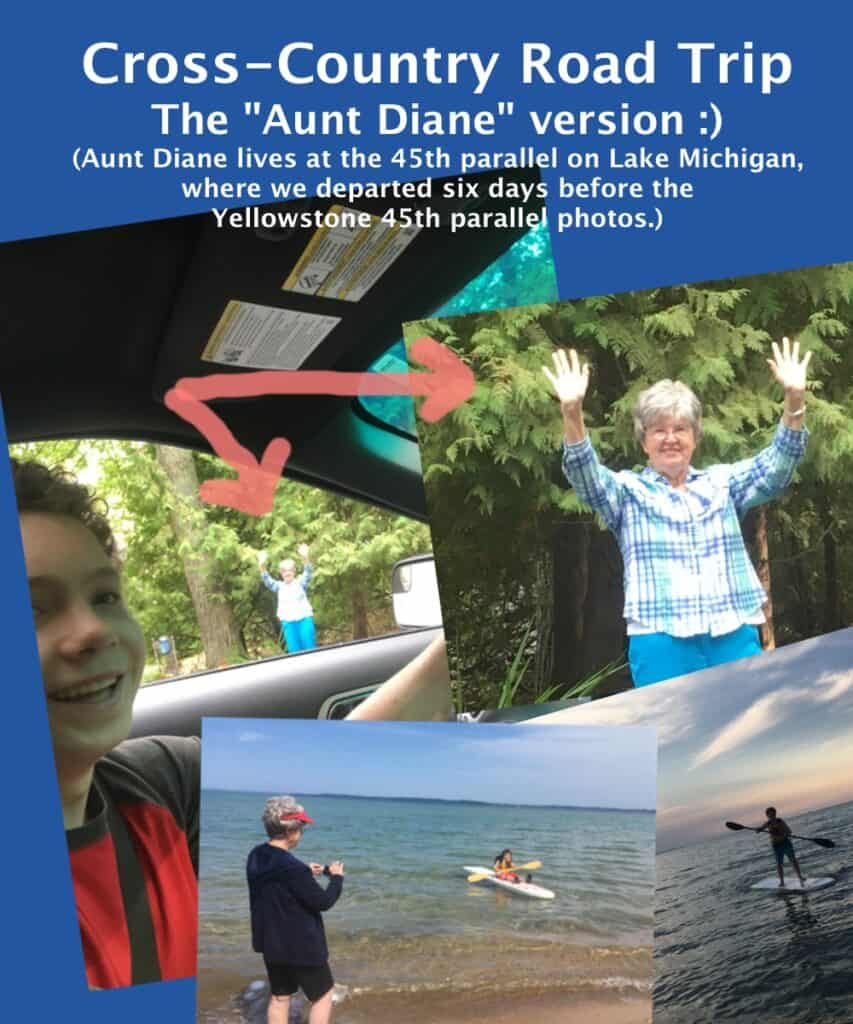 It was such an impactful week on Lake Michigan for the boys and me, one I would just like to bottle up and hold close. We hiked and kayaked our hearts out.
In a LIVE video moment on Lake Michigan, I jumped in a kayak announcing "I couldn't fit in one of these last year and I want you to see how much your life can change!"
Of course, I crashed it at least twice, but that's another story…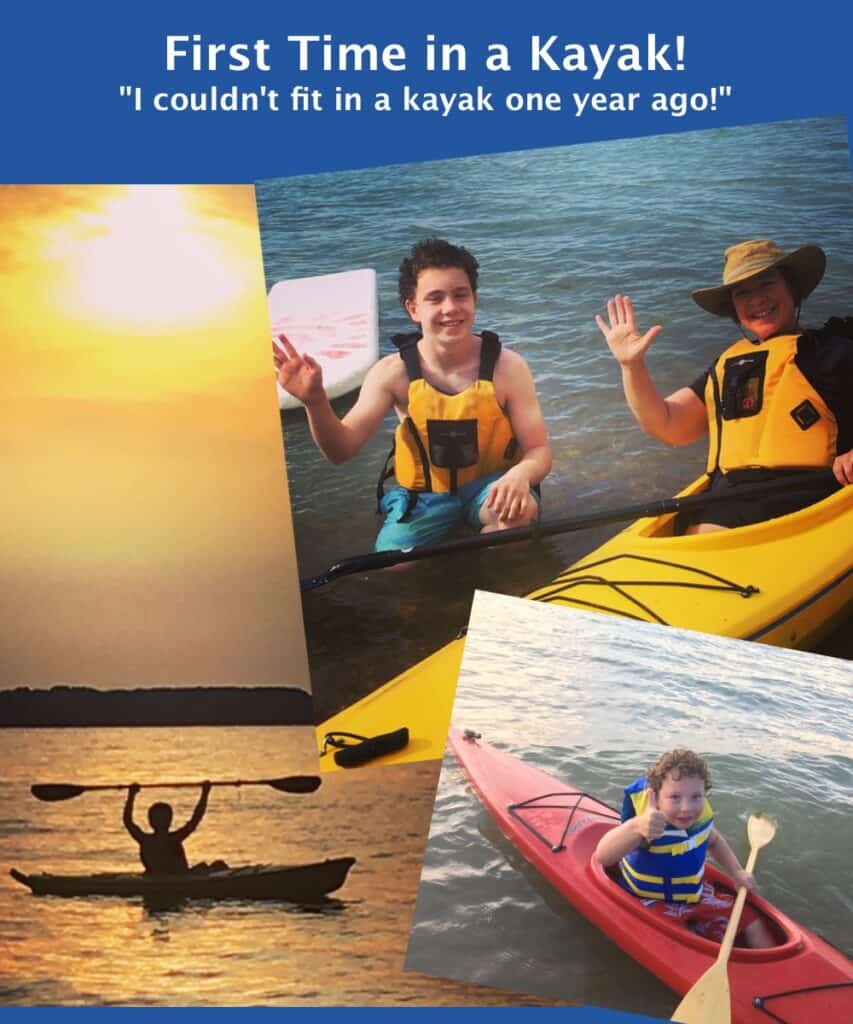 Alas, we did have to push on to California, but we certainly did not intend to take the fast route. We drove north out of Michigan, through Michigan's Upper Peninsula, right past the 45th parallel sign north of Traverse City, just a few miles from Aunt Diane's place.
We drove through Wisconsin and the Dakotas, catching the color of the Sturgis Bike Rally along the way.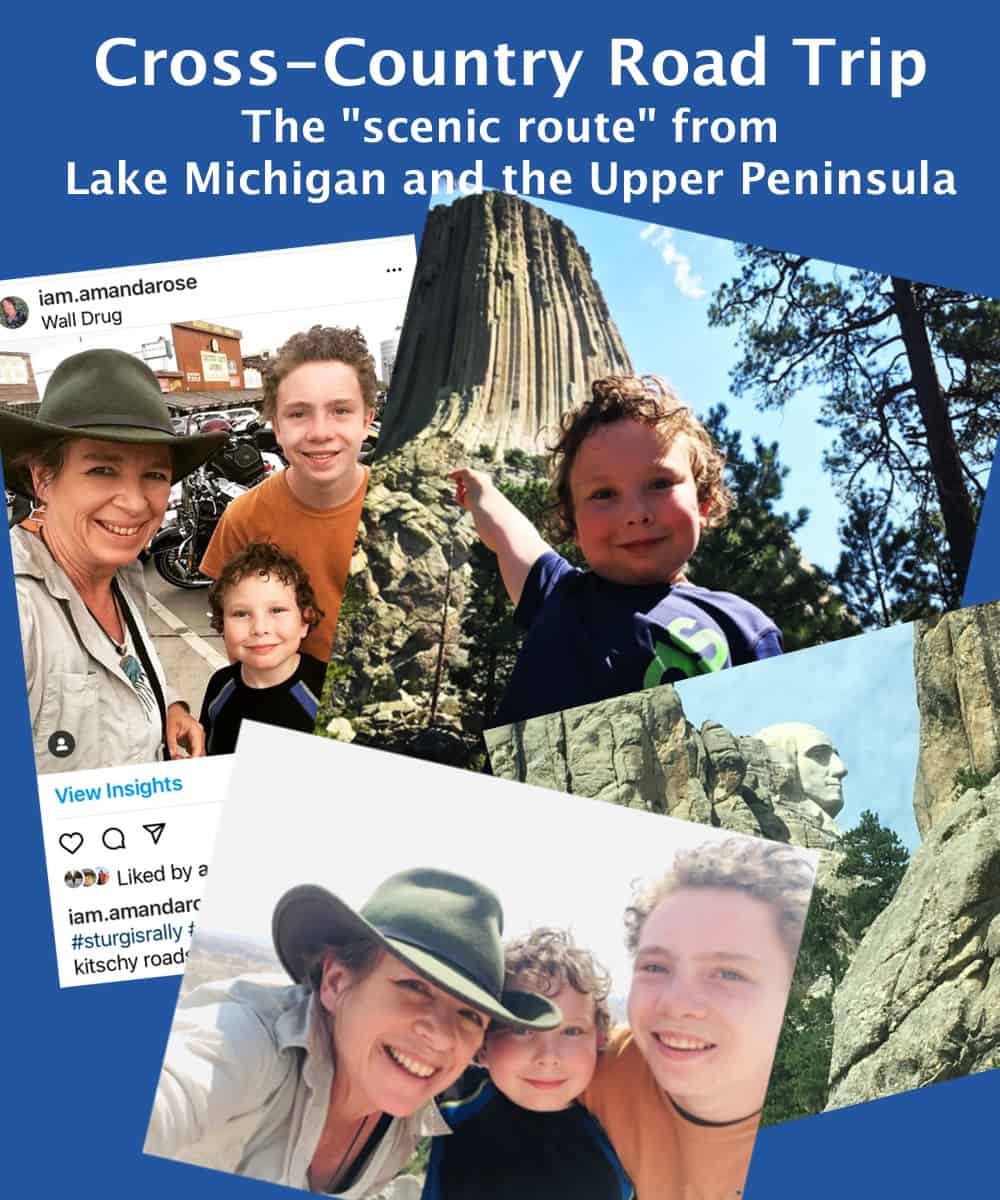 We drove into Montana to overnight on Yellowstone's northern entrance, positioned for a photo the next morning.
My boys had found some "before" pictures from August of 2017, just a year before, when we traveled home from viewing the total solar eclipse. My friend Heather suggested we try to recreate them. I had been in so few photos that the whole idea seemed foreign, but it was a whole new life, so what the heck.
We had taken the "before" photos on August 24, 2017, one week before I would launch the diet that changed my life. I had already lost 20 pounds to qualify for bariatric surgery, a surgery that I would soon no longer need nor qualify for. In that "before" photo I weighed 260 pounds.
It is a rare "before" photo for me. I took the photo not because I was about to launch into a new diet, but because I was trying to be a good sport of a mom. My son Frederick was excited about geology and fascinated by the 45th parallel sign. I acted excited and stood for this 2017 photo where we symbolically stretch our arms across the sign, as if standing on either side of the 45th parallel line itself.
One year later, as we drove through Yellowstone in August 2018, we recreated those 2017 photos and, in a rare moment in history, I was speechless.
Sure, I had certainly realized that I had lost a whole lot of weight and that my life had changed in a fundamental way.
Losing half your body weight is pretty noticeable.
But seeing that photo recreation hit me deeply, especially given that I was deep in thought about my actual message to the growing community of Eat Like a Bear. We drove through Yellowstone, down into Idaho, and then through Utah as we headed to California. My thoughts and emotions swirled as I drove.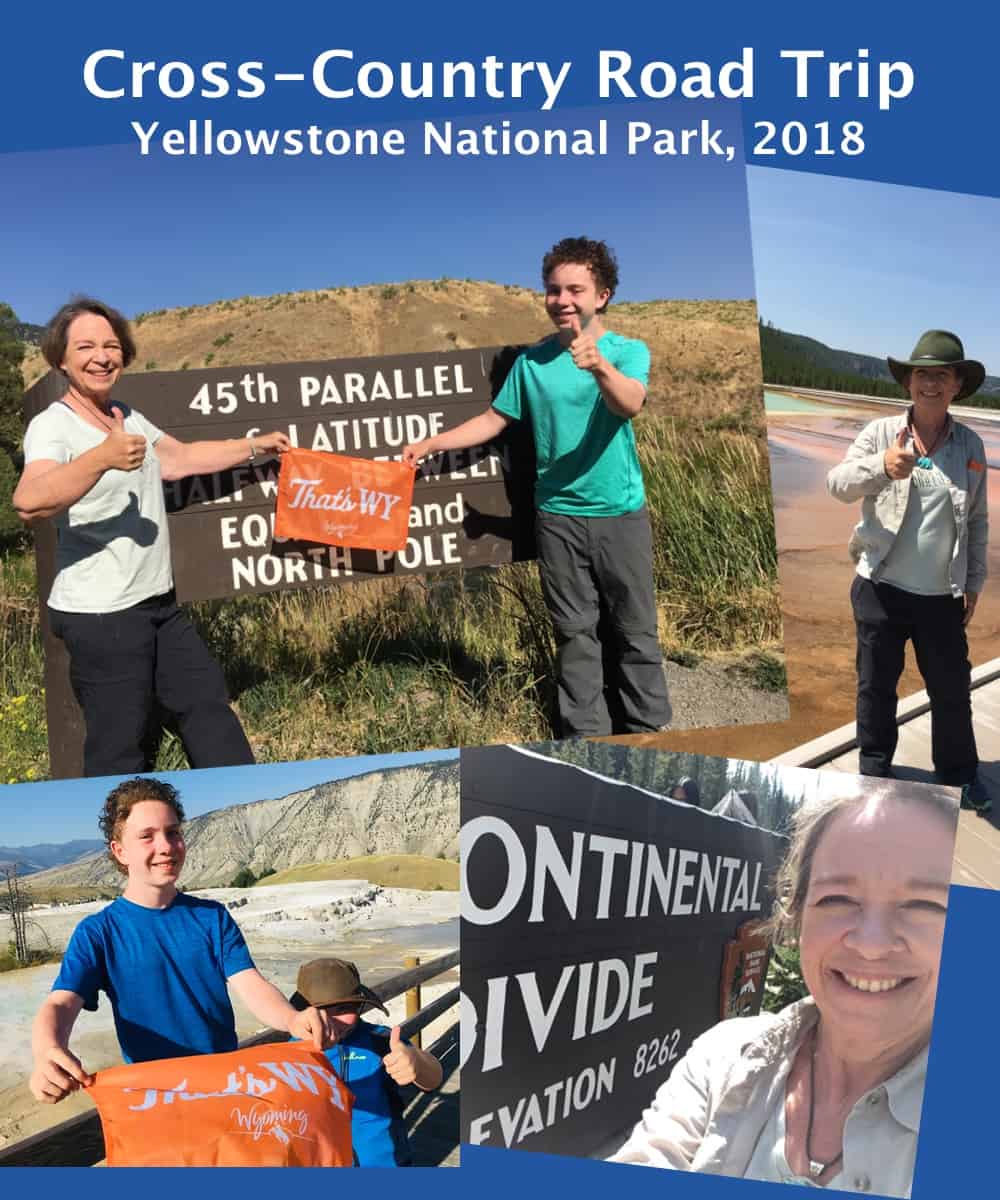 I was deep in the emotions of that photo recreation, still deeply pondering my message to the new little Eat Like a Bear community as we hit Utah.
I dropped the boys off at a hotel on the Utah interstate and I hit a thrift store for some retail therapy.
A chance encounter in that thrift store would shape the message and the culture of the emerging Eat Like a Bear community.
The Stranger in a Thrift Store
A flash flood began as I headed to the thrift store, but I darted out of the car and into the store nonetheless, with only an hour to shop before closing. I stood at the entry soaked in rain, took a selfie, and sent it to my sister as evidence of my commitment for our shared love of thrift stores.
Just moments behind me was an energetic teenage girl who seemed fascinated to find a 50-year-old woman taking a selfie and messaging it to someone, soaked in the store's entry way. We exchanged pleasantries and shopped for bright-colored t-shirts together.
Suddenly the girl's focus shifted as she turned her head to the entry way of the store as a woman walked in. The girl bounded excitedly toward the woman.
Were it not for the girl, I might have missed the woman entirely, but because of the young girl and her vibrant energy, I could not help take note of the entry way. In fact, it was as if a giant theater light shone right upon it.
Into that thrift store walked a woman who looked exactly like me a year before.
I encountered my "before self" in a Utah thrift store just 36 hours after recreating the family vacation photo.
What I wanted to do was to run up to her and give her a big hug and exclaim: "Look at how much life can change in one year!!!"
The woman was obviously tired, limping a bit, and really focused on her daughter. She walked across the store to sit on the floor near the dressing rooms as her daughter tried on clothes. There were no chairs in the store, so the floor would have to do. The daughter would come out of the dressing room and model her clothes to her mother. When the girl was inside changing, the mom scrolled through the feed on her smart phone.
I pretended to shop and watched her, reflecting on the social complexity of my message. I obviously couldn't run up to and hug her and tell her all about my year.
How could I communicate with her? What would I say? I paced the store as these questions swirled.
The fact is, I know well what a tired, 50-something-year-old woman watches in her feed. I wondered what I would say to her if I could pop right in between cat videos on Facebook.
I drove home deep in thought. I wrote about my speechlessness on Instagram in the run-up to posting a video message about the photo. I described myself as "pacing the floor" and "wearing out the carpet" in the days before posting the video I now call "A Postcard From Yellowstone."
It was a message made for one person: A stranger in a Utah thrift store.
What would I say if I could pop into the Facebook feed of my "before self" doppelganger?
It's an interesting question that led to a life-changing context in social media.
A Postcard from Yellowstone has been viewed on Facebook millions of times and has brought thousands of members to the Eat Like A Bear! community.
Psychologists tell me that the Yellowstone message has been a key to the higher-than-expected success rates in the Eat Like a Bear community.
The Seminal Message of A Postcard from Yellowstone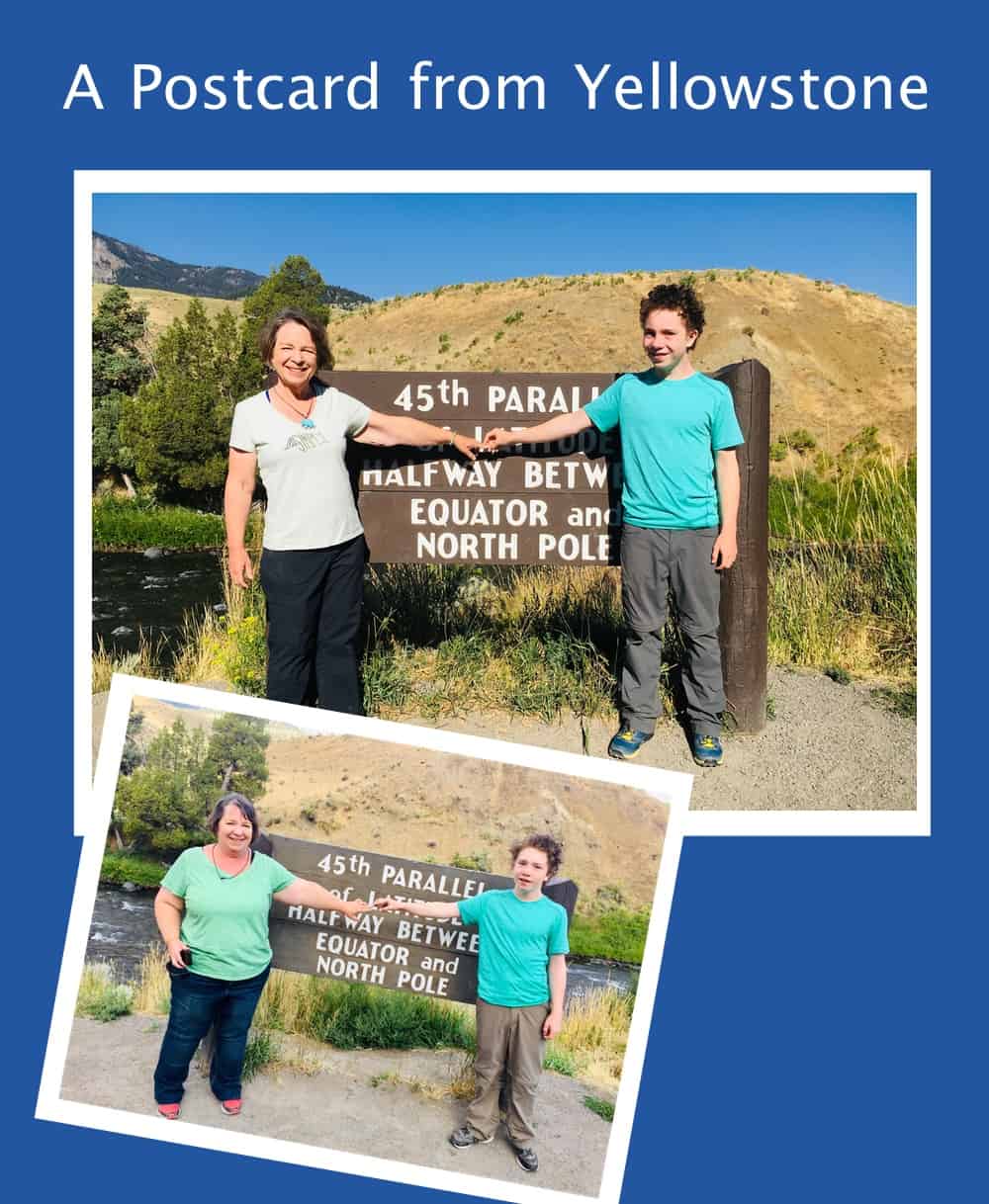 The message of the video itself shaped the culture and success rate of our community, helping people step boldly into a major life transformation.
The Yellowstone video message has some key elements that continue to drive the success of the community:
An unmistakable message of "Yes, you can!"
A strong "start this minute" call to action.
A new weight loss tool to try (or to try in a slightly different way).
Perhaps more uniquely (and a message that doctors and weight loss professionals have not yet delivered): A deep respect and compassion for people starting at a high weight.
Watch it if you've missed it:
(For people just finding Eat Like a Bear, the first step is to watch the video A Postcard from Yellowstone. The second step is the Three-Day Challenge — the go-to getting started tool (CLICK!). It is free via email and makes no secret of what we do here.)
Success is Infectious
The real success of A Postcard from Yellowstone is that the underlying approach to weight loss works powerfully well and the community has thousands of "walking billboards" across the planet.
In fact, Eat Like a Bear appears to be the first weight loss platform in history to track its success in 100+ pound weight loss cases (our "Century Bears" as we call them). We track them here (CLICK!)
People ask all the time how to spread the message of Eat Like a Bear! The very best way may be the most simple: Go be awesome! People will follow.