Marisa's Weight Loss Success Story
Marisa has a great weight loss story of adapattion, making it work after years of struggle, and even with a well-above-average level of education and knowledge of health and nutrition. She had tried nearly everything, including a gastric bypass weight loss surgery. Since finding Eat Like A Bear!, Marisa has lost 130 pounds to date, starting on July 13, 2020 at 340 pounds and reporting in here at 210 pounds (as of March 2021). We are so excited to have Marisa and her wisdom on our Century Club list.
Marisa describes her experience with Eat Like a Bear! in her own words:
Motivation and Past Dieting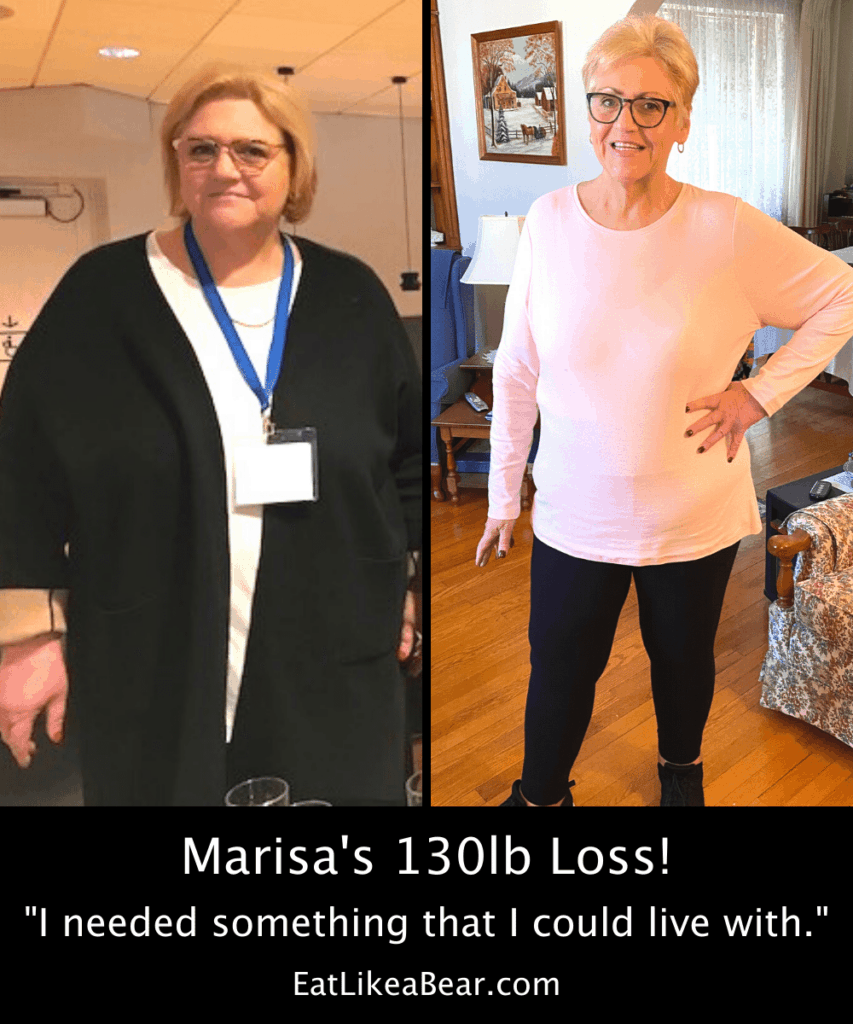 I am a nurse with a doctorate. I knew what I was doing to myself. I was killing myself. I also knew I was at the most risk for a bad outcome or death if I contracted COVID since I had a BMI over 40. I am a diet veteran from the age of 14. I have been on every diet. I even had a gastric bypass in 1999. I have lost probably 1000 pounds and gained them back over and over. I cannot control carbs. I needed something that I could live with. I needed a lifelong way of eating. I researched keto and intermittent fasting. I found Eat Like a Bear! by accident in my search and just resonated with the community, the support, and the simplicity.
What I Ate to Lose the Weight
Since I had a gastric bypass, I cannot eat one large salad in one hour without feeling sick. I make a large salad and protein or a large amount of cooked vegetables and a protein. I split it and ate half at around noon and the other half at 3:00 p.m. My eating window is four hours long.
How Eat Like a Bear! Was Different From My Previous Diet Experience
It was simple and straightforward.
When I Realized Eat Like a Bear! Was Working for Me
When I lost 20 pounds in the first month. I also got rid of pain, some of the lower extremity swelling, and most of the carb craving.
What I Can Do Now That I Couldn't Do Before Losing Weight with Eat Like a Bear!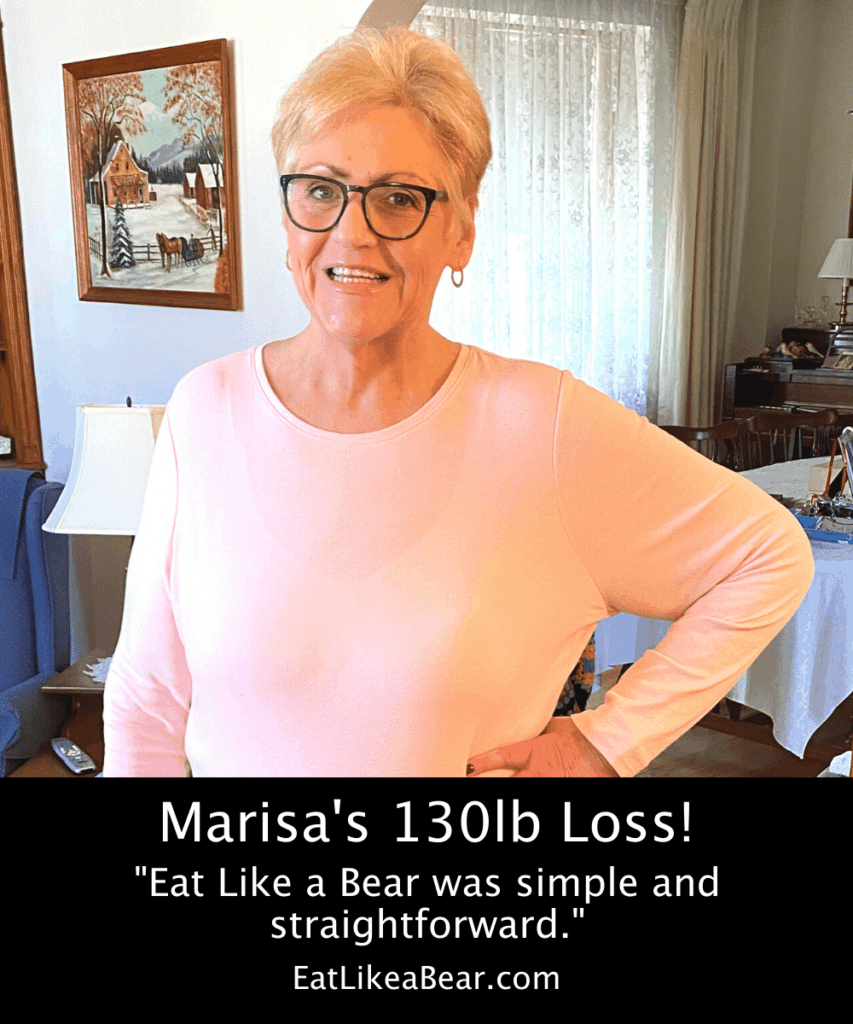 I can sit in any chair, walk without feeling like my lungs and legs will give out, wear dress boots, cross my legs, wear a regular woman's size clothes, put a seatbelt on, not hate the scale, and not be stared at out on the street. I move. I walk, a lot. I have energy. I sleep well. My skin looks better. I can cross my legs! And, after years of plane travel due to my job (and being always anxious about it and carrying my collection of seat belt extenders), I am really looking forward to flying again. I want to see if I can fly like a regular person and not worry about the seat, the belt, and being asked to buy two seats.
Tip for Newcomers
Just do it.