Julieanne's Weight Loss Success Story
Julieanne has a powerful weight loss story, starting at a high weight of 316 pounds and losing her first 10 pounds on a paleo diet. She reports in at a life-changing 202 pounds with a goal weight of 150. We are excited to have Julieanne in the Eat Like A Bear! Century Club! She describes her Eat Like A Bear! story here. 
Julieanne writes:
Motivation and Past Dieting
I started on a journey to find better health in 2017 when I herniated my L4/L5 disc. I was in so much pain that I would do anything to feel better. I just couldn't find the right combination of what worked until I found Eat Like a Bear!, but I have been learning for these past three years and trying to get there. In addition to the back issues, I also had daily indigestion; I used to pop antacids like they were candy. I had chronic joint pain, arthritis, and slight edema in my ankles and feet. I had tendinitis in my left ankle. I had a problem with standing to load and unload the dishwasher for 15 min due to my chronic back pain. In addition to the herniated disc, I also had a bulging L3/L4.
I was never someone who fell in with the latest fad diet. I really didn't do much dieting at all until 2017. I was morbidly obese, but I guess I just hoped the weight would magically come off somehow. After the herniated disc in 2017, after six weeks of physical therapy and two steroid injections, I started working with a personal trainer, and a paleo nutritionist. I lost 40 pounds over the course of nine months that year, but then that was it. By early 2020, I had gone off and on the paleo diet a half dozen times, but it wasn't working anymore to lose weight. It was good whole foods, nothing processed, and I felt better when I was on the plan, but I was not losing any weight. Looking back on it, I think it was the right diet for someone with 20 pounds to lose who wanted to get in a little better shape, but it wasn't the right plan for me, who was 166 pounds overweight.
Why I Tried Eat Like a Bear!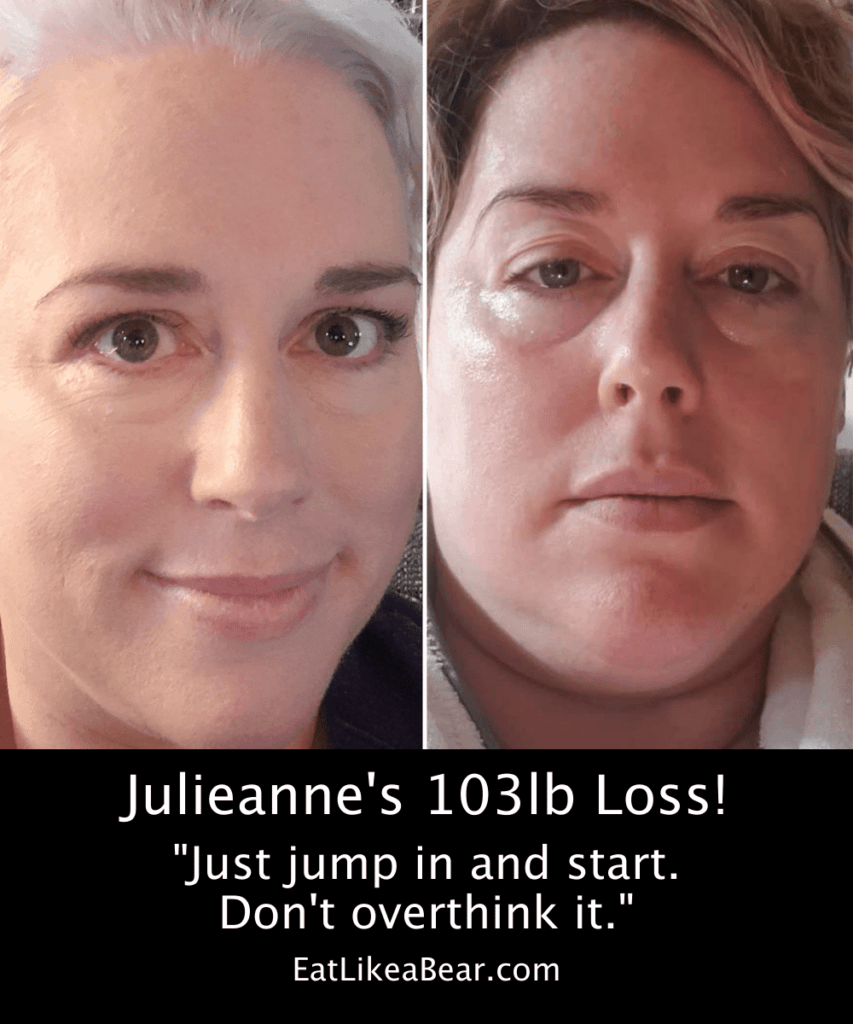 I had been doing the paleo nutrition plan for two months and had lost 10 pounds, but then I stalled out again. Amanda Rose came across my Facebook feed, and the idea of it just clicked for me. I had never tried intermittent fasting before. I had not ever tried keto, but it all made sense. Nothing clashed with what I had learned from the nutritionist over the past few years. It was whole foods. There was a framework that I could easily understand. I devoured and watched everything I could find, all the Amanda Rose YouTube videos along with Dr. Fung's and Dr. Berg's. I joined the Eat Like a Bear! Facebook group and literally started fasting that day and did the Three-Day Challenge over the next three days. That was it, I was hooked! I purchased the digital plan the next week so I knew exactly how to implement the framework.
What I Ate to Lose the Weight
I ate The Ridiculously Big Salad about 80% of the time and cooked keto meals the rest of the time. I eat in one hour a day, with some longer fasts of 48 or 72 hours. I eat Amanda's salad dressings almost exclusively. Her ranch dressing is legendary! The best thing ever!
What I Can Do Now That I Couldn't Do Before Losing Weight with Eat Like a Bear!
I can walk as far and as long as I want. I can bend over and pick things up off the floor, sit cross-legged, cross my legs, sleep more soundly, do everyday activities without having to take frequent breaks, shave my legs in the shower. I feel 20 years younger!
The confidence to just know I will get where I want to be when this is all said and done. There is no doubt in my mind it will happen. And I think the greatest non-scale victory of ALL has been connecting with all the wonderful people who make up the Eat Like a Bear! Stories Facebook group. In such a time of strife in this world to have this group of supportive, kind, wonderful humans to learn from and grow with has been amazing!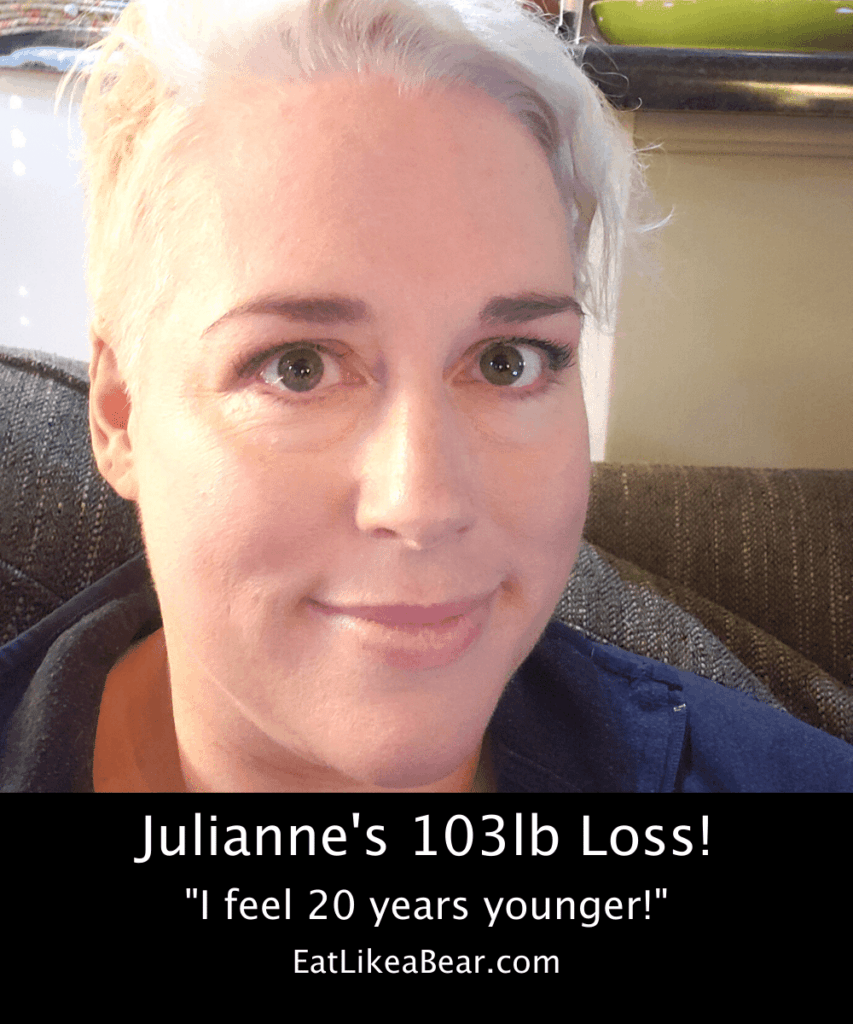 Tips for Newcomers
Just jump in and start. Don't overthink it. Just get started and figure it out along the way. And figure out your "why's." Because the grind for some of us is long, and you will want to hang on tight to the reasons why you want and need this during those trying times, when your mind is trying to steer you wrong and tell you this isn't working. You need those reasons why you are doing this to be strong in your mind. Oh, and take the darn pics, especially in the beginning, and measure yourself. Not every victory and measurement comes from the scale. In fact, most don't.
***
Thank you for the fire, Julieanne!!!