LOST: 140 Pounds AND a Shoe Size!
Mama needs a new pair of shoes!
Yes, I get questions all the time: "Really??? You LOST A SHOE SIZE???"
I know.
SMH.
I was a size 7W my entire adult life, and even then had to shop for the more "orthopedic-like nurses shoes" along with a custom orthotic after about age 30.
WHAT???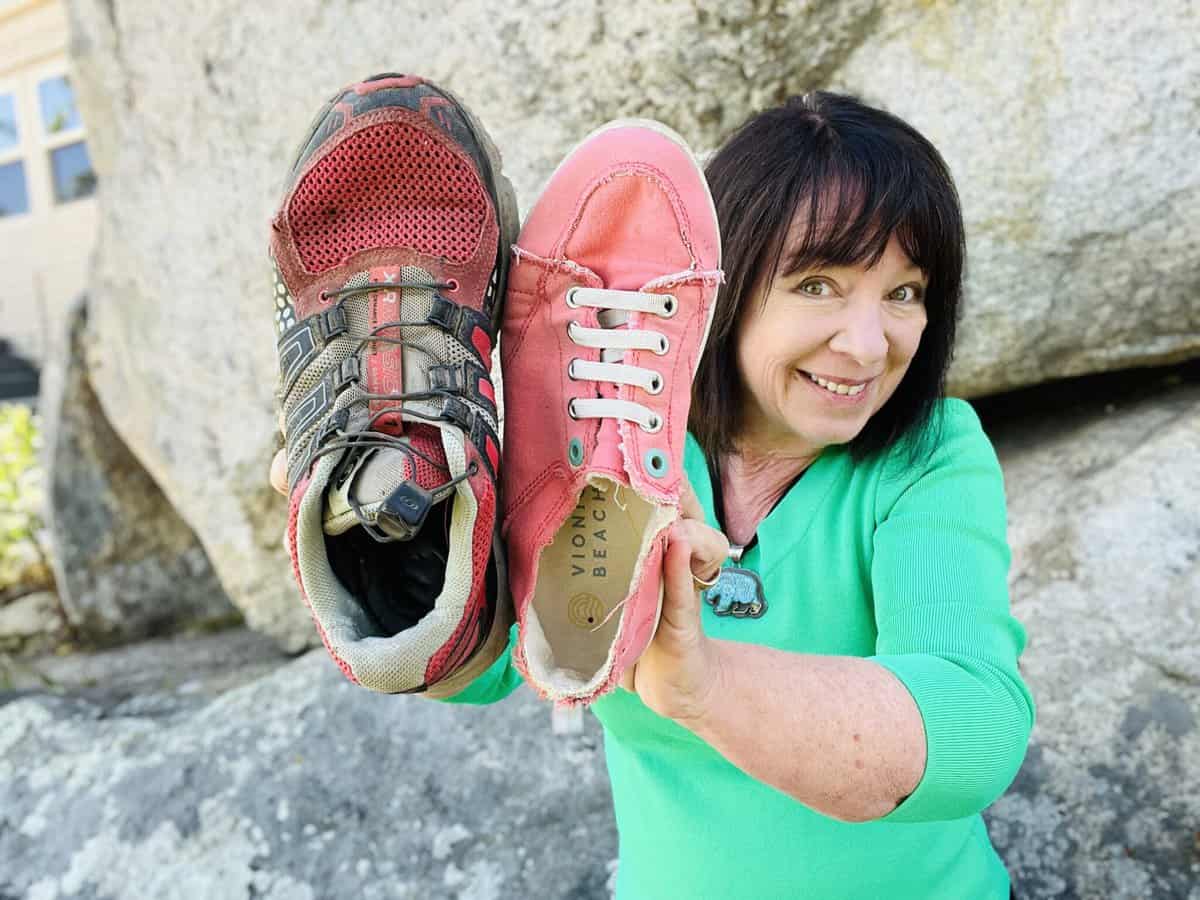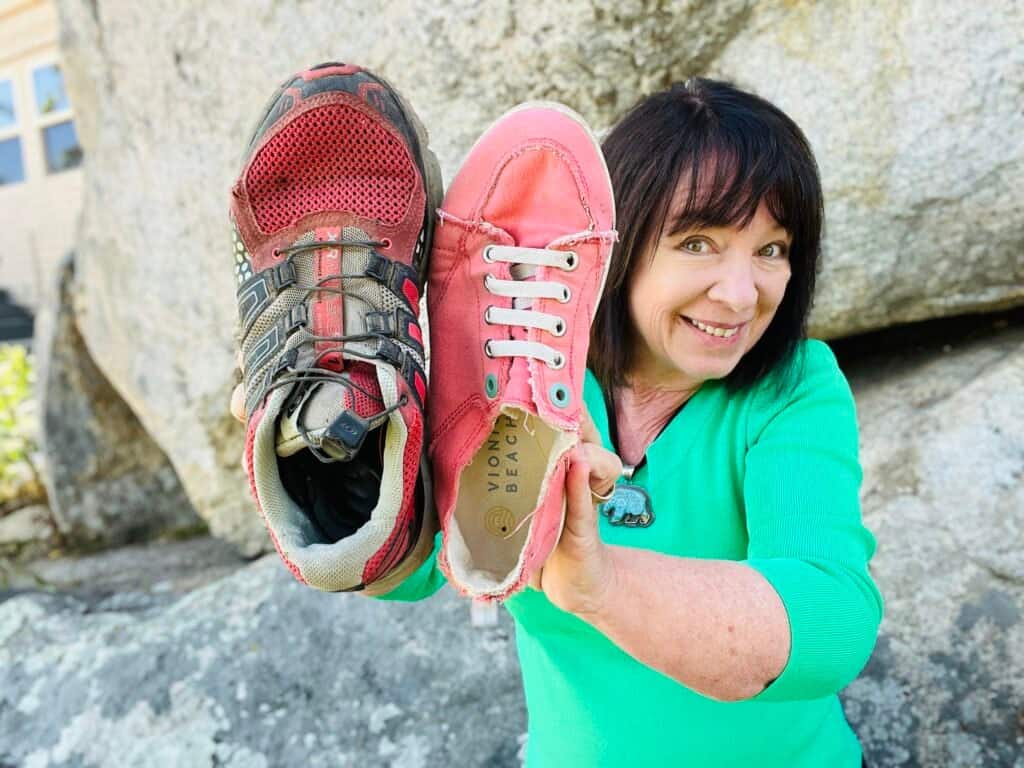 You'd expect to need new pants after losing 140 pounds…
We all make plans for the pants. It's obvious we're not going to be wearing the old ones. I spent a good bit of time in thrift stores replacing the pants.
You really can't miss the change in my pants from 2017 to 2018. We recreated a family vacation photo, in fact, that went viral with the video A Postcard from Yellowstone.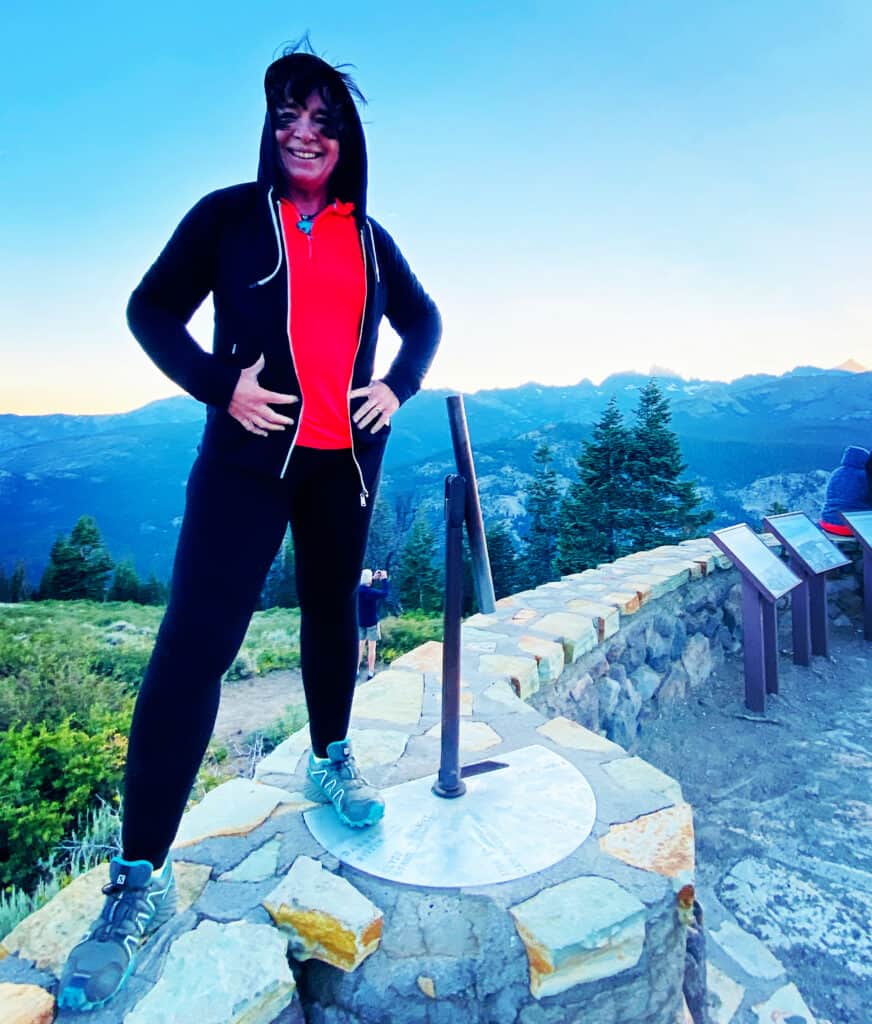 But Shoes????
I've worn a 7W shoe size since my 20s and have simply never considered that inflammation and some ankle fat might play into my actual shoe size.
In fact, I kept wearing 7Ws for a while after losing the 140 pounds. At some point, I started buying regular width shoes, but then even the 7s started to feel a bit sloppy.
I started trying 6.5 mediums at those thrift stores when I was out pant shopping.
How I discovered I lost a size…
Yes, here's some unexpected evidence from the 1980s!
You can see the clear difference in size between the shoes (and a half size and different width is a really pretty big difference), but I found a very interesting artifact as I was cleaning the hoard in my home.
It's an unexpected artifact from the early 1980s…
(LOL! Why did I even keep that???)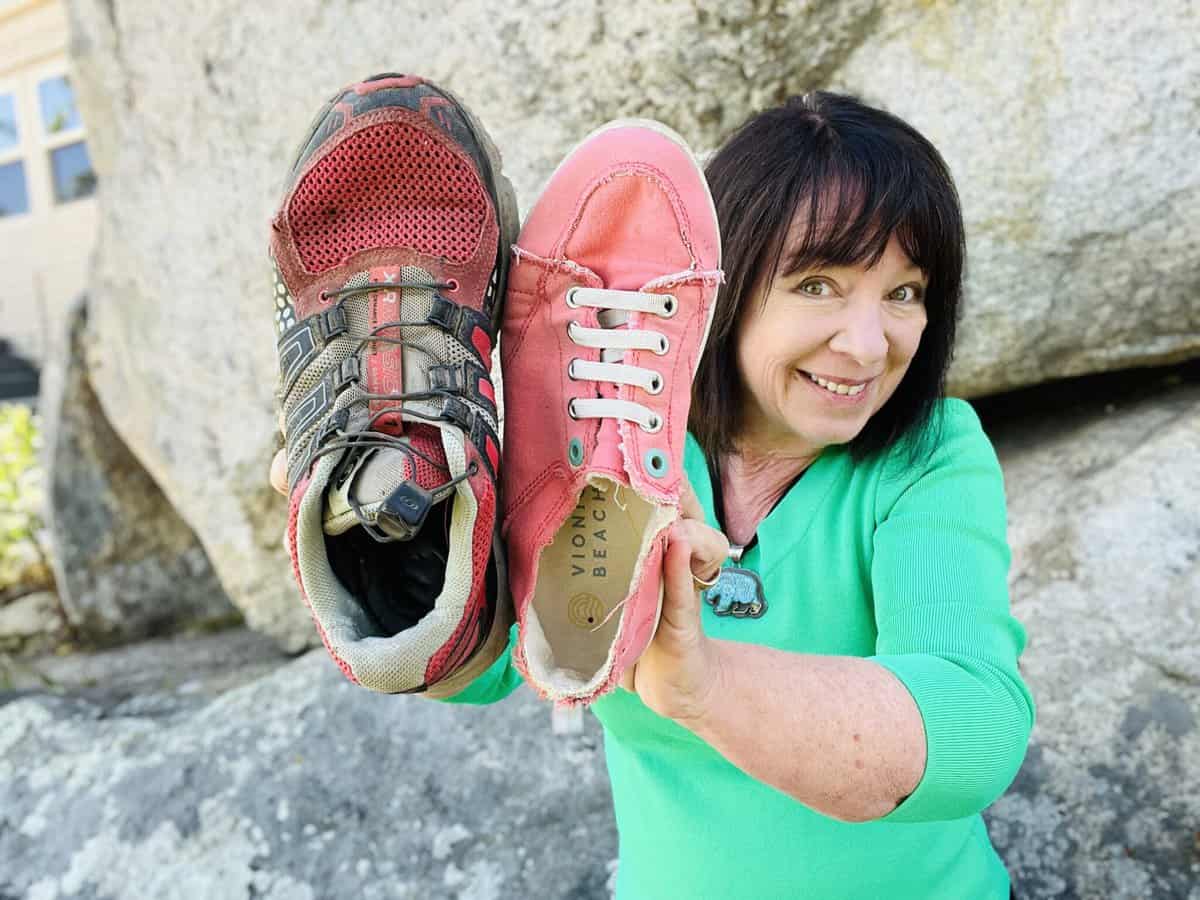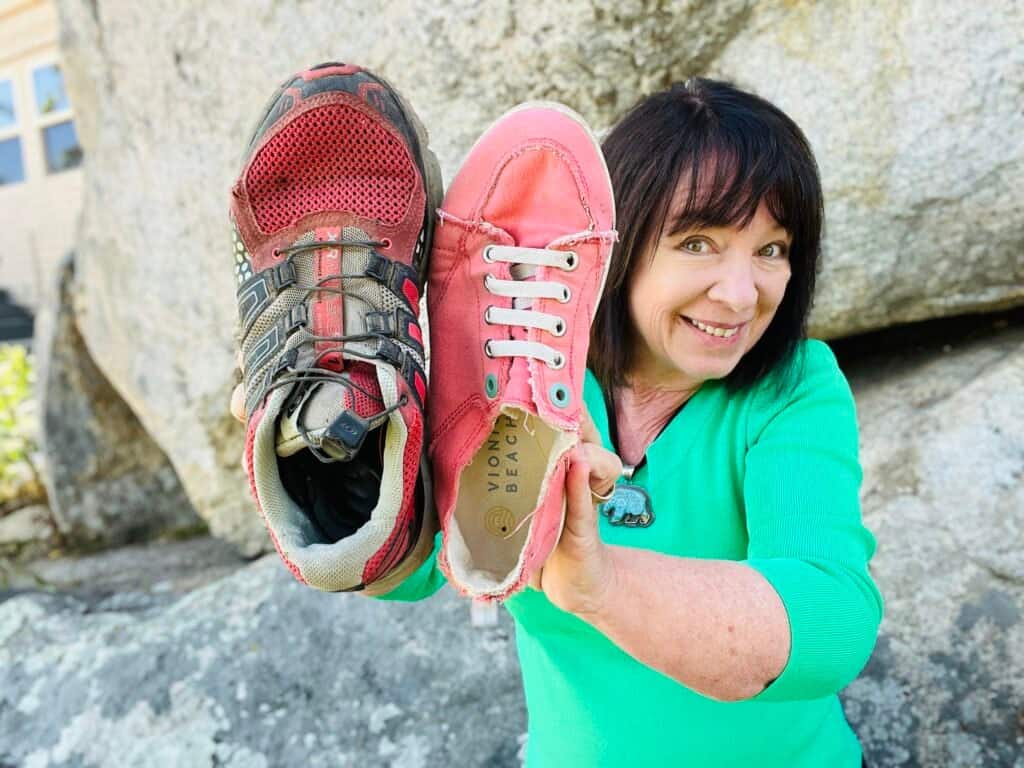 If that's not surprise enough, what I find extraordinary is simply not having to be concerned as much about the shoes themselves. I commented on that point while at a big, day-long event. I had not even planned my shoes and just wore these simple, light-weight shoes. They are extremely good support for their own weight class (in fact, it is shocking how comfortable they are), but I would not have been brave enough to wear them for an hour at a higher weight, much less all day long at a long and exhausting event.
Thoughts on our "before shoes"
You simply don't have to be as concerned!
We give our feet a lot of care in the shoes that we select, as we should, but the single-best thing I ever did for my feet was to lose 140 pounds.
Heck, I can even walk barefoot these days! Here I was bragging about it on the beach.
Walking in sand barefoot may be one of the best things ever!
So it's a really crazy thing to be over fifty years old and to end up in a completely new shoe size, in a whole new world, and have no idea what shoes to buy. In fact, it took about three years for me to even recognize that I'd lost a size.
And soooo, SHOE STYLE? I find myself focusing on comfort first (of course, as always), but I most definitely have more shopping flexibility these days.
What I've become most diligent about is actually a bit unexpected as I mention in this video.
A key feature in my shoes, and why…
and then there was that time….
Sayonara, shoes!
May your shoes be caked in mud…
Go, be awesome, guys!
Go be awesome in whatever shoes you can manage and may they end up covered in mud, grasses, salt water, and sand!
God bless the nurse's shoes that got us here, but may the future be filled with a whole lot of yellow, pink, and orange!
Wait! There's More!!!
Who's that at Vionic Shoes???
Fun Update: The Rainbow Sandals!
At the time all this internet discussion heated up, my college roommate congratulated me AND THEN she sent me these….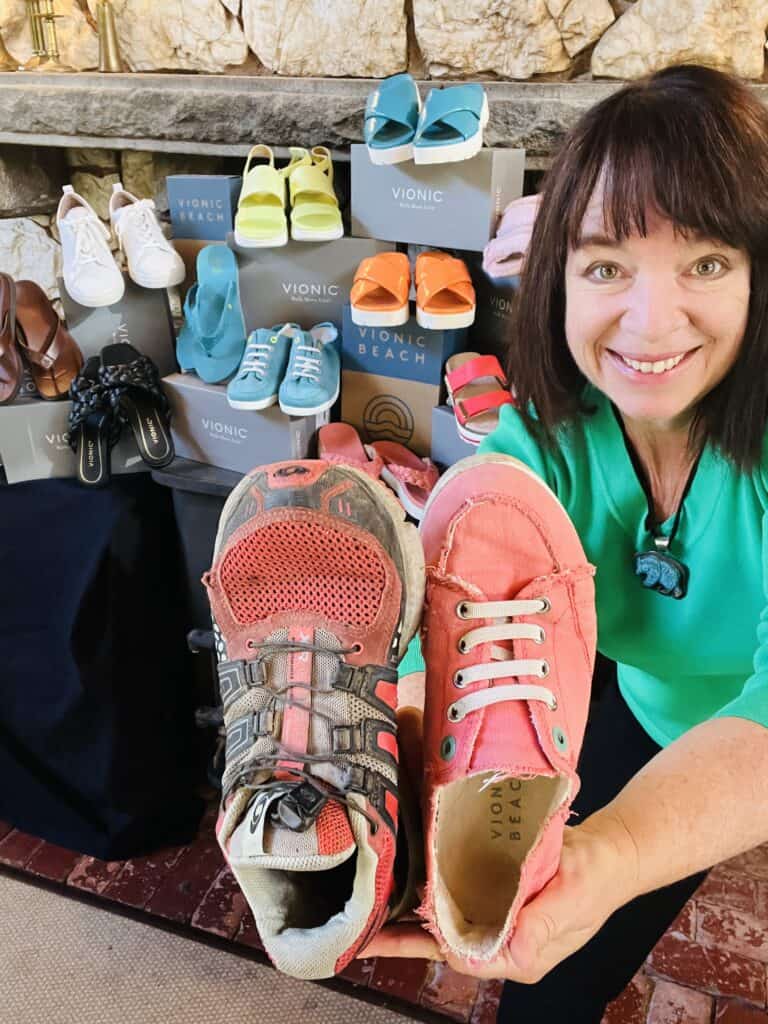 Yep. The roomie was also the general manager at Vionic Shoes… 😉 Thank you, Angela Caltagirone. I've never had so many shoes in my life.
We took a photo together at our 30th reunion after all this went down.
Ha! Way back 30 years ago, who would have guessed?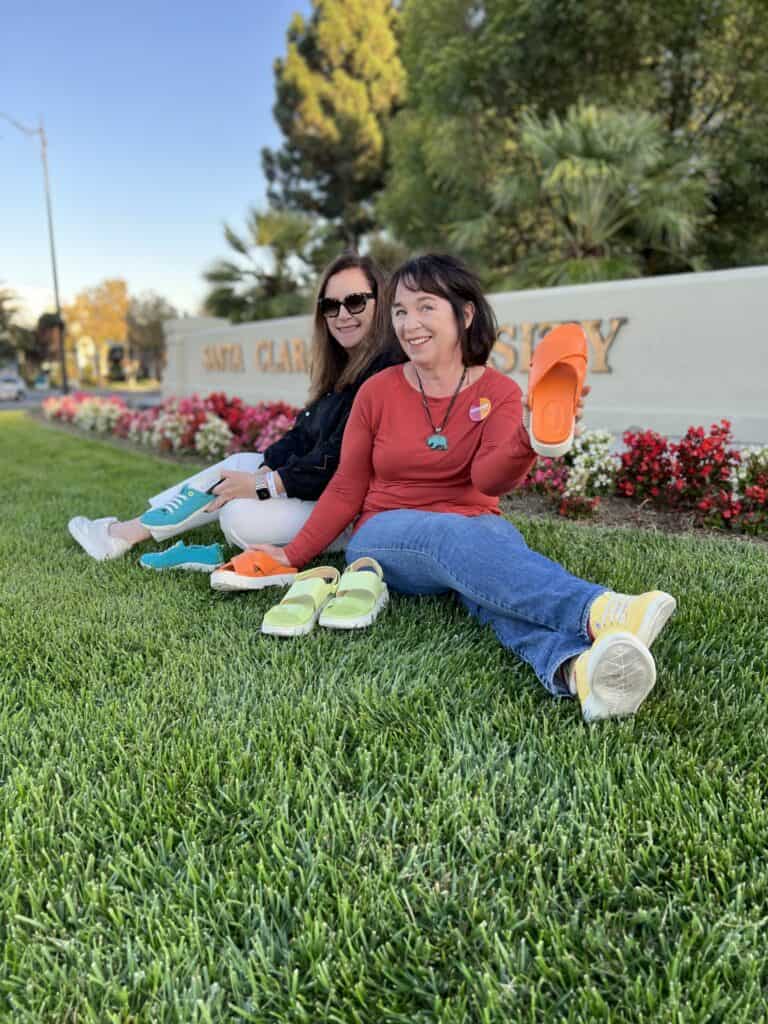 (By the way, Angela something like doubled the ecommerce sales at Vionic in her time there, so her own badassery speaks for itself.)
Take the Three-Day Challenge!
Crazier perhaps than that shoe size is the huge amount of awesomeness we're seeing in the Eat Like a Bear community.
Whatever your shoe size, however bright or neutral they may be, jump in here and learn what has been working so well for so many of us.
There are no secrets behind a paywall. It's a mini-course by email from me. My number one goal is that we all get out and live our most vibrant lives. The growing mountain of mud-destroyed shoes may be our new success measurement. 😉