Veronica's Weight Loss Success Story
Veronica Gray found us in the summer of 2019 and became fast friends with a number of members of the community who have really supported each other through the grind, managing to lose impressive amounts of pounds. Veronica herself is one of our century cases, down 135 pounds from her high weight (and still working on a few pounds). Veronica appears to be taking Instagram by storm, perfecting the "sexy pin-up" look of days gone by. This is her weight loss success story.
******
Veronica's Motivation and Past Diets
My core motivation for losing weight was my 8-year-old special needs daughter. I need to ensure I'm around for her as long as I can be! Watching my mother's health deteriorate until an early death at 63 from heart failure, and knowing I was headed down the same path if I didn't make changes, was a real wake up call.
When I tried losing weight in the past, I was always trying to get fit to be healthy. But I was failing because my body couldn't handle the challenge. This time, I got healthy to get fit. It was a total game changer!
I had already been exploring fasting for religious reasons when I decided to try the Eat Like a Bear approach. A friend added me to the group when she learned I was fasting. I was reluctant to start keto, and it took me a couple stubborn weeks to come around to it.
The Eat Like a Bear Approach was Different
To lose the weight, I primarily stuck to the Ridiculously Big Salad, as described in Amanda's book. I also relied heavily on Amanda's red, yellow, and green visual guide that explained what not to eat, what to be careful of, and what to eat bearishly. I even share it with new Cubs who ask me this question!
The Eat Like a Bear approach was different from past diets because I was not only able to satiate hunger, but I was able to eliminate cravings for unhealthy options in a very short time. There were no gimmicks or tricks or unknown secrets you need to invest in. It's straight forward and simple.
Seeing Results
I was already having success with fasting, but my carb intake was slowing me down. When I changed to low carb a few weeks in, I quickly lost 15 pounds in my second month.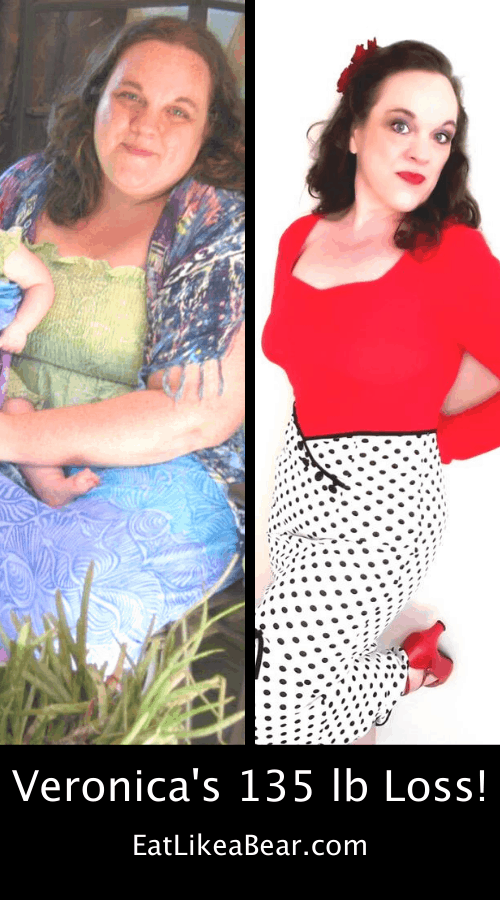 That's when I knew the Eat Like a Bear approach – the combination of fasting and low carb – was going to be the key to my success.
Now that I've lost the weight, I can do cartwheels! I can run and play with my daughter AND keep up without getting winded anymore. I can wear styles I always dreamed I'd wear but didn't feel confident enough to pull off.
Now, when I work out, I do it because it's fun and not because someone told me I have to. I just plain feel better and happier in my skin now.
Tips for Newcomers
Stay on the plan. If you do fall off, forgive yourself – you're human! But get right back on plan! Trust the process. Even when the scale isn't moving, healing is taking place.