Sonya's Weight Loss Success Story
Sonya joined the Eat Like a Bear community on January 1, 2019 at 277 pounds, already down 28 pounds from her high weight of 305. Since then, she has lost an additional 114 pounds (for a total of 142 pounds) and is still working on a few more pounds.
I always get excited when I see one of her pictures in our feed because she just sparkles and has such an assuring and memorable look of confidence. As you will see from her story, Sonya is a great case of adapting the core Eat Like a Bear framework to fit her needs. While she has tried our popular one meal a day model, she has generally landed on two meals for herself.
*********************
Sonya's Weight-Loss Motivation
My main motivation was to just feel "not sick." I wanted to feel healthy. In January 2019, I started my "journey to my healthiest self," and I am happy to say I will continue this beautiful journey for the rest of my life. I'm loving it!!
I received a diagnosis of Roth Spots on my eyes and Type 2 Diabetes. That was the "light bulb" moment I'd been waiting for over the last 40+ years of "diets." I also had rashes on my face and hands, and skin ulcers.
Diets of the Past
I was frustrated with past diets because I felt deprived, I felt restricted, and I felt hungry. I felt like I couldn't have anything. Not seeing results quickly enough and not feeling better was very frustrating too. If I lost weight, I'd stop the "diet" I was on, thinking I could go back to eating unhealthy, and I'd always gain back the weight loss PLUS additional pounds.
Daily Diet
I saw Amanda Rose's Eat Like a Bear page, and I saw where it fit in with my way of eating. I didn't immediately do one meal a day, and I still do not do one meal a day consistently.
I tend to do two meals a day, sometimes three meals a day. I stick to 20 or less carbs a day, moderate protein, and higher healthy fats. I rarely snack because I'm not hungry. I do not have cravings (one of my favorite things about this way of eating!) If I'm hungry, I eat. When I'm full, I stop eating.
A typical meal looks like…
Breakfast is typically between 6:00 and 8:00 am. A sample breakfast is two eggs (any way desired: scrambled, fried, deviled, hard-boiled) with either two strips of bacon or half an avocado, ranch dressing or thousand island dressing, sometimes I add a couple ounces of block sharp cheddar cheese or cream cheese to my eggs or maybe some almonds.
No snacks.
Lunch is typically between 12:00 and 1:30 pm. A sample lunch is a hefty salad with romaine lettuce, a protein such as chicken or salmon, dill pickles, a few pearl tomatoes, some hard block cheese (I don't use bagged shredded cheeses), and maybe half an avocado.
Dinner is typically between 5:30 and 6:30 pm. A sample dinner would be steamed broccoli (with or without cheese), steamed cauliflower (riced or mashed with butter and cheese), or broccoli tots with baked salmon. I drink a lot of water, sometimes with fresh lemon.
When I do one meal a day (works great for me when traveling for work), I'll have a ridiculously big salad with a protein and dressing.
Reading and seeing all the motivational and inspirational posts on the Eat Like a Bear page is really what encouraged me to educate myself on this way of eating and to follow it. I love it!
The Eat Like a Bear Approach was Different
The Eat Like a Bear approach was different than past diets. I was satisfied! I was full and not hungry afterwards! I could go a whole day with eating one meal and be truly satisfied. I didn't have cravings! I kept waiting…waiting to feel hungry or deprived. It has never happened.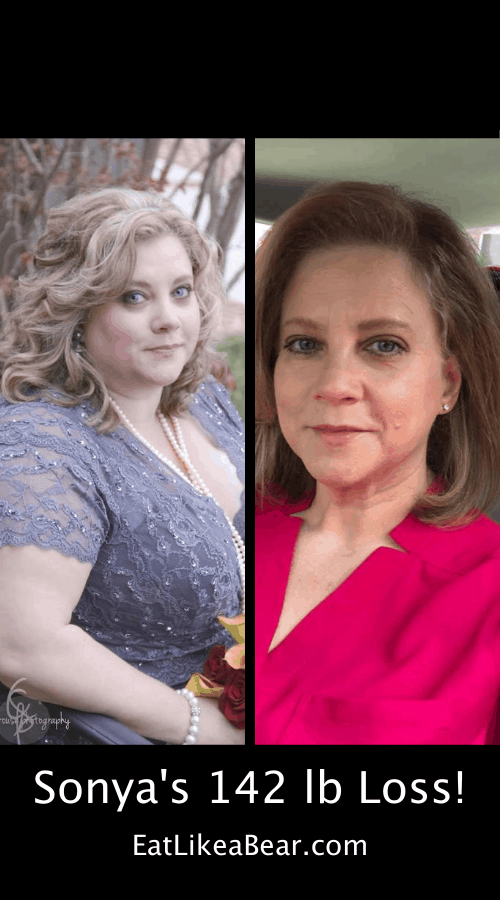 I'm one year and seven months into this way of eating, and I'm still nicely surprised that I'm satisfied and never feel deprived. I have no desire to eat outside of this way of eating. I haven't had a single cheat day since I started this way of eating. My health is too important. I love this way of eating.
It is simple. There are so many great cold and hot recipes online!! So many variations to anything I used to eat. No more spaghetti noodles? No problem, I choose zoodles – zucchini noodles! No more roasted potatoes? No problem, I choose roasted radishes! No more macaroni and cheese? No problem, I choose baked cauliflower and cheese! The list of my amazing CHOICES goes on and on!
Realizing it's Working
As someone who has "dieted" for over 40 years (trying every diet you can imagine), I started noticing the Eat Like a Bear approach was working when I didn't feel hungry after eating! I stopped thinking about "what am I going to eat next?" And I stopped craving foods.
I realized it was working after the first week or two of 5 to 10 pound losses, then consistently losing an average of 1.5 to 2 pounds a week afterwards, and feeling fantastic!
My clothes started getting looser and looser (even if the scale was the same), and I had to buy new clothes every four to six weeks! Even my shoe size changed drastically. My wedding rings were no longer tight and were actually so loose I had to get a ring guard.
I no longer have to say, "No, thank you. I can't have that." And I honestly say, "No, thank you. I don't care for that," or, "I choose not to have that – my body/health doesn't react well to that."
No turning back. I have no more Roth Spots! I reversed my Type 2 Diabetes! My lab work is wonderful! My doctor says, "You know this weight loss and optimal health is sustainable because you will continue eating this way!" Yes. Yes, I will!
Sonya's New Life
Wow! Where do I begin on how my life has changed?! I can travel without a seatbelt extender now! I can comfortably bend and clip my toenails without getting out of breath! I can sit, with room to spare, in any restaurant booth! I can walk into a room and not second guess if I should sit in a chair for fear of breaking it! I can walk up a flight of stairs without being out of breath!
Now that I've lost weight, I can wrap a regular-sized bath towel around my body! I can go shopping for new clothes and be truly satisfied with the styles available in my new smaller size (and not feel limited). I can get out of the shower, blow dry my hair, and put makeup on without being sweaty and exhausted from the effort.
I can sit behind the wheel of my car and my stomach doesn't touch the steering wheel. I can wear a regular-length necklace without two or three extenders! I can feel comfortable in my own skin.
Tips for Newcomers
Be patient with yourself, and be kind to yourself! Know yourself and what you did in the past that set you up for failure. Be accountable. Educate yourself. Know your personality: should you jump in and start doing one meal a day with specific foods, or should you wean yourself into this way of eating? Pace yourself based on how well you know yourself.
In January 2019, I started eating healthier and reducing carbs, having moderate protein, and higher healthy fats. My first week included NO FAST FOOD. The second week was no sweet tea or soda. The third week was no second helpings. If I had a snack, it was keto-friendly and single-serving size. My fourth week was no snacks (because I wasn't hungry anyway).
From there, I've stayed very satisfied and continue to lose weight doing low carb (20 or less a day), moderate protein, and higher healthy fats. And I drink lots of water. This way of eating is the way I live and NOT a diet. I am so thankful for this way of eating and the community in Eat Like a Bear.