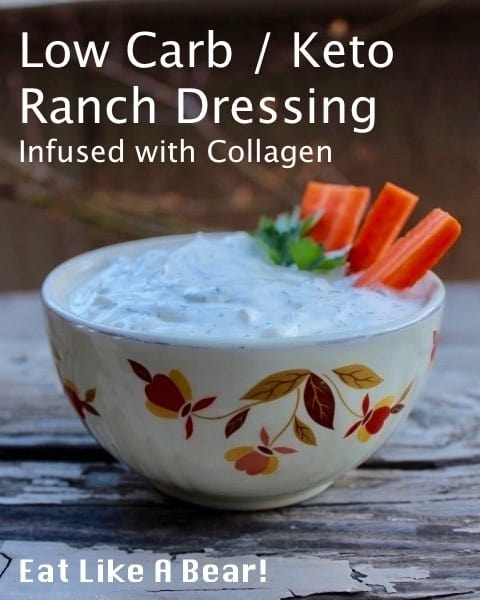 Ranch dressing is a keto diet natural, luckily for all of we keto dieters out there. Ranch dressing was popularized in the 1980s and 1990s by the popular brand "Hidden Valley Ranch." True story: When Hidden Valley Ranch hit the market, my mom's friends thought they had stolen the recipe from her because they had only ever tasted ranch dressing like that in our house. Obviously, I grew up on ranch dressing, the homemade variety. Of course, creamy salad dressings were not invented by us. We were just ahead of the game in the homemade dressing department.
This is my mom's standard ranch dressing recipe to which I have added the collagen powder and just obsessively check my mayonnaise and sour cream for hidden carbs. Mayonnaise in particular has been increasingly and strangely transformed by food manufacturers as a slightly sweet condiment containing sugar. Old school mayonnaise is oil and eggs and has zero carbohydrates — a natural keto food. Find one of those mayonnaise brands (which is easily done if you check the labels) or make your own. Sour cream brands also vary in carbohydrates. A full fat version will probably offer you the fewest. Be sure to check out the label and become familiar with your options.
Keto Ranch Infused with Collagen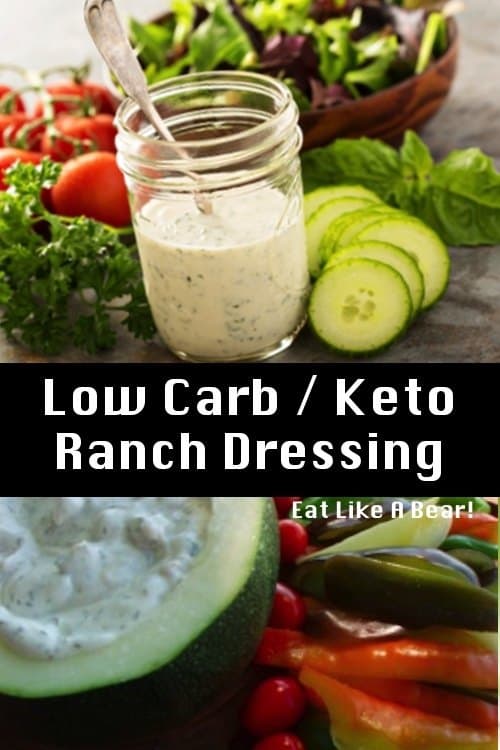 I add collagen powder just to get some extra collagen in my diet. People often ask me what I did for skin maintenance during my year of rapid weight loss. My skin looks very good for a 49 1/2 year old who lost 150 pounds. Along with a very healthy diet, intermittent fasting (eating one meal a day), and probably good genetics, I added collagen powder to my foods. Collagen contains the building blocks of healthy skin and we can add it easily to daily recipes. The keto ranch dressing without the collagen is pretty fantastic too. The collagen is just a little bonus in there.
For the collagen powder in this recipe, you need to find one that will not add flavor to your recipe. There are probably many that fit the bill but I have used this one and this one, available from my Amazon partnership.
Keto Ranch Dressing Ingredients
One cup mayonnaise. (Check the carbs on the label and look for a lower-carb brand. Some mayonnaise brands add sugar.)
One cup sour cream. (Check the carbs on the label and look for a lower-carb brand.)
Two scoops of collagen powder.
Two tablespoons of chopped parsley or two teaspoons dried.
Two tablespoons of chopped chives or two teaspoons dried.
One tablespoon of dill weed or one teaspoon dried.
Salt and pepper to taste.
Homemade Ranch Steps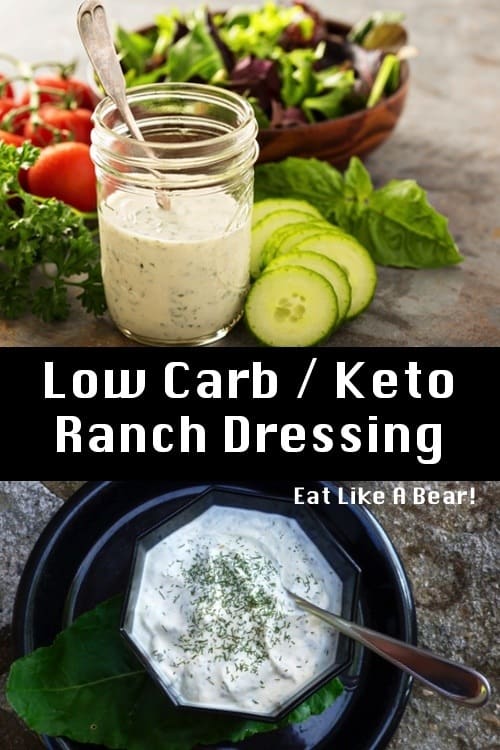 Mix together mayonnaise and sour cream.
Add herbs and collagen.
Stir well.
Add salt and pepper to taste.
I make this keto ranch dressing regularly, probably weekly, and use it on salads and as a dip. It is a staple in my kitchen! Find some of my thoughts on intermittent fasting meal ideas, including "the big salad," with this very keto ranch dressing.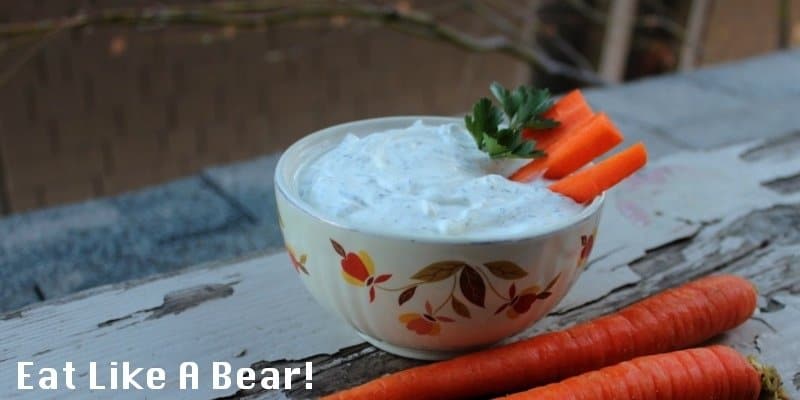 Keto Ranch Dressing Infused with Collagen
This is a simple keto ranch dressing recipe with a collagen kick!

Ingredients
1

cup

Mayonnaise

1

cup

Sour cream

2

scoops

Collagen powder

2

tbsp

Parsley (or two teaspoons dried)

chopped

2

tbsp

Chives (or two teaspoons dried)

chopped

1

tbsp

Dill weed (or one teaspoon dried)

chopped

Salt and pepper to taste.
Instructions
Combine mayonnaise, sour cream, collagen, and herbs into a bowl.


Mix well.


Salt and pepper to taste.