Esther's Weight Loss Success Story
Esther is one of the Eat Like a Bear century cases (over 100 pounds lost). She's still working hard on her final goal but at age 65 and over 100 pounds down, she has a lot of wisdom to share. Esther joined the ELAB community in March 2020 and is down over 100 pounds and about 80 pounds from her final goal.
Thank you, Esther, for your wisdom and overall awesomeness!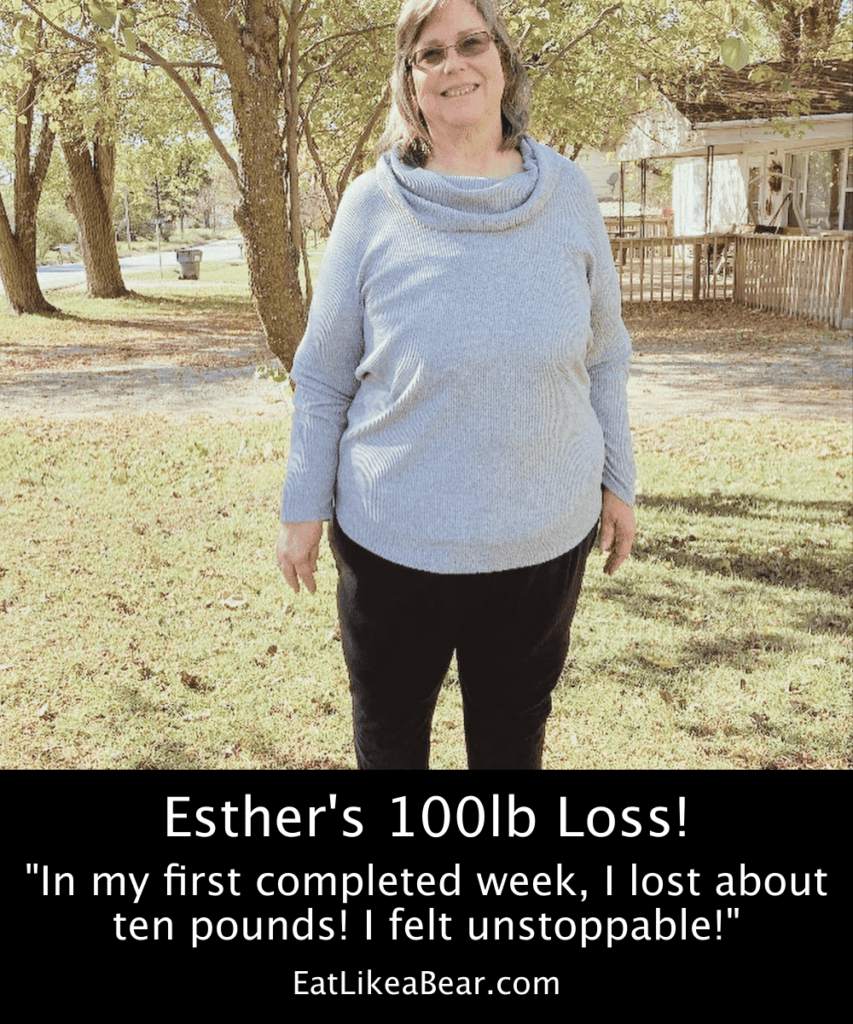 Finding Her "Why"
Esther had multiple health problems compounded by her weight: hypothyroid, Hashimotos, high blood pressure, spondylitis of the spine, and osteoarthritis in just about every joint in her body. Her osteoarthritis was what caused her to visit her neurosurgeon in February of 2020. She was told that she needed back surgery but first had to lose 100 pounds. Esther reports on the visit with the surgeon: "She gave me pointers on what she wanted me to do to lose weight — basically to eat a ketogenic diet. I followed what she said to a "T". I lost several pounds and couldn't lose any more. It's the story of my life! Every diet I had tried before, worked for about two weeks and I couldn't lose more than 10-15 pounds.
I was crushed and feeling hopeless. I could never lose more than 20 pounds before stalling! My body just said "No!"."
Feeling deflated, Esther nonetheless found Eat Like a Bear in March of 2020 and implemented a Bear-ish way of eating: "I ate one head of romaine lettuce, and then added what ever vegetables I had in the refrigerator that we're not high in carbs — broccoli, bell pepper, tomato, celery, radish, red onion. I added protein like baked chicken breast or hamburger, bacon and cheddar cheese. I also liked to add in 1/4 cup of chopped pecans sometimes too. For my dressing I used mayonnaise mixed with Apple cider vinegar. For some meals I ate a steak, mushrooms, broccoli with cheese or green beans. I usually ate in one to two hours from 2 – 4 p.m."
"In my first completed week in March of 2020, I lost about ten pounds! I felt unstoppable!"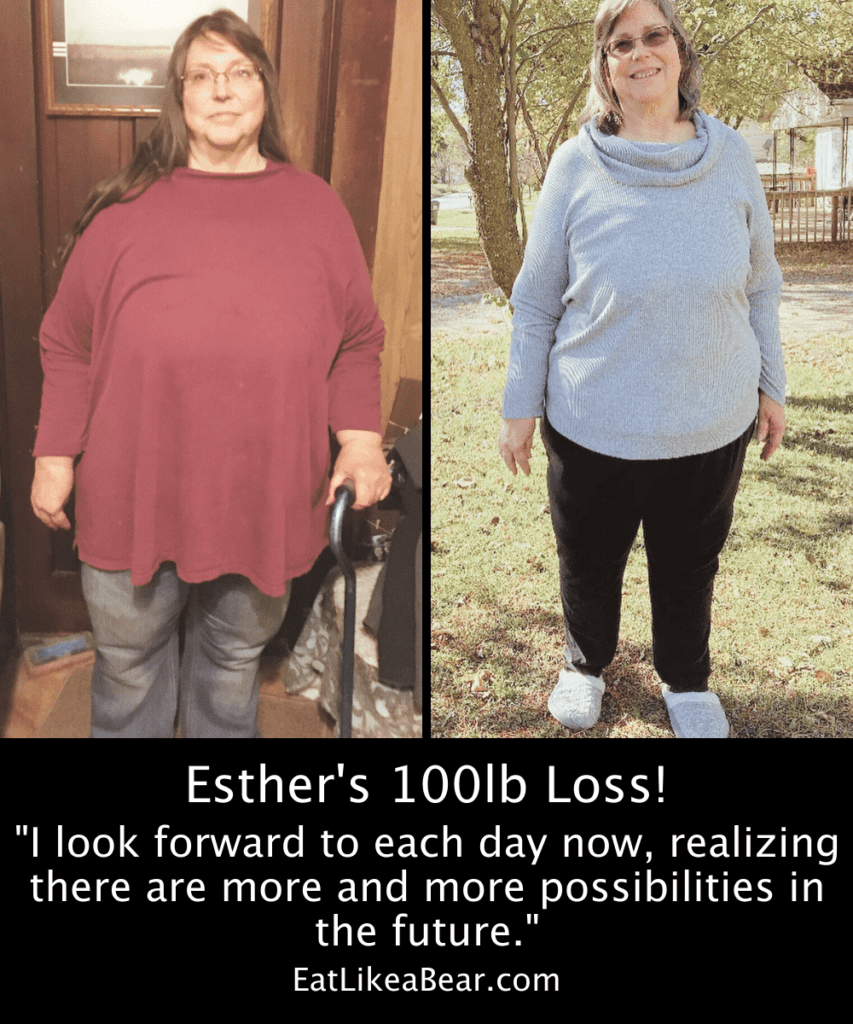 Esther's Non-Scale Victories
Esther reports many non-scale victories: "I can stand in the kitchen longer while I do dishes or cook at the stove. I still walk with a cane, but I am able to walk further. I have more energy. I sleep better. I feel healthier. I am looking forward to putting in a garden and working in it!
Esther's only medication these days is for her thyroid. In clothing, she's gone from a 4x to a size large. "Buying new clothes has been a real boost!" she reports. "My shoes even fit better!"
Esther adds: "I look forward to each day now, realizing there are more and more possibilities in the future."
Getting Started
Esther urges everyone to dig in. "When I began this way of eating, I was in so much pain and it hurt to move or walk so bad, I couldn't imagine living the rest of my life in so much constant pain. Within three weeks the pain was diminished considerably! Within 6 months, I no longer need pain medications or high blood pressure medications. It's truly amazing!!
Jump in with both feet!! Don't hesitate!! "