Century Hike! Celebrating 100 Pounds!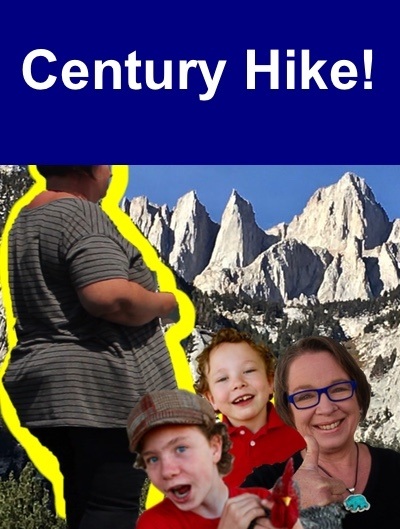 (Find updates, diary-style, at the bottom of this post.)
And so it is spoken: We're hiking 100 miles in a "discontinuous, disjointed, discombobulated" trek across the Pacific Northwest and somewhere in Utah, Colorado, Idaho, or Wyoming, wherever the car takes us this year!
The "hike" is in honor of my 100-pound weight loss, a milestone I hit in early March. I've lost more than that at this point and hope to lose more, but the goal of the hike is to increase my fitness level and to spend time with my two sons.
Gosh, you guys, they are growing up and I am in a PANIC that I am missing out! We need to GET OUT THERE!!!!
I posted a bit of an emotional video about it on Facebook and, I'm going to admit here too that this really is a very big and emotional thing for me. I'll just post the video and leave it at that so I don't blubber on my keyboard.
As for trip logistics, the kids and I talk about the hike in the video below. Alastair and I have some big old reservations about cold and food but, really, face your fears and get it done, right? (I have about 17 base layers for the cold. I will be OK. It really is surprising how warm you stay with a thick layer of body fat…)
I really have a lot of packing and food supply to get this show on the road but, geez, aren't those kids stinkin' CUTE???
I mention in the video that I hope to live stream some stuff from our trip and that I have a "surprise." 🙂 Seriously, it's next-level and it's for you guys watching from afar. If I can get a signal, I've got some cool stuff to show you.
Update May 11: Some of my ingredient orders were lost in shipping so I may need to scramble on some recipes. (This is a vendor I've used for years but have had problems with my last two orders. I found a new vendor but it makes me kind of sad because I was really used to the other one.) In other news, I had a dream that the pants were all lost in the wash save one pair of active wear pants that shrunk and didn't fit. Apparently, I need therapy of some kind.
Update May 13: Good news/ bad news:
Good news: We're totally good on the gear.
Bad news: My husband is a hoarder.
Seriously, I've been working the list on all this stuff and with pretty much everything my husband has sheepishly offered: "I think we already have that…" Indeed, apparently we could start a retail outlet. He has his own storage area that I do not look at but he has been tattled on and I expect we're good on the gear. (Begging the question: How did I end up with the 1980s Boy Scout bag? I described that problem in the video. *shaking*my*head*)
I had a dream last night that we were having a party of some sort and people were starting to arrive, some even planning to stay overnight. None of the bathrooms were operational. Clutter was all over the place. (Basically, how the house is in real life.) I was in a panic and woke up all frazzled. A friend says it's my anxiety over this trip. It might be. I am a little concerned about those 100 miles. I am tooling up for the cold and food issues (as we discuss in the video) but after a walk today I started wondering more about the hiking. I bought some new trail runners. Maybe we should just leave early so I can stop worrying about it. 🙂
Update May 22: Good news/ bad news:
Good news: We're totally good on "what I'm going to eat."
Bad news: My husband thinks I am a hoarder.
The rubber hits the road, literally, in about 36 hours and I had to face the hard reality tonight of packing camping food for myself. I have had some on-going concerns about what I am actually going to eat out there. It's just not practical to lug lettuce and cabbage around on camping trips. I can see some lettuce on Day 1 of various legs but it's probably not particularly viable to plan for it after that. I had a basic idea of how to handle it but, as I packed, I got concerned that I just wasn't going to have enough of what I needed. I searched the pantry to no avail. I wandered around outside and had a little light bulb moment and remembered something in the pantry hoard. I'll show it to you on the trail in a video. It made me excited to eat camp food. I crossed over the hump and I'm ready. The food will be good and you may laugh at what it is and be jealous at the same time. 🙂
The particular exciting item was three years old. The hubs thinks I am a hoarder.
In related news, the hubs admitted that he owns rain pants. Rain pants. He is considering packing rain pants for this trip. He bought the rain pants during California's historic drought. Who, pray tell, is the bigger hoarder?
Update May 25: We did manage to get out! I will try to update on Instagram (here). It's currently raining in northern California and the hubs is wearing his rain pants. Apparently, Frederick has rain pants too. I am the one in wet jeans… 😉
Update June 2: The best laid plans and all that…
Living in a National Monument myself, I should know how unrealistic it is to do any sort of social media from a campground, much less live videos, so those didn't happen. I've had enough bandwidth on occasion to pop little "stories" on Facebook and Instagram of our progress on the trail but have not had good enough access for live videos. I'm looking into tech for that because I think that would be a lot of fun. Until then, I hike. 🙂
This road trip has actually been a lot more about the road than the trail. I have so far only hiked 12 miles. I am feeling good about the 100 mile goal, however, because I expect without that goal, I may not have hiked at all.
Here's Mile 1:
Alastair and I made it to the top of Hurricane Ridge in Olympic National Park. Of course, Frederick did too but he's not pictured because he took yet another trail as he waited for the slow pokes. I was really pleased at our performance on this trail. It is a 3.2 mile trail, round trip, with a 700 feet elevation gain. It's not a leg-buster but it's not nothing either. I might have made it to the top a year ago but it would have been a struggle.
In the previous photo friends and family commented that they thought I was Frederick. Really, I am still astounded to be confused with a lean teenage boy, but I posted this photo we took the next day in the Hoh Rain Forest at Olympic National Park. People will not confuse us for much longer. We are headed in two different directions size-wise.
Speaking of no time for hiking, we've done a bit of galavanting…
Update June 2 P.S.: bahahahahahaha!!!!!!
A number of friends are asking what I am wearing out on the trail. We've joked that I start an Instagram Fashion account. There is no universe, this one or a parallel one, in which I am a fashion leader of any kind. Perhaps my friends are curious to see how I actually manage to dress the "new me." Good point. I couldn't dress any previous version of the old me and I don't think weight loss actually changes fashion sense. In any case, the Instagram photos above display my keen choices so far: the hubby's ill-fitting puffy, made somewhere in China I expect, and most likely, purchased by the hubs during some sort of Amazon lightening deal. The shirt on top of Hurricane Ridge was selected by my friend Heather at a Walmart in Cottonwood (just south of Sedona) to help keep me from freezing my stinking tail off while camping. I suppose each piece has a story, just not a runway model-oriented one. 🙂
Update June 8: This was an emotional day. We hiked five miles with a 1300 feet climb. Mt. Rainier was spectacular. I had many, many moments of "Wow. What a change a year makes."
Update June 20, The Pacific Northwest Report: We are back and recovering. The trip was a great success. I had so many moments of wow and wonder and just simply cried in many of those moments. We faced very bad news coming home and we cried a lot more. Lest we all completely dehydrate ourselves from crying, in the video report I show you some fun thrift store finds as well. There needs to be some sort of giant thrift store shopping meet-up through Oregon and Washington because we are all missing our opportunity… 😉
(Some of you may need to get right to the big thrift store find. It is at the 13-minute point, here.)

Update July 28, Leg 2: Ford Fever!:
I break the surprise to the kids in the video report below. We're headed from California to the east coast to buy a family Ford from the kids' Uncle Eric and Aunt Tami (my brother-in-law and sister-in-law). There's a whole family story behind it that gets unpacked in the video: Memories of Uncle Bill (with 30+ years in management at Ford Motor Company) and his disdain for our purchase in 1997 of a Honda Accord. Just days before this video, that same Honda Accord broke down near a high elevation trail in our stomping grounds in the Giant Sequoia National Monument. I consider it "totaled" (which is easy to happen with a 23-year-old car). Uncle Bill would find some satisfaction in knowing we are replacing it with a Ford Explorer, purchased via the "Ford Friends and Family" program by Uncle Eric because of Uncle Bill's years of service at Ford. The savings have trickled down to us. We are picking up the car and driving it back to California via "all the trails" with a stop over in Michigan. (Of course!) Find us on Instagram.

We are actually preparing to camp on part of our drive from the east to the west coast so I suppose we shouldn't complain at all (*cough*) that we slept the first night of our trip on cots in the American Airline terminal at LAX. It all got a bit worse before we finally arrived in Philadelphia, but we made it!
Side note: Things are getting very busy on this trip. Two weeks before leaving, I thought I'd start a little group on Facebook to provide weight loss support for friends, family, and some of the ladies of Fresh Bites Daily who had heard my story. I had a couple of dozen people who I knew IRL and online who were implementing my diet and having great success. At three weeks of age now, the group has grown to 5,000 people, packed with members with a lot of wisdom and very focused on supporting each other. It's an exciting phase — many people have gotten started and are already reporting great results. The keto + intermittent fasting approach has been life-changing for me and I am excited to see so many people giving it a shot. Heck, with no drugs, no surgery, and no branded products, it's a bootstrapping approach like no other. And so, the revolution begins right there —> Eat Like A Bear!
That group I mentioned has ended up taking a great deal of time but, more than that, boy, things are just really crazy. Here's an update: