Betty Jo's Weight Loss Success Story
Betty Jo entered the Eat Like a Bear world by storm in the spring of 2020 and lost nearly 50 pounds in her first four months. What a world we have found ourselves in! This is her weight loss success story.
**************
Betty Jo's Weight Loss Motivation
‪I started this way of eating on March 23, 2020. Today is July 12 (day 112), and I have lost 48 pounds already!!‬
‪I have battled my weight my entire life. The first time I had an issue, I was 15 years old. My doctor put me on homebound from school, minimal activity, to bedrest for rheumatic fever during my sophomore year of high school for six months! I gained weight into the 170s! In my senior year, I managed to drop the weight…due to a bout of colitis, and all I managed to eat was cottage cheese and unsweetened tea. In retrospect, I ate minimal to no carbs!‬
‪My weight continued to head up I was married when I was just shy of 20, I was 155ish pounds. A year later, I hit 167ish. I worked and lost 15 pounds, then found I was pregnant.‬
‪I've spent my life weighing 170 to 200 pounds, then pushing up to almost 240 the past few years. I did lose 85 pounds, down to 140, 22 years ago after we adopted my special needs son, by using the Protein Power Plan – basically, I did ultra-low carb again. It's the only thing that has ever worked. I kept it off for two years, then my oldest, aged 14, was diagnosed with Schizophrenia. I put it back on fast and have been unable to take it off. I tried diet pills but just could never commit. ‬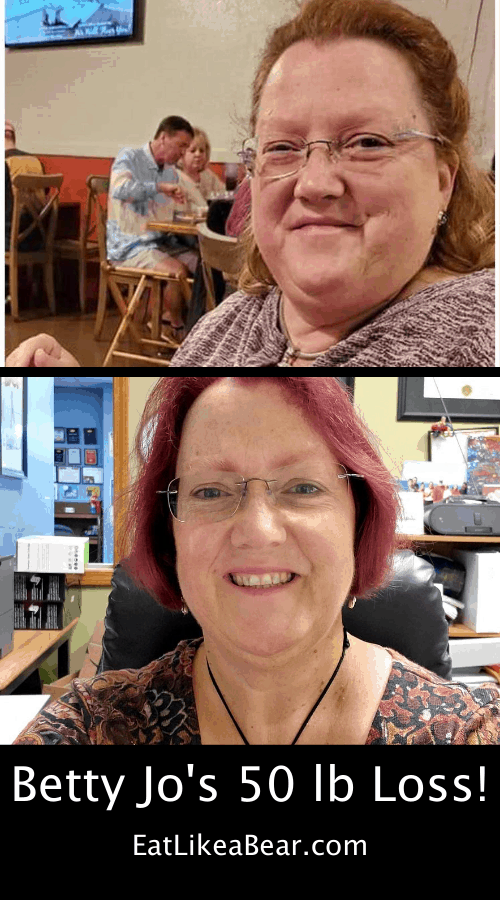 ‪The Eat Like a Bear Approach was Different
When I found Amanda's Eat Like a Bear group in early March, it made sense. Her Facebook group is awesome and super supportive. ‬
‪For me, the low carb is the ticket, the intermittent fasting is the secret, and making sure to get enough fats to feel full and stay healthy during the weight loss is the final nail in the deal! ‬
Seeing Results
‪I was 223 pounds starting. I had lots of pain, was on blood pressure and cholesterol meds, and I couldn't sleep on my back because of the weight on my chest…I couldn't breathe!‬
‪One week in, and the swelling in my knees was gone. I felt great. I added 48 and 72-hour fasts, once weekly, looking for autophagy benefits. One month in, and I could lay on my back – and be comfortable! And I'm off the blood pressure and cholesterol meds. ‬
‪I am past my halfway point and still have 35 pounds to go for my first goal of 140 pounds. I may go for 130, but I'll have to decide that then. ‬‪At 175 now, I am a full size smaller than I was when previously at this weight 30 years ago! I feel great! That is the biggest benefit.
Tips for Newcomers
This plan is a miracle, but the miracle lies in the commitment to be healthy. The plan is simple, and if you stick to plan, the weight will fall off. It is not overnight. The weight comes off in starts and stops. I lose weight for several days, then plateau for 10 to 14 days, then repeat. This plan takes commitment, persistence, and one choice at a time. ‬
‪Sure, moving from 3XL/Size 20 to 22 clothes to a size 14 is awesome, but I feel fantastic! If I can do this, anyone can. You can!♡♡‬
‪My high weight was 237‬
‪My start weight was 223‬
‪My current weight is 175‬
‪I'm aiming for 140… then, who knows?