Barbie's Weight Loss Success Story
Barbie is an RN who has struggled with her weight her entire life. People in the health industry tend to have an extra layer of guilt when they hit those high weights and I can just read Barbie's relief in her reports as she leverages her impressive training and life experience to pull herself right out of that pit many of us have found ourselves in. She is a great testament to the fact that every single one of us struggles to some degree, regardless of the formal education and training we might have. Barbie is down 104 pounds and is still grinding away. This is Barbie's story.
********
Barbie's Motivation and Past Diets
‪‪My main motivation to lose weight was my health! To be here for my kids and family.‬ I was diagnosed with DM II one day before starting Eat Like a Bear. I refused medication because, as a nurse, I knew what I needed to do! ‬
‪‪In the past when I've tried losing weight, I was frustrated with the sustainability of other diets…keeping track of points, calories, fat, protein, etc. It got so boring and frustrating! And I was always hungry and had cravings!
‪‪I joined the group about six months before I started, but after watching the videos, reading the books Amanda Rose wrote, and seeing the success she had, I realized this is it…this is what I can do and succeed!
The Eat Like a Bear Approach was Different
‪‪I started right away eating the Really Big Salad (usually the Big Mac salad🥗) I then started intermittently eating a warm ketogenic meal every so often—low carb and always keto foods. I eat in the evening so we can eat as a family. I always eat one meal a day, fasting 23:1, when I'm not extended fasting…once in a great while I will eat two meals a day.‬
‪‪The Eat Like a Bear approach is so simplistic and easy to do and to sustain! No counting, weighing, prepping…it truly has been the easiest and most successful way of eating I have ever done. And believe me, I have done it all!!!‬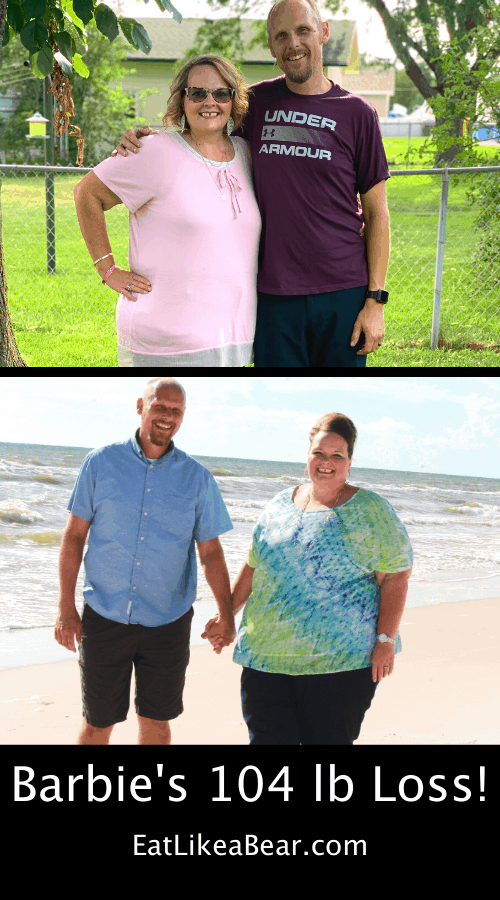 ‪Seeing Results
I realized the Eat Like a Bear approach was actually working when I had my labs drawn 6 weeks after I started. I went from 5 years of hypothyroidism to literally becoming HYPERTHYROID!
Of course, I noticed the rapid weight loss too!!! I hit my century mark 8 ½ months in…it was a true miracle!
A New Life
Oh my goodness, where do I start?? I can now walk to work and home every day of the week! I can walk up our horrible hill at the end of that walk without huffing and puffing! But one of the biggest non-scale victories is that I was able to hike miles in the Colorado Rockies!!! I have been able to fast for days and not give in! The cravings for candy are gone too, and I was able to go through Halloween without one piece! That was only 2 weeks in to this way of eating!‬
Tips for Newcomers
Implement extended fasting right away. Not only is intermittent fasting key, but extended fasting (at the very least a 48 to 96 hour fast once a week) has been to key to my success! As well as a support system…the Facebook Eat Like a Bear groups are a huge support, but get someone close to you that loves you and wants only the best for you to be your support system!
‪This way of eating/way of life has been the best thing I have ever done, besides marrying fellow Bear Michael Long and having my boys! Eat Like a Bear and Amanda has been a literal lifesaver!!!‬