Angela's Weight Loss Success Story
Angela does not post a lot in the community, but when she does, she just pops out of the screen at us. Her "before" picture is bright and welcoming, and she just happens to look like her own daughter in her transformation photo. Angela got started in early 2019 and is down 80 pounds to 157, about 20 away from her goal weight. This is her weight loss success story.
****************
Angela's Motivation and Past Diets
‪After the birth of my last child, I only took off half the weight I gained. Each year, over the course of the next 10 years, my weight increased. Between Halloween and Christmas of 2018, I gained 20 pounds. My clothes were tight. I was tired all the time, and I was consuming way too much sugar every evening. I felt more desperate than ever before to change my body and my eating habits. ‬
‪I was never able to stick with any diet longer than a few months. Usually, I would get motivated to lose weight when shorts and bathing suit season were coming up. I live in the south, so that's half the year here. I wouldn't reach my goal fast enough, and I would give up and go back to old eating habits, only to repeat the same cycle year after year all the while growing heavier than the previous year.‬
‪I came across one of Amanda's posts about being half her size on Facebook. I was sitting on my couch, having just eaten candy after my dinner, and feeling tired and pretty much disgusted with myself and my nightly sugar binge.
As I watched this enthusiastic lady tell me how she ate really big salads and practiced intermittent fasting, I felt like she was talking directly to me and knew my struggle. I had tried intermittent fasting before and knew it was something that could help me, and I really like salad. So, I figured, why not give it a try? I watched all the free content Amanda provided and asked to join the Eat Like a Bear group. ‬
The Diet
‪I eat one meal a day within a one-hour window. I eased into the process by eating two meals a day in a four-hour window for the first two months. After that, it was easy to drop to one meal. In the beginning, I ate the ridiculously big salad about three times a week and keto-type meals the other days.
About six months into the process, I added 48-hour fasts each week. Some weeks my mindset is not feeling an extended fast, so I don't do it. I have moved to eating the ridiculously big salad for almost all my meals now because it leaves me feeling the most full and satisfied. You can really add a lot of flavor and variety into a ridiculously big salad!‬
The Eat Like a Bear Approach was Different
‪After several months of eating this way, I began to think of this as just how I eat now, and not a diet. I don't get hungry until it's time for my one-hour eating window. After I eat, I'm full and satisfied.
That's why the ridiculously big salad is so great! You get to eat a lot and all the delicious fresh ingredients make your body feel so good. No other diet/eating plan has done that for me. On past diets, I would still be hungry or feeling deprived, but now my meals are filling and very enjoyable.
Another important component to my success has been the group support. Having a group of people to share my success and struggle with has kept me motivated and accountable. Going on the group daily to read posts from members helps keep me focused on my goals. ‬
Seeing Results
‪I started Eat Like a Bear in February 2019, and by August 2019, I had lost 30 pounds. That was more than I had ever been able to lose before. It was also the longest I had ever stuck with an eating plan.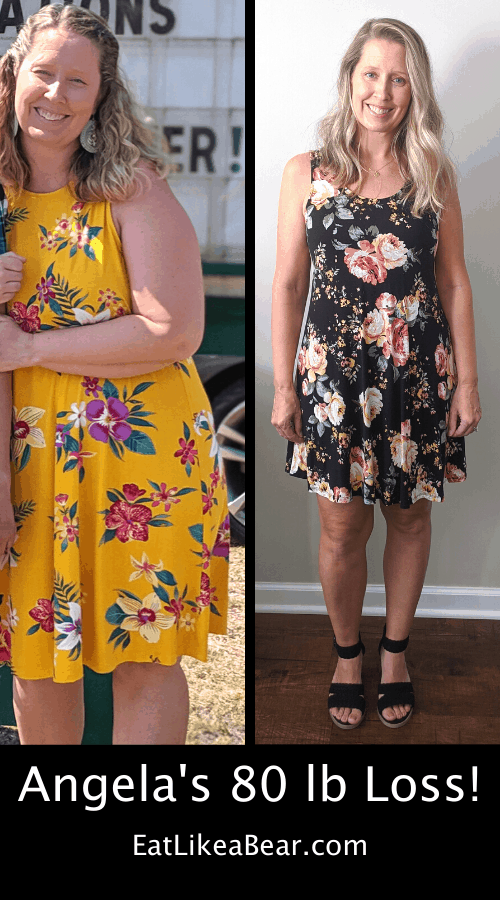 My progress was slow because I hadn't stayed strict during those six months. Much like other weight loss attempts, I had off-plan days and even a few off-plan weeks. BUT I always got back on track and kept trying, because this time felt different.
I was actually enjoying the way I was eating, and I was feeling so good physically and mentally because of the food I was putting in my body. When I hit that 30-pound mark, I got really motivated and stayed strict. That's also when I added extended 48-hour fasts to my routine. ‬
Angela's New Life
‪Everything I do is easier without the extra pounds! I have always exercised, but now I go to the gym with my 15-year-old son. We work out for an hour and a half, three days a week, and I can do everything he does! Losing weight has motivated me to get stronger and build muscle. This spring, I helped my husband build a retaining wall, and I lifted heavy blocks all day long.
One of my kids pointed out to me that I can bend down in the kitchen and get something out of the lower cabinet and pop right back up without groaning. I can tuck my shirts in and enjoy buying clothes again. I bought a bikini this year! I no longer shy away from the camera, and I now take more pictures with my kids and husband.
Another non-scale benefit to this way of eating: my cystic hormonal acne has cleared up. I am a longtime sufferer of really large, painful breakouts on my chin – despite good skin care. Improving my diet was the missing piece, and it makes me feel so much more confident.
I could go on and on about all the positive benefits I have experienced from this way of eating. I'm a much happier, energetic, and confident woman now thanks to Eat Like a Bear!‬
‪Tips for Newcomers
‪Eat the salads! I know you may be thinking that eating salad all the time is boring, but it doesn't have to be. You can create so much variety and flavor in a salad. If you're not creative in the kitchen, get Amanda's book with the six-week salad plan to get you started. You'll be amazed at how great you'll feel after you've been eating a nutrient-dense salad for a few months.
You may not have it all figured out, and you may have missteps along the way, but don't give up. Losing weight is hard work! It takes a lot of mental focus and determination. If you have a significant amount of weight to lose, it's going to take a while, so don't get discouraged. Be patient and kind to yourself. As long as you are trying, you are succeeding!‬