Pickled Onion in Herbs, Spices, and Apple Cider Vinegar!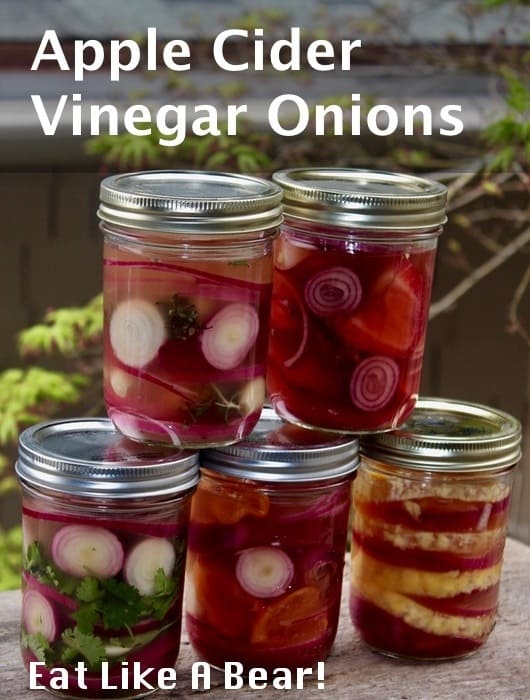 I am a red onion lover and, in my world, there may be nothing better than having a cupboard full of red onion opportunities. The pickled onion is one of my very favorite kitchen projects. I get the benefit of the onion, including all of the antioxidants that onions have to offer, and I get the bonus of the apple cider vinegar. My cupboard is literally filled with multiple flavor variations of this onion. I use the onion slices in salads and simply wherever the need strikes me. I use the vinegar in salad dressings and vinegar shots. I love the diversity of flavors this project brings.
All of my pickled onions follow the same simple formula: I add whatever herbs, spices, and fruits strike my fancy. I combine them with sliced red onion. I pour apple cider vinegar over it and let it sit for a few weeks or longer.
That is it!
The onions and the added herbs, spices, and fruit all end up pickled and can get used in your kitchen creations. Of course, in the process, the apple cider vinegar itself becomes a gourmet mastery. If you have not tried this concept, you must implement this immediately. 🙂
Pickled Onion Principles to Live By
If you like the flavor of something, try it. Toss it in and see what happens. (OK, guys, use some judgement. Don't toss in last night's pork chop. Let's keep this rule in the plant world…)
Use over-ripe fruit: the fruit that may be past its peak for enjoying raw, as long as it has not spoiled. Add it.
Don't add fruit that has already spoiled. Ewwww.
Add garlic, ginger, pepper, and any spices you desire.
Try each and every combination!
For the most part, a ground up spice will be better than whole, but fresh ground is important too. If it's been in your pantry for a decade, you won't get much flavor out of it. (Though this may be the perfect time to use it up?)
Fresh herbs and spices are great too. Rough chop them before adding them to the jar, to increase the surface area and to release the flavors a bit more.
Layer everything to get the flavors blended throughout. It also happens to be pretty. 🙂
Use a plastic lid. The metal lids will corrode. If you only have a metal lid, add some plastic wrap between the jar and the lid.
Store these in a pantry for a couple of weeks before you use them.
Because the apple cider vinegar is covering the plant ingredients inside the jar, this stuff will keep through the Zombie Apocalypse.
As a bonus, all of this apple cider vinegar may even help you lose weight. Yes, indeed! Get some recipe ideas and learn more about apple cider vinegar for weight loss. Use the apple cider vinegar right in these pickled onions to up your apple cider vinegar game!