Eat Like a Bear! Free versus Premium Learning Products
Here in the Eat Like a Bear! community we offer a generous assortment of free content and forums. The greatest feather in our cap is that a good number of our success cases have succeeded with just our free resources.
Do not overlook our free content, especially if you are just getting started.
The fact is that all of this can be done on food stamps.
Given that, why do we offer premium (paid) items?
As we've grown and had perhaps more success than just about any weight loss platform in history, many community members have asked for more. We've had success from the very beginning when we had no premium items to offer, and yet we've also seen our success improve with the premium items.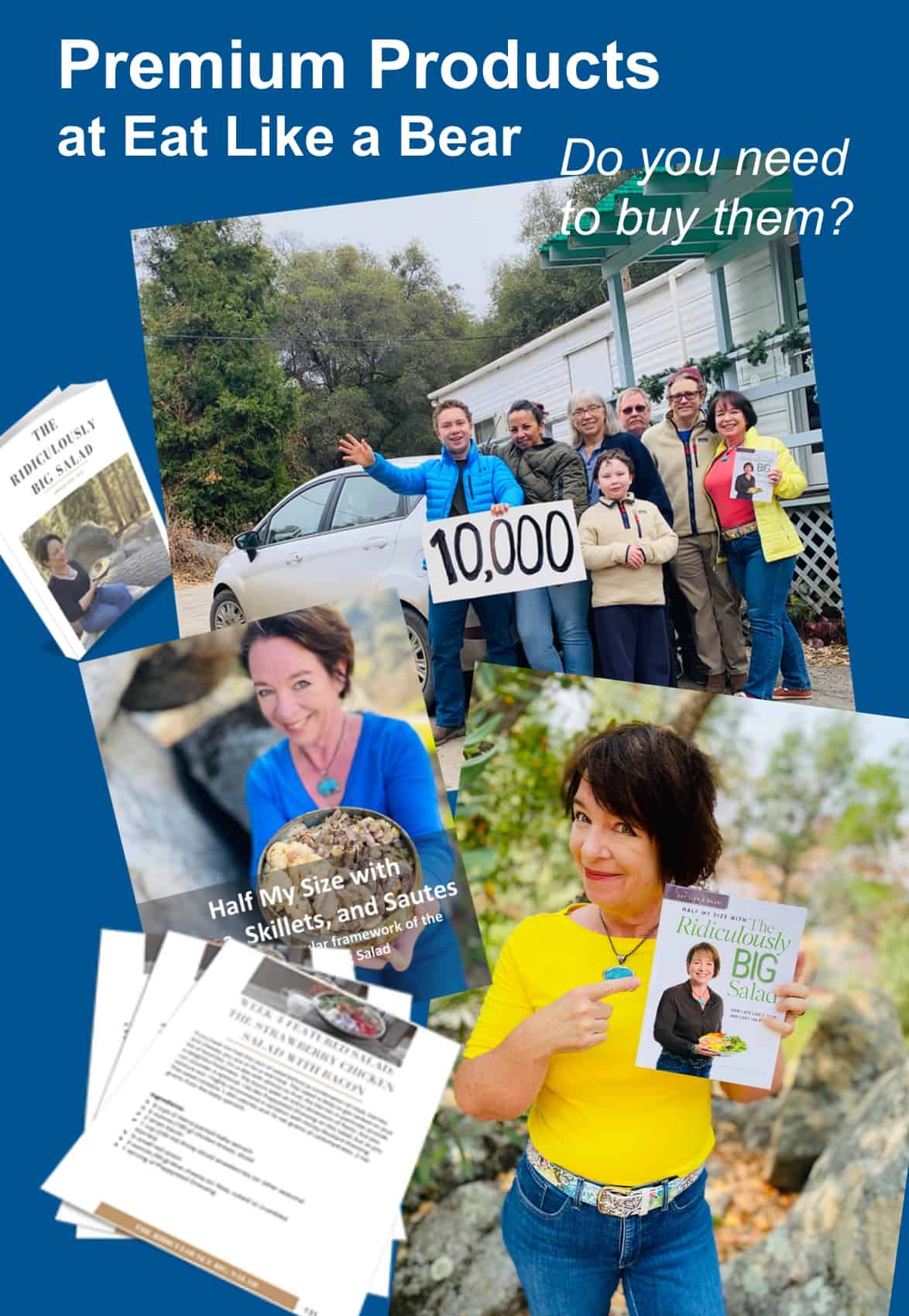 An Example of Free Versus Paid
The premium items go FAR DEEPER than the free items. A great example comes out of the ENGAGE community in 2022 (and we direct you to this post to explore more on your own), with content centering around the psychological content of "intention." Amanda takes to TikTok in a 23-second video about intention and bullet-points her core recommendations. These are, in fact, the core recommendations in her more extensive live videos in the ENGAGE community, two videos of over an hour each in which members were able to ask questions, get feedback, and report on their own "aha moments" from the previous videos.
Clearly, those members got far more out of the livestream than could ever be had in a 23-second TikTok video. That said, if you do not consume long-form video content, then the video-based content of Engage may not be for you.
It is the same with the books: They simply go far deeper than the content we offer for free, and they are designed to take you deeper through their specific topic. Each book has driven its own success.
Product Development Timeline
July 2018: Community founding after two ladies lost over 40 pounds each in two months following Amanda Rose's live videos on Facebook. (Our first two 100+ pound weight loss cases would use this same free content.)
January 2019: A simple 50-page e-book (The Bear Bones Blueprint, now only available as a bonus item in the ENGAGE community) taught the basic framework more systematically and drove a higher rate of success in our first half dozen 100+ pound weight loss cases.
March 2019: Amanda Rose responds to community demand for "a salad book" and begins a series of live videos on salad dressings.
June 2019: An early digital version of Half My Size with The Ridiculously Big Salad sells a thousand copies. Community members double down on implementation. Success rates improve.
January 2020: The powerhouse (and free) Three-Day Challenge is first implemented, teaching people the key framework of The Ridiculously Big Salad (including the "Day 2" cooked approach). Tens of thousands of people would use the Challenge as a starting point.
Spring 2020: The original version of the "Eat Like a Bear video course" is launched.
August 2020: The print version of Half My Size with The Ridiculously Big Salad is released, and all 10,000 initial copies were shipped from a small rural post office. A story about this appeared in the U. S. Postal Service employees' magazine.
December 2020: The Three-Day Challenge made a U. S. national magazine cover in December 2020 and became its own book. (The Jump Start book replaced the original 50-page framework book.)
August 2021: Increased demand for a book based on the Day Two meal (the cooked meal) of the Three-Day Challenge led to the third book (now only in digital format), Half My Size with Soups, Skillets, and Sautés, a book loaded with recipes but, more importantly, one that pairs those recipes with the winning psychology of implementation, driving longer-term weight loss and maintenance.
September 2021: The member-funded ENGAGE community was formed with a focus on leveraging the last 100 days of 2021 to drive long-term progress and goals, right through the 2021 holiday season.
December 2021: The ENGAGE community grows and sets up shop outside of social media. ENGAGE funds its own tools for engagement and interaction for $1 a day.
April 2022: The Eat Like a Bear video masterclasses are reorganized and relaunched.
September 2022: The Big Bear Blueprint Course is launched as the key starting point in premium products at Eat Like a Bear!
January 2023: ENGAGE morphs into The Deep Den, a member-funded community with deeper support. It opens for new members at the beginning of each quarter. Learn more about it here.
February 2023: Due to community demand, we launch a simple and inexpensive recipe collection — a dozen quick recipe downloads to supplement the Three-Day Challenge. Our best-selling collection is for a general audience but we also offer a plant-based, dairy-free, and post-bariatric collection. We have a collection of pureed soups for times of illness and dental work. Find the collections here.
The DOZEN Recipe Collection
Recipes PLUS: The Big Bear Blueprint, Digital-Only
Just getting started with premium content here at Eat Like a Bear? The Big Bear Blueprint is designed to get you started quickly.
This course will teach you two simple things:
The main meal framework that is driving success in the Eat Like a Bear! community.
How to implement it in less than 10 minutes a day.
---
More Digital and Print Options
Bird's eye view
Jump Start book
Loaded with information on our main success framework, but also with stories for inspiration, this book is most often purchased in print as a companion to the print version of Half My Size with The Ridiculously Big Salad.
What to eat, drill down
2 book options
Based on the framework of our #1 most successful meal type (what we call "The Ridiculously Big Salad"), the original book Half My Size with The Ridiculously Big Salad is available in print. Its sequel, Half My Size with Soups, Skillets, and Sautés, is currently available only in digital format. (Our earliest anticipated release in print is August 2022.)
Dig deeper
Video-based Masterclasses
Video-based masterclasses, one for each of the two "what to eat" books. These are most commonly purchased as part of the larger "Grizzly Bear Bundle."