The Deep Den
From Amanda Rose, Ph.D., Founder, Eat Like a Bear! Founder:
The Deep Den is the private, member-funded community of Eat Like a Bear.
We open up invitations to join The Deep Den quarterly or so via email.
As of the summer of 2023, we do not anticipate opening it until we launch the last 100 days of the year (which starts September 23). Look for invitations around mid-September.
We have lots of support for the "what to eat" specifics in other free and premium products. We entertain those questions as well in The Deep Den, but usually in the deeper context of strategic choice and psychology (as opposed to whether you should add extra cheese to your dish).
What the Deep Den Is: Additional Support

At its core, The Deep Den is a place where we, the leadership of Eat Like a Bear!, provide additional support to community members, with far richer discussions than we are able to have in our large (and growing) Facebook community forums.
What we offer in those public forums has not changed over the last two years, and I do not expect it to change, but people have expressed a need for more.
The Deep Den is the place for more for anyone who would like more.
Support in The Deep Den
We go deeper in conversations that are important to us, as a community focused on losing weight to meet our long-term health goals.
Deeper Discussions Rooted in Research
In our Eat Like a Bear! Stories community on Facebook, members post daily about how they got off track and are having difficulty getting back on track. We approve the post, and that person gets a lot of advice from the main community. I personally do not have time to even approve the posts, much less respond to them. But in The Deep Den, community members receive a Deep Den response from me. In my responses, I will likely direct you to deeper video content, content that is rooted in the social science research on strategic food choice.
Way back when I was working on my doctoral dissertation, I applied these theories to voting and public opinion. Back in the 90s, it simply never occurred to me to apply them to my weight. That's what I do these days. 🙂
This is simply more support than I could ever offer in our large and growing main community on Facebook.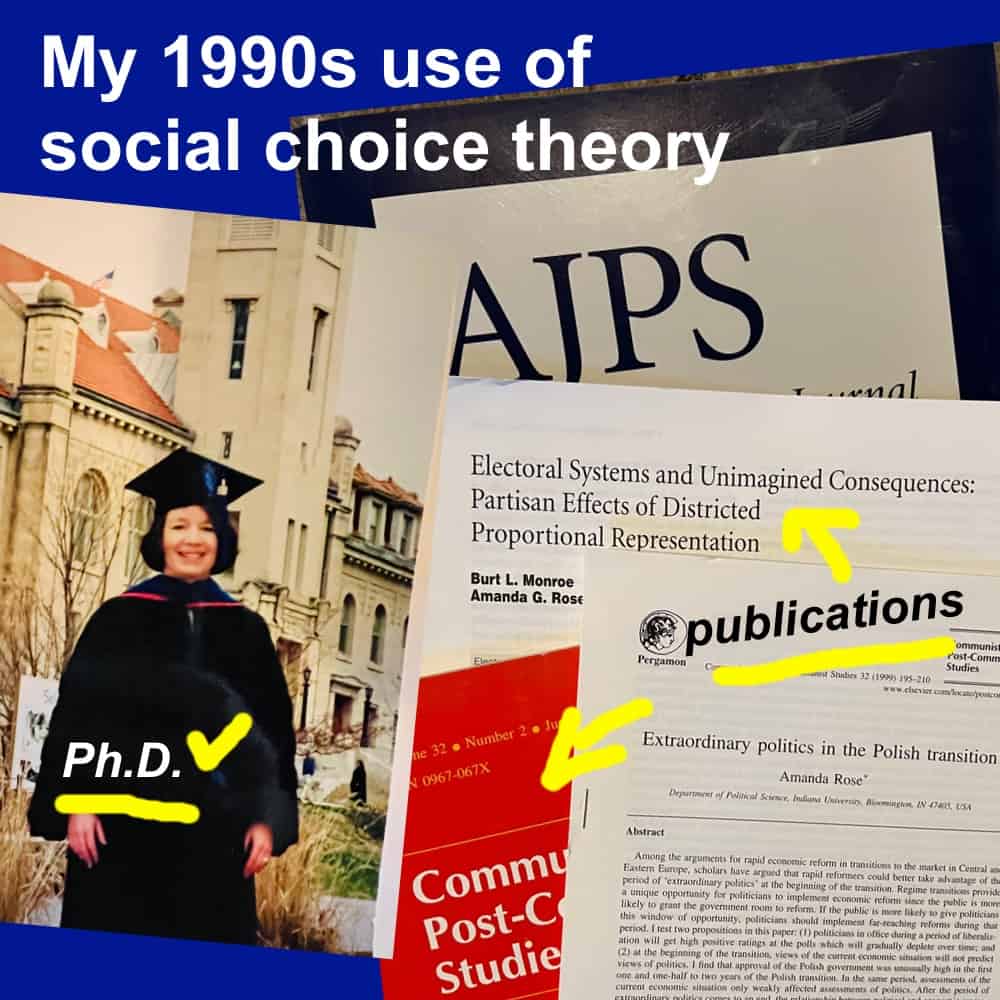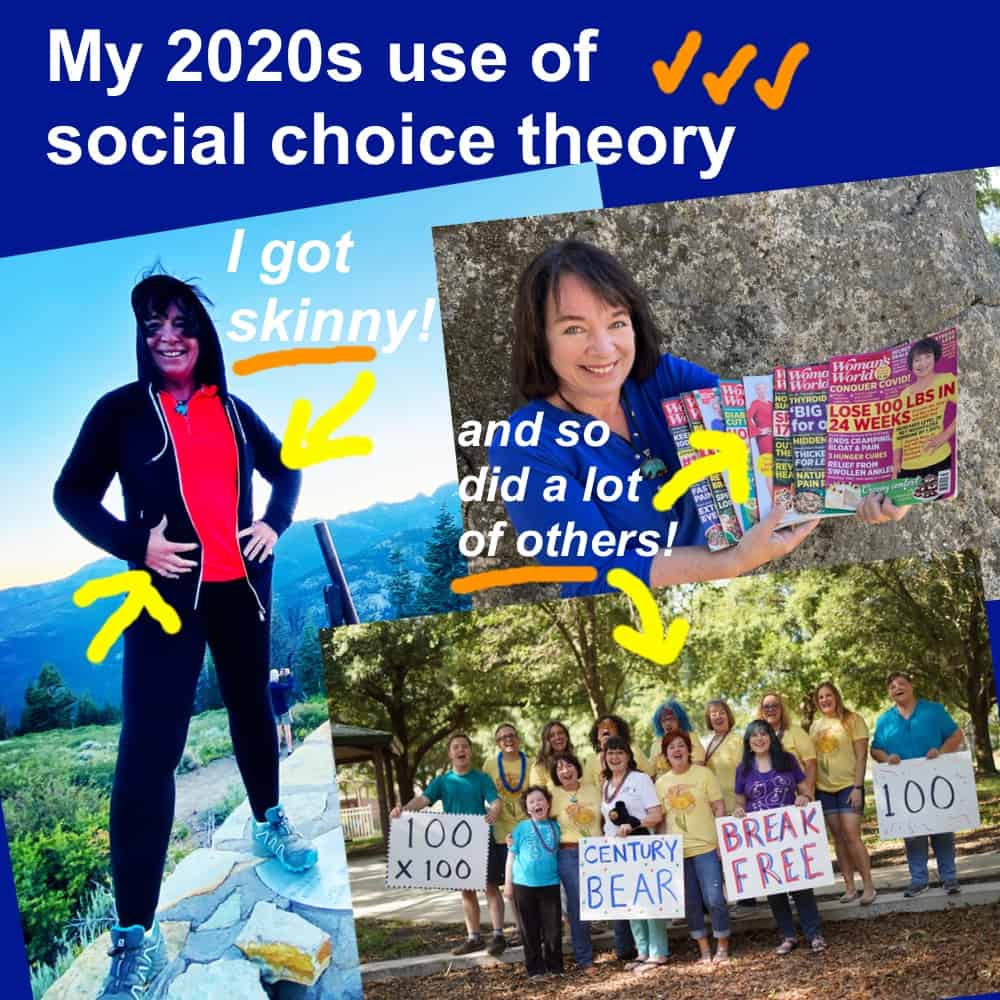 In fact, I make new content all the time based on our discussions in The Deep Den, so you could end up with a video response, a video series, or a guide as a response.
In past sessions, we produced some cool content based on the discussions we had:
I conceived of the Big Bear Blueprint course while engaging in The Deep Den. Members were asking questions about food. I was laid up on my couch with COVID. I had an epiphany about how to communicate it all better. Some weeks later, community members had access to all that new content.

The big "declutter" theme you see in The Deep Den rose out of the real-world need we have all had to work on our home environments. How we approach it as a community has developed over time based on member discussions.
Members worked together with our leaders to create a strategy to help make weekend food choices easier.

Your deeper questions get deeper answers in The Deep Den, and not just from me but from other community members.
Members of The Deep Den have access to deeper content that informs their decisions and their responses to other members. Overall, the quality of discussions is far higher in The Deep Den.
Those richer discussions are the core source of support you will find in The Deep Den.
Deep Den Emails
Several times a week, you will receive an email from me that directs you to core content in The Deep Den. At the beginning of our twelve weeks, we focus on goals. You will receive emails from me directing you to specific deeper discussions on goal-setting and goal-achieving.
We have similar themes to what you have found in the main community. "The Big Goal" is a central theme in The Deep Den, but we discuss it in more detail and follow up on it in ways that are not possible in the larger community with the limited resources we have.
Twice-Monthly Live Videos
We currently offer LIVE videos on the first and third Wednesdays at 9:00 a.m. Pacific (noon Eastern). The topics fit with the topics of the week and month and allow you to ask questions and receive live feedback.
The "Project Hubs" and "Q&A Chats" (Currently via Zoom)
We launched our Zooms after Thanksgiving somewhat spontaneously during one of the weekly live videos. A small core of us have gotten together. In the last month, we've decluttered our houses and worked on crafts.
I know my house is FAR better off for it. I likely would have gotten nothing at all done without these digital meet-ups.
But it's really better than that:
We stay connected with other human beings on a similar path, and that's a really powerful thing.
Even through struggles and bad days, that connection can help people get through some of the rough patches in life.
How the Project Hubs Work
The way our Project Hubs are working at this point is simple: We show up via Zoom and we each mention what we're about to do. We set a timer for 45 minutes, and we all go do our thing, with video cameras rolling on empty chairs if we're off cleaning something or sewing something. We gather back to report on our progress and then we all go off and be awesome.
That's it. 🙂
It's a great thing!
Premium Content Each Month in The Deep Den

Each month has a theme and related psychology content. Themes include:
The importance of kitchen simplicity (and how to make it all more simple)
Winning that internal battle against "the doughnut"
A "How-To" Library
I want you to have easy access to high-quality "how to" content. This content is food-related but does not focus on our Ridiculously Big framework content specifically. We find that these videos support some of our deeper discussions about food choices, stalls, and other setbacks.
Jump into the The Deep Den and also get:
The Eat Like a Bear! Weight Loss Video Library: 20+ videos on what to eat to lose weight.
The original digital Bear Bones Blueprint, a 50-page digital book first released in January 2019 and the original manual many early members used.
The Very Biggest and Most Impactful Thing I Hope to Achieve with The Deep Den: Easier, Not Harder

I want to increase the chances that we all stay connected through the good days and the bad days. It is pretty obvious to point out that weight loss and, especially weight maintenance, fall apart on "the bad days," largely because we disconnect and disassociate from the pain and struggle of weight loss.
Here's what I've noticed: When bad days come and decisions become difficult, and we lapse into old behaviors, one of those old behaviors is, of course, eating in the way that caused us to gain weight in the first place. (Obviously.)
Then because of the potential for shame and self-judgment, we disconnect from the goal and the weight piles back on. (Obviously.)
I can easily gain a pound a day if I'm not paying attention. On the flip side, I'd have to be pretty focused to lose 1/3 pound a day. It piles on FAR more quickly than it comes off. (Obviously.)
It doesn't take much disconnecting to return to how we were (or in a worse condition).
I don't want you to disconnect!!!
Ever!
The Deep Den is a key place to stay connected.

The Deep Den Philosophy
Make no mistake: Getting to a place where all of this is much, much easier is a target to shoot for. We have good days, bad days, and imperfect days. We are hopefully in continuous movement toward our goal, and that focus is what will help keep us from ricocheting back into the more painful situation we've come from.
Some of us head off in a positive direction faster and more directly than others. It is the whole diversity of struggles and approaches that help us learn how to get there in a more straightforward fashion and how to hang in there on bad days.
That said, if you are in The Deep Den and struggling, your story will help the community grow stronger. Struggles are also called experience, and we use experience to make tomorrow easier.
The "Easier, Not Harder" Content Focus
Part of the way we make life "easier, not harder" is through deeper discussions of our core tenets. The emails you receive from me will mostly be centered on these topics:
The Big Goal: We dive deeply into this important topic as well as all the little goals and simple tools we can use to integrate this more systematically into our lives.
Internal Bargaining: You know that voice in your head that's always telling you to eat the doughnut (or the chips or whatever it is)? That's you in there, and you need to be strategic in your thinking to win that battle.
Good Day/Bad Day Structures: We all have good days and bad days. As it turns out, weight loss falls apart on the bad days. How do we leverage the good days to shore up the bad? We have great discussions on this important topic. We need to make our bad days easier, not harder.
Content Delivery
Much of the core content in The Deep Den is delivered via video, both pre-recorded and live. Find live videos weekly, alternating between me (Amanda Rose) and team leader Sara Carter.
The Project Hubs currently take place on Zoom, which is a video-based meet-up (and easy to use).
Some content is delivered as downloadable PDF files.
All content is 100% digitally-based.
The Deep Den Price Tag
Here in California, the cost of The Deep Den is cheaper than filling up my Ford Explorer. That full tank of gasoline gets me only to Los Angeles (but not back again!).
We're cheaper than a tank of gas!
If I were me and reading this page, I'd forego that jaunt to Los Angeles and instead stay home and take shelter in The Deep Den. That decision would, in fact, save me money because I can only get to L. A. on that tank of gas. (Cue the jokes about getting stuck in L. A. ….)
Other notable comparisons:
Each week in The Deep Den costs you about US$7. That's the cost of one fairly atrocious fast food meal.

What we eat at Eat Like a Bear! also saves us a good bit more than $7 a week. Reinvest those dollars into your future self, and use it today to make tomorrow easier.
The Deep Den costs less than a decent pair of shoes. Shop for shoes at a thrift store to save for The Deep Den!!! (Yes, I continue to be a bad influence on the thrifters….)
At the end of the day, this is the price it costs to provide this additional support, and our pockets are pretty empty, so we do pass the hat.
With the fairly extreme amount of weight loss success we've had in these past several years, I expect we could ask a good bit more than seven dollars a week.
Satisfaction Guaranteed
All of our digital-only products (including this one) have a seven-day satisfaction guaranteed policy. Not satisfied? Simply email support@eatlikeabear.com for a full refund.