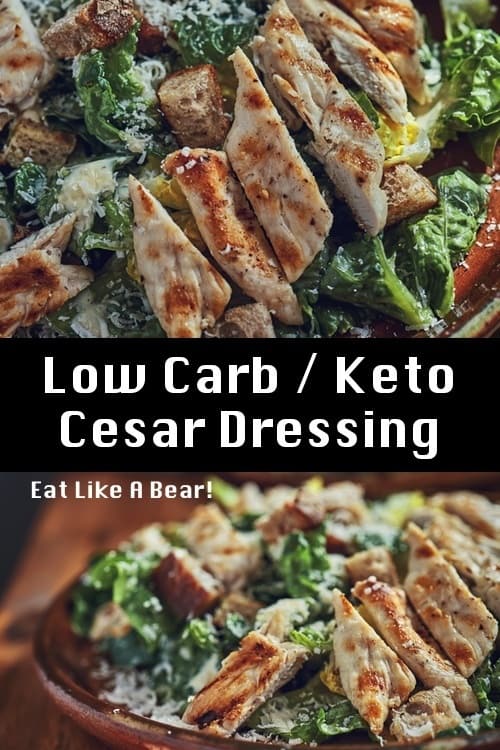 It's time for a Cesar "Big Salad" for your next Big Salad meal! We eat a lot of salads here at Eat Like A Bear! and we make them BIG. This classic low carb / keto Cesar salad dressing is a great addition to the mix. You might as well make it at home to control the ingredients and to mix things up at home a bit.
This recipe uses mayonnaise instead of the classic raw egg. It uses Greek yogurt as part of the base as well and anchovy paste instead of anchovy fillets. (I know you might have an automatic "ewwwww" at the mention of anchovies, but it simply adds to the savory base of this dressing. It does not taste fishy at all.)
The particular quantity below makes about three "Big Salads." It might make four. It might make only two. It just depends on your salad and your preference. I make this quantity and store some in the refrigerator for tomorrow's meal mainly because it involves dirtying a blender and I don't dirty a blender for a single batch of salad dressing. Yes, this will add more than 400 calories to your meal. In my world, it's my one giant meal and a lot of my calories are right there in that dressing. I make no apologies for it and lost 140 pounds as a result. (yes, I did!)
The printable recipe is below, but I also whipped this up in minutes in a LIVE video on Facebook. Check it out!
Low Carb Cesar Salad Dressing
This is a low carb version of the classic Cesar salad dressing using mayonnaise instead of egg and anchovy paste.

Ingredients
1 1/2

cup

Greek yogurt

1

cup

parmesan

fresh, grated

6

tbsp

olive oil

extra virgin

6

tbsp

lemon juice

1

tbsp

anchovy paste

1

tbsp

dijon mustard

1

tsp

garlic powder
Instructions
Grate parmesan


Squeeze lemon


Put all ingredients in a blender or food processor. Blend to combine. Serve.

Learn more about Bear eating: